So you want to look like Harry Potter? You are in luck! Putting together a Harry costume is a fairly easy thing to do. There are even two officially licensed costume that you can wear - the Hogwarts robe and the Quidditch robe.

Harry, of course, is the Boy Who Lived. His mother's love was enough to protect Harry as a baby from Lord Voldemort's killing curse. He grew up famous even if he, himself, had no knowledge of his fame until he turned 11.

Years later Lord Voldemort returned and made it his mission to destroy Harry. Fortunately for Harry, his friends Ron Weasley and Hermione Granger had the bravery and magical power to help Harry bring Voldemort down once and for all.

When it comes to dressing up as Harry, the costume is often not enough to complete your own unique take on him. There are a variety of accessories that you can add to make your look complete. I have included everything you need, from the obvious (Harry's wand) to the obscure (Tom Riddle's diary), so that you can make your version of Harry your own.

There is good news to fans of all ages. No matter if you are an adult or a child, you can easily dress as your favorite boy wizard. From his hair, glasses, wand, and scar to his clothes, broom, and loads of accessories, here are all the items you need for a Harry Potter costume!

Mandatory Accessories
Wig
Harry's hair was the cause of great stress for his aunt Petunia. Despite her best efforts his hair continued to stick up and look messy, and we all know how much Petunia despised messes!

If you have short black hair, wonderful! Remember that Harry's hair is known for being unruly, so use a bit of gel to spike it up in places.

But if you don't, then what you need is a wig. There are several wigs to choose from, any of which would look great with a Harry Potter costume.
Harry's Hair

---
Lightning Bolt Scar
Harry wouldn't be Harry without his lightning bolt shaped scar. It was given to him by Lord Voldemort when Voldemort decided to kill him to prevent Harry's threat potential based on a prophecy.

You can quickly and easily add a scar to your forehead by using a temporary tattoo. I found that there are a lot of different lightning bolts to choose from. There are temporary tattoos on both Amazon and Etsy.
---
Glasses
Who is Harry Potter without his glasses? Just another boy with messy hair and a lightning shaped scar on his forehead, that's who!

When it comes to the round framed style worn by Harry, you have a lot of glasses to choose from. Some have plastic frames while others have metal, and some look more realistic than others.

Given how many different models there are for Harry Potter glasses I am sure that you will have an easy time of finding the right pair for your costume.

Round Glasses

---
Wand
A wand is a crucial part of a wizard's ability to accurately channel and perform magic. The wand that chose Harry was made by the famous wand maker Mr. Ollivander. It was made of holly, measured 11″ in length in the book and 14″ in the movies, contained a core of a single phoenix feather (Harry eventually learned that the feather was given by Fawkes), and was said to be nice and supple by Mr. Ollivander.

Did you know that J.K. Rowling chose the wood of holly for a reason? It has long been believed throughout European folklore that holly has the ability to repel evil!
Harry's Wand

School Uniform
Robe
I'm sure you already know that Harry was sorted into Gryffindor house, so when I say you need to choose a house robe, I don't mean that you should decide which of the four house robes to buy! Instead, what I mean is that you need to decide which style of Gryffindor robes you want to wear.

Some robes are very basic, while others are much more detailed. Any of them will work fine, so it's up to you to decide how you want to dress your version of Harry. Gryffindor robes come in both child and adult sizes, so just about anyone in your family has the opportunity to dress as the Boy Who Lived.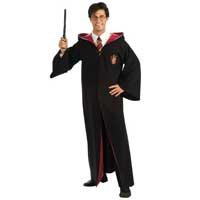 Gryffindor Robe

Cosplay Robe
You have one more option when it comes to choose a robe. There are also cosplay versions of the Gryffindor house robe available.

Cosplay outfits are usually better quality than mass produced costumes. They are made from more durable materials and often include far more detail than non-Cosplay outfits.

Most Cosplay robes are made for adults but I did see at least one on Etsy for kids and several on Amazon.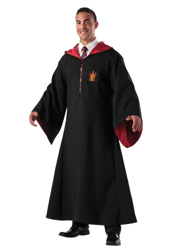 Gryffindor Cosplay Robe

Sweater
Each Hogwarts school uniform includes a sweater, which I am sure the students appreciated on cold, snowy days. The Gryffindor sweater is dark grey with burgundy accents around the wrists and bottom of the sweater.

There was an officially licensed Gryffindor House student sweater, as well as an authentic Replica version, but both are very hard to find. There are also handmade sweaters sold on Etsy. I have included several sources to help you find a sweater if you want to include one with your costume.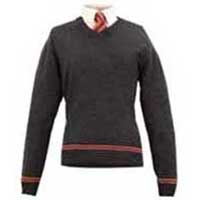 Gryffindor Sweater

Tie
Some Gryffindor robes come with a matching tie, but not all. Find out if the robe you want comes with a tie or not, and if it doesn't then you can buy one separately.

All Gryffindor ties are a combination of maroon and gold, though the amount of redness varies from one tie maker to another. Some ties also have the Gryffindor house crest on them.

If you are also going to buy a hat and/or scarf then I recommend making sure that the red for all of them match.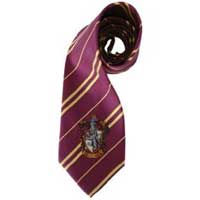 Gryffindor Necktie

Tie Clip
There are several different tie clips, also called tie bars, that you can use to keep your House tie in place. Designs include the Hogwarts school crest, Platform 9 3/4, and the Deathly Hallows symbol.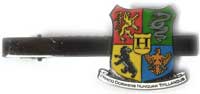 Tie Clip

School Hat
There are two types of hats that students of Hogwarts can wear as they go about their days. The first type of hat is the one you see here, a black hat that comes to a point on top.

This is the hat that conforms with each student's required uniform. However, based on what we saw in the movies, the hat is required to have but not necessarily to wear. Students seemed to have the option to choose whether or not they wanted to wear it.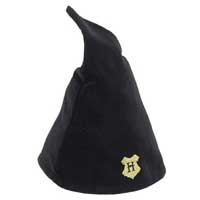 Hogwarts Student Hat

Beanie
The other style of hat that Hogwarts students can wear is the beanie hat. This hat is perfect during the winter months because it will keep your ears warm if you choose to pull the hat down to cover your ears.

The beanie is knitted from the colors of Gryffindor House. Some styles even include the house's crest on it, just above the forehead. It's nice to know that Hogwarts allows students the option to choose their hats, especially given how cold it gets in the winter time there.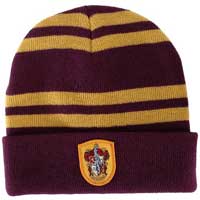 Gryffindor Beanie

Scarf
Another item that Hogwarts students are allowed to wear is a scarf. As you saw above with the beanie, scarves match the colors of a student's house and the Gryffindor scarf is no exception.

There are scarves that will match the beanie hats, but you need to be careful. Some of the colors match while others clash. Take time to find a beanie and scarf that will go well together if you want to wear both with your costume.

If you live in a colder climate and want to dress up in a Harry Potter costume then it would make sense if you also wore a scarf with your outfit. Including a scarf will allow you bundle up and keep your neck and head warm.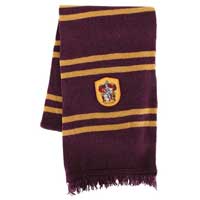 Gryffindor Scarf

Socks
There are several different types of Gryffindor socks, including knee high and ankle socks. Some socks are officially licensed, while many others are lovingly designed by fans.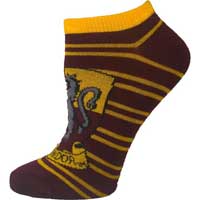 Gryffindor Socks

Shoes
Complete your Gryffindor House uniform with a pair of shoes. There is one pair of officially licensed shoes, seen below, and many more that are custom made. There are styles available for both men and women.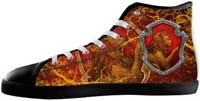 Gryffindor Shoes

Quidditch Uniform
Quidditch Robe
Harry was the youngest Quidditch seeker in a hundred years and joined the Gryffindor team during his first year at Hogwarts. If you love Quidditch as much as the students at Hogwarts then you can dress up in a Quidditch robe instead of a Gryffindor robe.

Quidditch robes look a bit sportier then school robes, which makes sense given that they are meant to be worn while playing the official game of the wizarding world.

As of this writing there is an official Quidditch robe for children that you can buy on Amazon, but there isn't one for adults. The good news is that there are talented people who are selling handmade robes for adults on Etsy (they make them for kids, too!).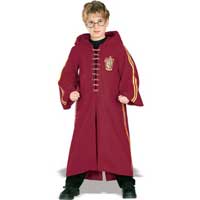 Gryffindor Quidditch Robe

Quidditch Varsity Jacket
You have the option of wearing a varsity team jacket. There are several styles available, although they can be hard to find.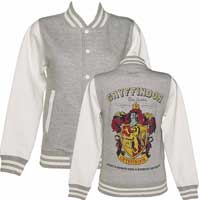 Gryffindor Quidditch Jacket

Quidditch Sweater
You might recall that Quidditch players in the Harry Potter movies sometimes wore sweaters that matched their Houses. They are made from a heavy knit yarn and have accenting colors for each House. The Gryffindor sweater is red with yellow.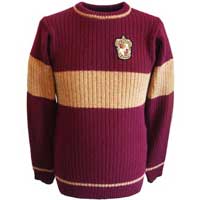 Gryffindor Quidditch Sweater

Quidditch Jersey
There is also a jersey shirt that is lightweight if you don't want the warmth of the sweater. There are several official styles and many unofficial ones. Want a shirt with your name on it? You can get your jersey personalized if you buy it from the Warner Bros. Shop!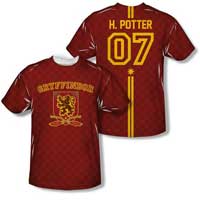 Gryffindor Quidditch Jersey

Quidditch Socks
Would you believe that there are Gryffindor Quidditch socks? Yes, there are! The officially licensed socks are red and yellow, have a cape on the back of the legs, and the number 07, which was Harry Potter's team number.

There is also a pair of ankle socks that you can wear with your Quidditch outfit if you don't want socks that have a cape.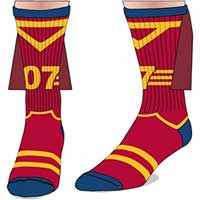 Gryffindor Quidditch Socks

Quidditch Helmet
There are not too many items that a Quidditch player is required to wear but the most important item is arguably the helmet. Quidditch helmets resemble old fashioned boxing helmets, and I wouldn't be surprised if that's where the design inspiration came from.

Given the fact that Quidditch players are flying on brooms high above the ground, protecting their heads from falls is a must. At first glance Quidditch helmets don't look very protective but I am sure that they have been magically enhanced so that students who fall don't need to worry about their heads. Their arms, on the other hand, now that's a different matter altogether...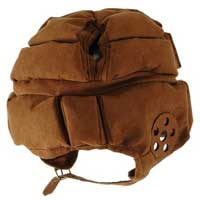 Quidditch Helmet

Quidditch Goggles
An item that seems to be optional, yet very helpful, are goggles. Imagine what it must be like flying around at high speeds. Your eyes would surely take a beating even in the best weather. Days where it is raining would be torturous for the players.

Goggles are the perfect item to help Quidditch players fly without wind, rain, or debris irritating their eyes. I love how the goggles have a bit of a steampunk feel to them, and that they have a golden snitch on the sides. Goggles are a nice touch if you wear a Quidditch costume.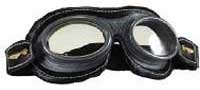 Goggles

Broom
Having a decent broom is a must for every Quidditch player. The quality of a person's broom will directly impact how well the team does as a whole, since speed and accuracy play a big part in this game.

Harry's first broom, given to him by Professor McGonagall during his first year at Hogwarts, was a Nimbus 2000. Sadly, that broom was destroyed by the Whomping Willow in Harry's second year but Sirius Black kindly replaced it with a Firebolt.

The Firebolt was a professional broom that was used by the International Quidditch teams, and Harry was able to make amazing flying maneuvers with it. Perhaps the best part about this particular broom was how jealous it made Draco Malfoy!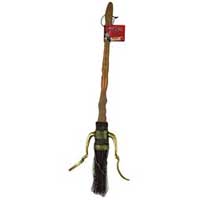 Broom

Golden Snitch
The Golden Snitch is a super fast flying objects that needs to be caught before any game can end. Not only are they fast, but they are also small and incredibly difficult to see, let alone catch.

What would Quidditch be without the Golden Snitch? Boring, very, very boring!

Harry was famous for many things, and one of those things was being the youngest seeker on the Gryffindor team in a century. Therefore, it would be totally in character to have your version of Harry either carry or wear a Golden Snitch when you go out and about in your costume.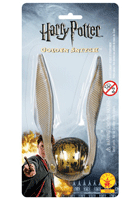 Golden Snitch

Quaffle
The Quaffle is the ball used to score in the game of Quidditch. It is much larger than the Golden Snitch, and it is easier to catch and throw.

There is an officially licensed Quaffle, but it often goes out of stock which is why I have included links to both Amazon and eBay to help you find one.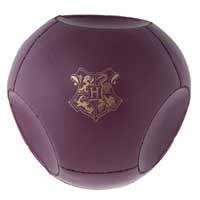 Quaffle

Bludger Bat And Ball
Beaters use Bludger bats to hit a small ball at their opponents to keep them from scoring. Getting hit by a Bludger or ball is one of the more dangerous aspects of Quidditch.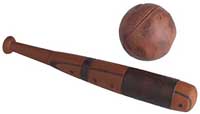 Bludger Bat and Ball

Optional Accessories
Triwizard Tournament Shirt
There is an officially licensed version of the shirt worn by the four Triwizard Tournament Champions for the third task. The shirt is black on one half and red on the other, with a Hogwarts crest on it.
Triwizard Tournament Jersey

Hogwarts Acceptance Letter
Harry's Hogwarts acceptance letter (or, in truth, letters) made a valiant effort to make its way into Harry's hand so that he could accept his place in the wizarding world. Uncle Vernon tried very hard to destroy letter that was delivered, but Hagrid finally handed a letter directly to Harry, and the rest, as they say, is history.

As of this writing there are a few customized letters for sale on Amazon and lot more on Etsy. They are beautifully made and some include additional extras, while others are just for the acceptance letter.
Gryffindor Pin
Add a Gryffindor House pin to your uniform for a bit of fun. There are at least a handful of official pins that I know of, but there are many fan made pins that are also available.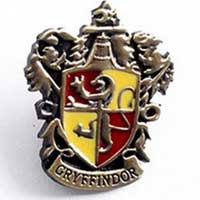 Gryffindor House Pin

Hogwarts Student ID Badge
I found a seller who makes Hogwarts student ID badges. Each badge includes a student's details, such as House, name, gender, wizarding blood status, and wand type.

There are pre-made badges for many of the main characters that have pictures of the actors who portrayed each character. Or, you can customize a badge with a picture of yourself and any name you want.

Image courtesy of sblackwell19
Sorcerer's Stone
It didn't take long before Harry, Ron, and Hermione were embroiled in the mystery surrounding Nicholas Flamel and the Sorcerer's stone. In the end, Harry was able to get the stone, which kept it from falling into Voldemort's greedy hands, so consider adding a stone to your costume.

There are two types of stones for you to choose from. The first is from the Noble Collection, a replica of the stone seen in the first movie. The movie replica is a bit pricey so if you'd rather not spend that much for a stone then click on the second link to see less expensive options.

FYI - If you get a copy of the UK version of this book you will see that the stone is called the Philosopher's Stone, not the Sorcerer's Stone. It was changed for US readers because the publishers didn't think the American audience would not be familiar with the Philosopher's Stone.
Sword of Gryffindor
The Sword of Gryffindor was goblin made and originally owned by Godrick Gryffindor, one of the four founders of Hogwarts. Not much is known about the sword's history after Godrick died but it is likely that it remained in the school.

What we do know is that during Harry's second year at Hogwarts he was able to defeat the basilisk in the Chamber of Secrets by pulling the Sword of Gryffindor from the Sorting Hat. He stabbed the basilisk, killing it.

When the sword stabbed the serpent it came in contact with the serpent's deadly venom. Goblin metal doesn't corrode and only accepts materials that make it stronger, including the venom. This made the sword capable of destroying Horcruxes, and both Harry and Albus Dumbledore used it to do exactly that.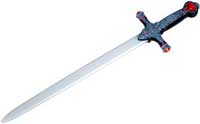 Sword of Gryffindor

Tom Riddle's Diary
Tom Riddle was the birth name of Lord Voldemort, and is the name that he was known by during his time at Hogwarts. He had an image of being a star student but what they didn't know is that he was already hatching plans to take over the Muggle world after he graduated.

One of his efforts to conquer Muggles was to set loose the monster in the Chamber of Secrets. He was the last living heir of Salazar Slytherin and able to accomplish this seemingly impossible feat. However, he was unable to finish what he started so he magically bewitched his diary so that he could someday return to the school and complete his work.

Decades later Ginny Weasley ended up with the diary, and Tom's spirit used Ginny to open the Chamber again. Harry came to Ginny's rescue after Tom attempted to kill her so that his spirit could return to human form. After Harry defeated the basilisk, Harry destroyed Tom Riddle's diary, thus freeing Ginny from its evil influence over her.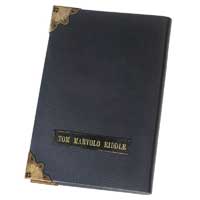 Tom Riddle's Diary

Maurader's Map
Harry was forbidden to leave Hogwarts school during his third year but Fred and George Weasley came to the rescue and gave him the Maurader's Map. This was a magical map that showed the user the name and location of every person on the grounds of Hogwarts.

Harry used the map to sneak out of school by avoiding being seen as he left the school and made this way to Hogsmeade Village whenever his class was allowed to go there for weekend visits. The map became a helpful companion to Harry when he wanted to break school rules.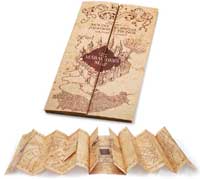 Maurader's Map

"I Must Not Tell Lies" Tattoo
As I am sure you recall, Dolores Umbridge punished Harry for telling the truth by forcing him to magically cut the phrase, "I must not tell lies," into the back of his hand.

Harry was forced to do this so often that he eventually developed a faint scar of this phrase that never went away. You can add this scar to your hand without the pain Harry endured by putting a temporary tattoo on the back of your hand.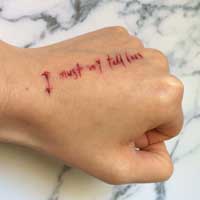 "I must not tell lies" Temporary Tattoo

Felix Felicis
Felix Felicis is a potion that brings extreme luck to the user. The luck a person experiences can last for a few hours to a full day, depending on how much is ingested. There are strict rules on when it can be used, though. For example, it is banned for use by athletes to prevent an unfair win.

This potion should be used sparingly because it can be dangerous in large quantities. Too much luck will make a user feel overconfident, which can result in engaging in dangerous or deadly situations. It is also toxic in large doses.

I absolutely love this particular item! There are several different designs of handmade bottles of Felix Felicis that can be worn like a pendant. Given the fact that these are handmade I cannot guarantee that there will still be any in stock when you go to either Amazon or Etsy to buy this item. All I can say is, good luck!
Golden Snitch Sweater
Every year for Christmas Molly Weasley gave sweaters she had made to each of her children. The sweaters all had the first letter of each child's name on the front.

Mrs. Weasley showed Harry how much she cared about him by giving him a handmade sweater for Harry's first Christmas at Hogwarts. However, instead of an "H", Harry's sweater had a Golden Snitch in honor of his incredible win during his first Quidditch game. Harry was secretly grateful that it had a snitch and not the first letter of his name like Ron's did.

This is a handmade item that might not be available when you look, but hopefully there will be one for sale.
Cloak of Invisibility
Harry was given the Cloak of Invisibility from Dumbledore in his first year and encouraged to explore Hogwarts with it. Harry did exactly that, and often included his friends Ron and Hermione when he used the cloak on his adventures.

Not all that many years later, Harry paired the Cloak with the Resurrection Stone and become the Master of Death. He might not have had the Elder Wand in his possession along with the stone and cloak, but he was master of the wand, having won its allegiance when Harry overpowered Draco, the previous master of the Elder Wand.

There was an authentic replica made a few years ago that is incredibly difficult to find. There are also, on occasion, handmade versions of the cloak.
Resurrection Stone Ring
The Resurrection Stone is one of the three Deathly Hallows. It was made by Death to bring back the dead to the land of the living, but those who were brought back by the stone did not truly belong here and withered if they stayed too long.

Dumbledore found the Resurrection Stone, also called the Gaunt ring, and hid it in the first Snitch that Harry ever caught during Quidditch. He bequeathed it to Harry in his will and left it to Harry to figure out what was hidden inside. Harry eventually did and he kept the stone safe until he was ready to sacrifice himself to rid the world of Voldemort.

Harry purposely lost the stone so that no one else would be tempted to use it on the dead, an action that Dumbledore's spirit agreed with when Harry met him in the mystical version of King's Cross.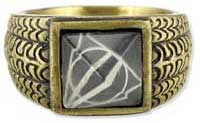 Horcrux Resurrection Stone Ring

Deathly Hallows Bracelet
A fun and easy way to acknowledge the importance of the Deathly Hallows to Harry Potter is to wear a bracelet that has all three Hallows on it.

There are a lot of people who make Deathly Hallows bracelets. Some are just of the Hallows symbol, while others include a variety of symbols from the Harry Potter stories, such as the Golden Snitch.

The good news is that this means you can easily find the bracelet that best reflects your style.
Hedwig
Hedwig was Harry's loyal, if grumpy, companion from almost the day Harry found out he was a wizard. Hedwig was a gift from Hagrid, and was the first meaningful gift Harry had ever been given (not including anything his parents were sure to have bought their cherished baby boy, but we are never told about any of those gifts).

My daughter Lily has the owl seen in the image below and loves it. That particular version of Hedwig makes hooting sounds and the head can turn completely around on its neck. There are many other variations on plush snowy owls, so you can choose the owl that you like best.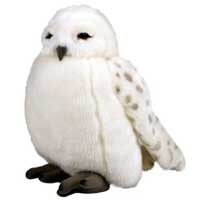 Plush Hedwig

Do you live outside the United States?