Ah, Professor McGonagall. She is an all business, no nonsense kind of professor who loves her students more than they will ever know.

Not only does Minerva McGonagall command the respect of her students, she is also as close as a confidant as anyone can be to Albus Dumbledore, with the possible exception of Severus Snape. She is smart and sees far more than her students are comfortable with.

When it comes to a Professor McGonagall costume, you will need to use a bit of creativity because there isn't an official costume for this Hogwarts teacher. Fortunately, there are plenty of items that can be used to get the look that you want.

As you will soon see, it takes more than just putting on a cape to look like Minerva McGonagall. You will need the right hair, glasses, and a few other key accessories to complete your outfit. There are not many ways to accessorize your version of a costume because doing so risks losing the look of her.

From her hair and wand to her hat, cloak, and dress, here is everything you need to dress up in a Minerva McGonagall costume!

Mandatory Accessories
Wig
The hairstyle most often seen on Professor McGonagall is a sharp upsweep into a kind of bun. If you have naturally grey hair and are capable of doing your hair like that, then you are luckier than most of us. If not, that's okay. There is a wig that is a pretty accurate replication of the Professor's hair style.

As of this writing there is only merchant selling this wig on Amazon, and I couldn't find it on other popular online retailer sites. This means that it might be out of stock when you click on the Official Wig link to go to Amazon or unavailable on eBay. If you see one for sale and you are seriously considering buying the wig, I recommend that you don't wait and do so while there is still a wig to buy.

I have also included old lady wigs. These wigs all have buns, so any of these would work if you can't find an official McGonagall wig on Amazon or eBay.
Minerva McGonagall's Hair

---
Silver Hairspray
Some of you might not want to wear a wig for one reason or another. If you don't want to wear a wig you can still make your hair resemble Professor McGonagall's hair.

A super easy alternative to wearing a wig is to use silver hair spray. The spray is not permanent and washes out when you no longer want silver hair. If you are feeling really creative then you can choose a spray that also has glitter in it. It doesn't get much easier than that, does it?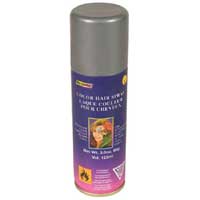 Silver Hairspray

---
Wand
Professor McGonagall is a very powerful witch. Although the power originates from within her and her inate abilities, she would be unable to harness that power properly and accurately without a wand. Her wand is measures 9-1/2", is made from the wood of a fir tree, and contains a dragon heartstring. Dragon heartstring? No wonder she is as powerful as she is!

As with the wig, the wand for Professor McGonagall goes in and out of stock. It is possible that there won't be any available when you click the image or link below. If you find that there is only one or two still for sale, don't hesitate in buying it because there is no way to know when more will become available.
Professor McGonagall Costume
Hat
There are two officially licensed McGonagall hats. They look a bit similar, but one is a bit fancier than the other. The fancier of the two hats has a feather sticking out of it, and there is green satin lining under the brim.

The more plain of the two hats (the one without the feather or satin trim) is said to run small. Reviewers agree with this, and it is much more likely to fit a child's head than an adult's.
McGonagall Hat

---
Cosplay Costume
McGonagall loved to wear a gorgeous green cloak over her dress. At the time that I wrote this there was a Cosplay version of McGonagall's costume being sold on Amazon that looks like the green velvet cloak she wore in the films. I've included links to sources other than Amazon since you never know when you will find a Cosplay costume there, too.
---
Exclusive Costume
HalloweenCostumes.com carries exclusive rights to this official McGonagall costume.
Exclusive McGonagall Costume

---
Cape
The cape most frequently worn by Professor McGonagall was gorgeous, green, and velvet. You are in luck if you don't want to buy the Cosplay version, as there are plenty of capes that are similar. The cape you see here is my personal favorite, though it sometimes goes out of stock on Amazon.

The link below will show you both capes and cloaks. Cloaks are a lot like capes and either will work for your McGonagall outfit.
---
Dress
I don't remember what dress Professor McGonagall wore under her cape but I think a plain, black dress is the perfect choice. This type of dress is understated and doesn't draw attention to the woman wearing it. Somehow I think McGonagall would have been mortified to wear something attention attracting.

The best type of clothing to wear under your cape is a dress that is black but also long. If you live in a cold or cooler climate then consider wearing a dress that has long sleeves, possibly even a turtleneck. Those of you in warmer climates can do without these necessities. I've selected several styles that have long skirts and long sleeves, as you will see when you click the image below.
Black Dress

Optional Accessories
Hogwarts Teacher ID Badge
I found a seller who makes Hogwarts ID badges. Each badge includes a teacher's details, such as position at Hogwarts, class taught, House, and name.

There are pre-made badges for many of the main characters that have pictures of the actors who portrayed each character. Or, you can customize a badge with a picture of yourself and any name you want.

Image courtesy of sblackwell19
---
Glasses
Professor McGonagall is one of many characters in the Harry Potter universe who wears glasses. The glasses worn by Minerva McGonagall are square with wire rims.

There is no official pair of glasses for the Headmistress, but that's okay because you can wear a pair of Ben Franklin glasses and no one will be the wiser!

After you get your glasses you will have to practice looking down your nose at everyone, just the way Professor McGonagall did.
Glasses

---
Cloak Clasp
Professor McGonagall is a very formal woman who follows the rigors of traditional fashion. Therefore, I can easily see her wearing a clasp to keep her cape closed. Not only is a clasp functional but it is also decorative in all the right ways.

My personal favorite is the Gryphon clasp seen here because McGonagall is head of Gryffindor house. There aren't many, but you can see the Gryphon clasps here. Or, you can click the link below to look through all the clasps.
Cloak Clasp

---
Quidditch Through The Ages Book
Professor McGonagall has a deep love for the game of Quidditch. It was she who discovered Harry Potter and recommended him to Oliver Wood as the new seeker for the Gryffindor Quidditch team.

You can see Professor McGonagall subtly cheering for her house while trying to maintain an air of neutrality at any given Quidditch match. Therefore, it would not be surprising for you to carrying around a copy of Quidditch Through The Ages, a popular book about her favorite sport.

You can buy just this book or you can buy it bundled with one or two other Hogwarts school books. Depending on the bundling, some collections include this book, Fantastic Beasts & Where to Find Them, and/or Tales of Beedle The Bard. I've got all three books and highly recommend them to any fan of the Harry Potter series!
'Quidditch Through the Ages' Book

---
Lace Handkerchief
The first time we met Professor McGonagall was in chapter one of Harry Potter and the Sorcerer's Stone. During that chapter she has a discussion with Headmaster Dumbledore about the fate of James and Lily Potter, and the fact that Harry survived when they did not, at which point she became overwhelmed with emotions.

Here is a description of what happened next:

"Professor McGonagall pulled out a lace handkerchief and dabbed at her eyes beneath her spectacles."
Lace Handkerchief

Do you live outside the United States?