Molly Weasley was an amazing woman. She mother to seven children, and you could easily argue that two of them (Fred and George) were extremely challenging to raise. She managed to keep all of her kids in line, even her twins most of the time, while keeping the Weasley home in order.

When Molly's son Ron met Harry Potter she became a surrogate mother to Harry as well. She loved him every bit as much as she loved her own, which was shown in the fifth story, Harry Potter and the Order of the Phoenix, when Molly's greatest fear was revealed as she tried to remove a Boggart from Sirius Black's home. The Boggart took on the shape of one of her children, dead on the floor. Each time she attacked it the Boggart changed to another child, including Harry.

Molly was a no nonsense kind of woman. Although she was sweet, kind, and loving, all of her children, including Fred and George, preferred not to raise her ire (although the twins did, not of all her children).

I greatly admire Molly and admit that she's one of my favorite characters, so it was a lot of fun for me to research her look. From her hair, wand, and clothes to her knitting needles and clock, here is everything you need for a Molly Weasley costume!
Mandatory Accessories
Wig
Molly's hair is ginger red, just like all of her children. It is shoulder length, has lovely waves and bangs. She usually wore her hair down, but occasionally rolled the sides back, similar to the way Muggle girls use barrettes.
Molly Weasley's Hair

---
Wand
Molly's wand looks a bit plain but it has a secret that shows her devotion to her children. The flat, wide part at the top of the handle has seven faint lines etched into it, one for each of her children.
Molly Weasley's Wand

Clothing
Beret
There were several occasions when we saw Molly wearing a beret. She definitely wore a knitted cap and, although I'm not 100% positive, I think she also wore a French styled one, which is why I'm showing both kinds here.

The knitted hat worn by Molly was dark turquoise green. I seem to recall her wearing a French beret but not the color. Choose a color you like, even if it doesn't match, since most of her clothes clashed.
---
Dress
At least once we saw Molly wear a dress that was mustard yellow with a flowery or gingham pattern on it. I have to admit that I had a really hard time finding something similar to her dress because so many are sexy, which Molly isn't. So I've included a couple of different styles, any of which will work. The dress you see here is plain but you can easily go with patterns, paisley, or some other print.
---
Apron
Sometimes Molly wore a house coat over her sweater. I wasn't able to find one that looks like Molly's but it greatly resembles an apron (which is probably why she wore it in her house) so you can wear one over a sweater or dress. Look for an apron that is feminine, but not too fancy or elegant.

This will add a frumpy look to your Molly outfit, which, if I recall properly, Draco Malfoy once accused her of to Ron Weasley. Maybe it wasn't exactly frumpy that Draco said but it was something similar, the prat!

Apron

---
Replica Sweater
The sweater commonly associated with Molly is known as the coat of many colors. It was unique to Molly and I suspect that she made it herself. It was crocheted, had many different colors and patterns, and long sleeves that flared out.

At the time that I wrote there was a pattern of her sweater being sold on Etsy, seen in the picture below, so if you can crochet or know someone who does then you can have your own version of Molly's sweater coat. Just be sure to wear an apron over it! I've also included a link to eBay since you never know when this might show up on there.
---
Alternative Sweater
You don't have to go with a copy of Molly's sweater. Look for one that is colorful and shows Molly's free spirit.
---
Skirt
You can wear a skirt instead of a dress. There are plenty of skirts you can choose from but make sure it's long because Molly would never be seen wearing something short! Her clothes have a Bohemian feeling to them but it's not mandatory. Solid or pattern doesn't matter as long as your skirt is loose, flowing, and feminine.
---
Coat
The coat that Molly wore when she was out and about looked more like a poncho than a Muggle coat. It was brown and had a single button at the throat, almost like a casual cape. I didn't find a coat exactly like Molly's but I did find a lot of great alternatives, including ponchos and shawls.
---
Scarf
I'm not sure if Molly actually wore a scarf but I think a big, fluffy type would go perfectly with a Molly Weasley costume.
Scarf

Optional Accessories
Purse
I'm fairly certain that we never saw Molly carry a handbag but that doesn't mean she didn't have one. I've selected styles that are as free spirited as Mrs. Weasley, yet large enough to carry everything she'd want with her.
---
Knitting Supplies
One thing we absolutely without a doubt know about Molly is that she enjoyed knitting. Granted, she used magic to create her sweaters and other creations instead of knitting with her hand, and she probably learned to knit because money was tight, but that doesn't mean you can't add them to your costume. Putting knitting needles and yarn in your purse will be completely in character.
Knitting Needles And Yarn

---
Molly's Clock
Inside the Weasley home we saw a most unusual clock. It didn't keep time or have an hour, minute, or second hands, but instead it had hands with a picture for each Weasley and told the status of each person, whether they were on holiday, in mortal peril, or somewhere in between. Albus Dumbledore commented that it was Molly's clock and that it was one of a kind.
---
Weasley Is Our King Button
Draco Malfoy wrote a song about Ron Weasley's poor Quidditch skills to heighten Ron's insecurities and help the Gryffindor team lose. Draco's plan initially worked, but Ron was able to get over his self-doubts and triumphed. It is unlikely that Molly ever saw the pin but if she did I'm sure she would have worn the 'Weasley is Our King' button with pride.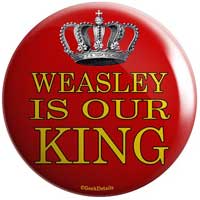 "Weasley is our King" Button

Do you live outside the United States?