Forget Muggle sports! None of them hold a candle to the magical game of Quidditch. Sure, Muggle sports can get dangerous, but do any of them involve flying a hundred feet or more in the air? Do they involve the possibility of falling off of brooms and plummeting to the ground? Nope, but Quidditch does, and it's incredibly exciting to both play and watch.

Harry Potter joined the Gryffindor Quidditch team in his first year, which was highly unusual and made him the youngest Seeker in one hundred years. One year later, Draco Malfoy joined as Seeker for the Slytherin Quidditch team.

Dressing up in a Quidditch uniform is easy when you know what you need. First, decide which of the four Hogwarts Houses you will be playing for so you can select the right robe. Then add the game pieces that you need for whatever position you play. From Quidditch robes to game equipment.

Quidditch Uniform
Quidditch Robe
Quidditch robes are a must for every Quidditch player. There are four teams, for Gryffindor, Ravenclaw, Slytherin, and Hufflepuff, and the color of your robe will match the House that you belong to.

Some robes are easier to find than others. There are plenty of Gryffindor robes being sold on Amazon, but finding a Hufflepuff robe might mean that you need to turn to Etsy where sellers handmade them. I've included several sources so you can find the robe for your House.
Quidditch Varsity Jacket
You have the option of wearing a varsity team jacket. There are several styles available, although they can be hard to find.

Quidditch Sweater
You might recall that Quidditch players in the Harry Potter movies sometimes wore sweaters that matched their Houses. They are made from a heavy knit yarn and have accenting colors for each House.

Quidditch Jersey
There is also a jersey shirt that is lightweight if you don't want the warmth of the sweater. There are several official styles and many unofficial ones. Want a shirt with your name on it? You can get your jersey personalized if you buy it from the Warner Bros. Shop!

Quidditch Socks
There is an officially licensed Quidditch sock, but, unfortunately, it is only available for Gryffindor and Slytherin Houses. Each pair has a cape on the back of the legs and the number 07 on the front.
Quidditch Helmet
There are not too many items that a Quidditch player is required to wear but the most important item is arguably the helmet. Quidditch helmets resemble old fashioned boxing helmets, and I wouldn't be surprised if that's where the design inspiration came from.

Given the fact that Quidditch players are flying on brooms high above the ground, protecting their heads from falls is a must. At first glance Quidditch helmets don't look very protective but I am sure that they have been magically enhanced so that students who fall don't need to worry about their heads. Their arms, on the other hand, now that's a different matter altogether...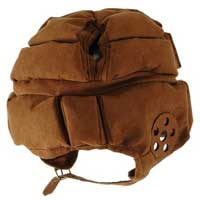 Quidditch Helmet

Quidditch Goggles
An item that seems to be optional, yet very helpful, are goggles. Imagine what it must be like flying around at high speeds. Your eyes would surely take a beating even in the best weather. Days where it is raining would be torturous for the players.

Goggles are the perfect item to help Quidditch players fly without wind, rain, or debris irritating their eyes. I love how the goggles have a bit of a steampunk feel to them, and that they have a golden snitch on the sides. Goggles are a nice touch if you wear a Quidditch costume.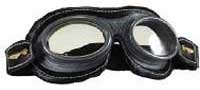 Goggles

Accessory Kit
There is an officially licensed accessory kit that includes goggles, gloves, arm guards, and knee and shin guards. The are brown and look like they are made from leather (they aren't really) and add a nice touch to any Quidditch uniform. There's just one thing - this set only comes in child size.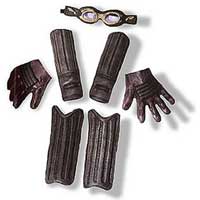 Accessory Kit

Broom
Having a decent broom is a must for every Quidditch player. The quality of a person's broom will directly impact how well the team does as a whole, since speed and accuracy play a big part in this game. The fastest brooms are the Nimbus 2000, Nimbus 2001 and the Firebolt.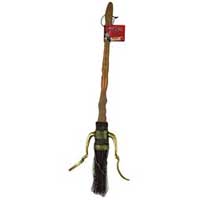 Broom

Golden Snitch
Seekers have one job - to find and catch the Golden Snitch. The Golden Snitch is small, blazing fast, and very difficult to see. If you are a Seeker then you will want to carry a Snitch around with your costume.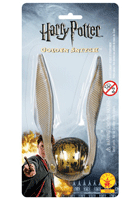 Golden Snitch

Quaffle
The Quaffle is the ball used to score in the game of Quidditch. It is much larger than the Golden Snitch, and it is easier to catch and throw. It is about the same size as a soccer ball (aka football) and it is the job of a Chaser to score with the Quaffle. Chasers score 10 points every time they throw the Quaffle through one of three large hoops at the opponent's end of the Quidditch pitch.

There is an officially licensed Quaffle, but it often goes out of stock which is why I have included links to both Amazon and eBay to help you find one.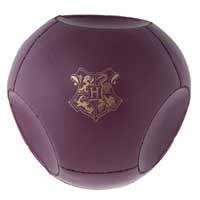 Quaffle

Bludger Bat And Ball
The last two pieces of equipment in the game of Quidditch is the most brutal ones. They are a small iron ball about the size of a baseball called a Bludger and a bat called a Beater's Bat. Every game has two Bludgers that are bewitched so that they fly around trying to knock Quidditch players off their brooms.

Bludgers don't care which team members they knock off but Beaters do. They use their Beater's bats to direct the Bludgers toward their opponents while protecting their own teammates from Bludgers. As you might guess, this is arguably the most dangerous part of Quidditch, and concussions and broken bones are common.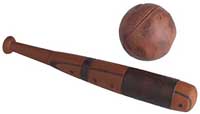 Bludger Bat and Ball

Do you live outside the United States?