Hogwarts School of Witchcraft and Wizardry is a boarding school for children ages 11 through 17 or 18 who live in Great Britain. Students attend Hogwarts to learn about and practice magic, and to hone their crafts.

The school has an official uniform that all students are required to wear, as well as a optional articles of clothing, and items such as Prefect and Head Boy or Girl pins. The school sorts children into four different Houses (Gryffindor, Ravenclaw, Slytherin, and Hufflepuff) according to each student's strengths.

Dressing in a Hogwarts school uniform is easy enough if you know what to wear. Fortunately, I have gathered everything you need to look like a student of Hogwarts for any of the four Houses. From the House robe, sweater, and shirt to the scarf, hat and optional accessories, here is everything you need for a Hogwarts uniform.

Hogwarts School Clothing
House Robes
The robe you choose to wear will indicate which of the four Houses you belong to. All the robes are black, have a hood, and a patch of that House's crest. Gryffindor robes are accented with burgundy, Ravenclaw robes with blue, Slytherin robes with green, and Hufflepuff robes with gold or yellow.

There are many officially licensed robes that are mass produced. These robes range from basic to deluxe, and vary quite a bit in price.
Cosplay Robe
Cosplay robes are known to be more durable since they are made from stronger materials. They might be officially licensed, or they might be custom made specifically for the buyer. A Cosplay robe usually costs more and has more details than the mass produced robes.
Grey Sweater
Sweaters are part of the official Hogwarts uniform. As with the robes, there are four different sweaters, one for each of the Houses. Each sweater is dark grey and has accenting stripes that have the color of one of the four Houses. You can tell which House a student belongs to based on the color of the stripes.

The sweaters you see below are officially licensed sweaters, and they tend to be very hard to find. You might not find the exact styles below, but you can find variations, such as a sweater vest or button-up cardigan.
White Shirt (For Women)
Under the sweater is a white shirt. The shirt is plain, and buttons up. I don't think we've ever seen a student wearing the shirt without the sweater so I'm not positive, but I suspect that the student shirt is long-sleeved, just like the sweaters. However, it's up to you if you want your shirt to have long or short sleeves.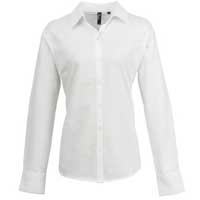 White School Shirt

Grey Skirt (For Women)
The girls of Hogwarts wear a dark grey skirt. You aren't likely to find an exact replica of the skirts (I don't think one was ever made) but there are plenty of dark grey skirts for you to choose from that look very similar to the skirt from the movies. Make sure you skirt is not too long and not too short. Just above the knee will work well if you want to be faithful to the uniforms seen in the films.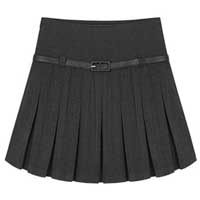 Grey School Skirt

Grey Tights (For Women)
I don't know for sure that tights were part of the Hogwarts uniform but they go perfectly with the other clothes that the girls have to wear, so I'm including them. Tights come in many thicknesses so choose one that is best for your climate. Meaning, if you live in a cold snowy area, go with thick tights.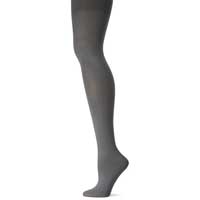 Grey Tights

White Shirt (For Men)
Just like the girls, the boys wear white shirts under their sweaters. And, just like the girls, I suspect that they were long-sleeved. But, you can certainly wear a short sleeved if you prefer. Just make sure the shirt is plain and buttons up.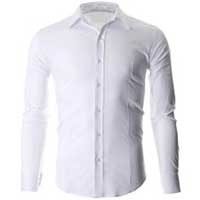 White Shirt

Cufflinks
You can add a touch of class, or humor, to your outfit with one of the many Harry Potter cufflinks that are available. Most are serious, such as the ones for each of the four Houses, but some are silly, like the ones made with Harry Potter LEGO® characters. Some even come with matching tie clips.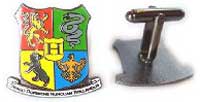 Cufflinks

Grey Pants (For Men)
The girls wear skirts but the boys wear pants, grey to be specific. I like the look of Docker style pants because they are both casual and dressy at the same time, and go well with the overall look of a Hogwarts outfit.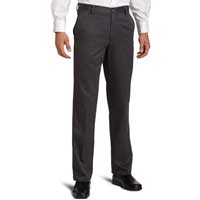 Grey Pants

School Hat
There is a Hogwarts student hat that every student has. It is black, pointed, and has the emblem of an 'H' for Hogwarts on it. Students are required to have this hat, but I don't think they had to wear it all the time since the students in the movies didn't always wear it.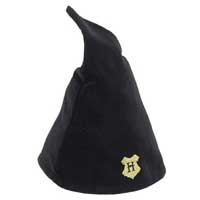 Hogwarts Student Hat

Beanie
There are four beanie style hats, each with the colors of the four school Houses. Hogwarts was located somewhere in Scotland, and winters are cold, with wind and snow. Beanies are a great way to help keep Hogwarts students warm while walking around outside.
Hair Accessory
Don't want to wear a hat? Then take a look at the many different House hair accessories that are available. There is an officially licensed headband, seen below, and plenty of custom made clips, barrettes, and ponytail holders. The items you will see from the links below might vary quite a bit, but the one thing they all have in common is that they use each House's colors.
Tie
As I'm sure you already know from the movies, there are ties for each of the Hogwarts Houses. The ties match the colors for each House, and most also have the House crests on them. Both boys and girls wore ties, so these are a must for all students.
Scarf
Scarves are perfect for keeping you warm on chilly days and nights. This is a great accessory to add if you live in a cool or cold climate.

There are several styles to choose from, each with different color hues. If you want both a scarf and beanie then it might be best to look for sets of both to make sure the colors match, instead of clash.
Socks
There are several different types of House socks, including knee high and ankle socks. Some socks are officially licensed, while many others are lovingly designed by fans.

Shoes
Complete your House uniform with a pair of shoes. There are officially licensed shoes for Gryffindor and Slytherin only, but there are also fan made shoes for all four Houses. Styles are available for both men and women.
Optional Accessories
House Pins
Add a House pin to your uniform for a bit of fun. There are at least a handful of official pins that I know of, but there are many fan made pins that are also available.

Prefect Pin
Each year Hogwarts Headmaster selects one boy and one girl from each of the four school Houses from the fifth, sixth, and seventh year students to be Prefects. Prefects are students who have are given additional responsibilities and authority over students.

Were you such a great student that you were honored with being made a Prefect? Then show the other Hogwarts students that you are in charge with a Prefect pin!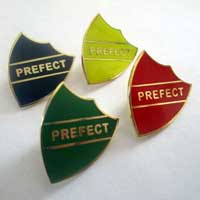 Prefect Pin

Head Boy or Girl Pin
The Headmaster chooses one boy and one from all the seventh year students to be the Head Boy and Head Girl. These two students might have been Prefects, but that is not a requirement. The Head students are at the top of the chain for authority and responsibility, even above the Prefects.
Head Boy and Girl Pins

Tie Clip
There are several different tie clips, also called tie bars, that you can use to keep your House tie in place. Designs include the Hogwarts school crest, Platform 9 3/4, and the Deathly Hallows symbol.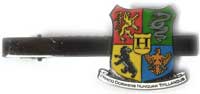 Tie Clip

Hogwarts Student ID Badge
I found a seller who makes Hogwarts student ID badges. Each badge includes a student's details, such as House, name, gender, wizarding blood status, and wand type.

There are pre-made badges for many of the main characters that have pictures of the actors who portrayed each character. Or, you can customize a badge with a picture of yourself and any name you want.

Image courtesy of sblackwell19
Hogwarts ID Badge

Weasley Is Our King Button
Draco Malfoy wrote a song about Ron Weasley's poor Quidditch skills to heighten Ron's insecurities and help the Gryffindor team lose. Draco's plan initially worked, but Ron was able to get over his self-doubts and triumphed. The 'Weasley is Our King' button is the perfect way to show your support for Gryffindor Quidditch player, Ron Weasley, or to taunt him if you are a Slytherin.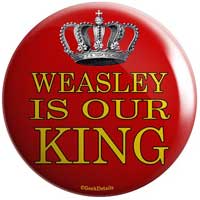 "Weasley is our King" Button

Support Cedric Diggory Button
Cedric Diggory was chosen by the Goblet of Fire to represent Hogwarts School of Witchcraft and Wizardry for the Triwizard Tournament in Harry Potter and the Goblet of Fire. Harry Potter's name was also selected by the Goblet after someone mysteriously entered Harry into the tournament. This didn't sit well with just about any of the students because Harry was too young to be eligible to compete.

One of the students at Hogwarts created a badge that alternated between saying "Support Cedric Diggory" and "Potter Stinks". (It was never revealed which student made this button but my money knuts and sickles are on Draco Malfoy...) I don't recommend that anyone wearing a Gryffindor costume wear a "Potter Stinks" button, but feel free to wear one showing your support of Cedric.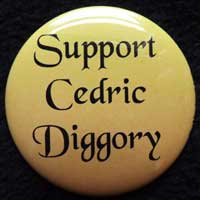 "Support Cedric Diggory" Pin

Potter Stinks Button
The Slytherins did their best to belittle and tease Harry Potter during the Triwizard Tournament by wearing "Potter Stinks" buttons.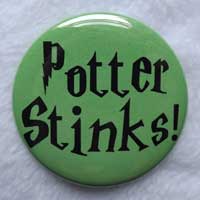 "Potter Stinks!" Button

School Textbooks
Students at Hogwarts can take a variety of magical classes. There are several sellers on Etsy who have crafted their own versions of the textbooks used by Hogwarts students. Most are blank journals with textbook covers but at least one that I saw had two pages of text inside each journal. You can keep a book or two hidden inside a pocket in case you feel like getting ahead in your lessons!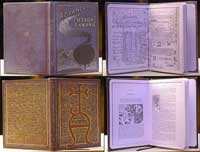 Hogwarts Class Textbooks

Do you live outside the United States?