Draco Malfoy is the bad boy of the Harry Potter series. It was made clear from the very first time we see him that Draco was spoiled, came from money, and looked down on anyone he didn't like for any reason.

He was also Harry's nemesis, almost from the moment they met. It's strange to wonder what would have happened if Harry had accepted Draco's hand as they stood outside the Great Hall waiting to be sorted into their Houses. Thankfully, Harry was able to see right through Draco's smug demeanor.

If you want to dress in a Draco Malfoy costume then you have quite a few options! You can dress in a Slytherin school uniform, Quidditch uniform, or even Draco's black suit.

I am never content to stop at just the costumes. I've thought of every possible accessory that you might want to add to your outfit so you can personalize your version of Draco any way you want.

From his hair, wand, and outfits to his Dark Mark tattoo, Prefect badge, and snake ring, here are all the items needed for a Draco Malfoy costume!

Mandatory Accessories
Wig
Draco has very pale blond hair that he kept short to medium short. Actor Tom Felton, who played Draco in the movies, has naturally blond hair that is completely straight. If you do not have blond hair then the easiest way around this is to wear a wig.

There are only a few wigs to choose from but, fortunately, the few that exist are perfect for a Draco costume!
---
Wand
Draco's wand was made by Garrick Ollivander, and is made from hawthorn wood with unicorn hair in the core. He was the sole owner of the wand until Harry Potter won it in the final story. The allegiance of the wand turned completely over to Harry.

If you carry your wand with you when you dress up in a Draco outfit then be careful not to let Harry anywhere near your wand or it might not be yours for long!
Draco's Wand

School Uniform
Robe
All Slytherin House robes are black with green accents, have a hood, and the Slytherin House crest on them. There are many different robes made by different manufacturers. Some are basic, while others are more detailed. Some even have pockets in them, perfect for hiding your wand.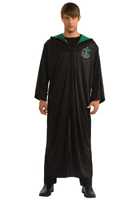 Slytherin Robe

Cosplay Robe
If you want a robe that will be in it for the long haul then take a look at Cosplay robes. Cosplay outfits are known to be better quality than their mass produced counterparts because they are made from durable materials. You will find that some Cosplay robes include details not found on non-Cosplay robes. Details vary, but can include being fully lined or having hidden pockets inside the robe. Most Cosplay robes are made for adults but I did see at least one on Etsy for kids and several on Amazon.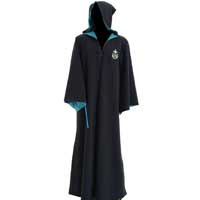 Slytherin Cosplay Robe

Grey Sweater
Each Hogwarts school uniform includes a sweater, which I am sure the students appreciated on cold, snowy days. The Slytherin sweater is dark grey with green and white accents around the wrists and bottom of the sweater.

There was an officially licensed Slytherin House student sweater, as well as an authentic Replica version, but both are very hard to find. There are also handmade sweaters sold on Etsy. I have included several sources to help you find a Slytherin sweater.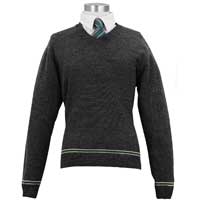 Slytherin Sweater

White Shirt
Another part of every Hogwarts student's school uniform is a white shirt. Sure, you rarely see the shirts underneath the school robes but they are there, so you will want to include one, especially if you want to be as accurate as possible with your outfit.

One thing that I do not know is if the shirts have long or short sleeves so you can decide what type of shirt will work best for your costume. There are a lot of shirts to choose from so go with the one that you like the most.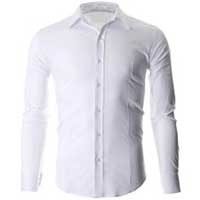 White Shirt

Cufflinks
You can add a touch of class, or humor, to your outfit with one of the many Harry Potter cufflinks that are available. Most are serious, such as the ones for each of the four Houses, but some are silly, like the ones made with Harry Potter LEGO® characters. Some even come with matching tie clips.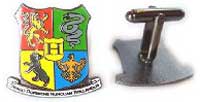 Cufflinks

Grey Pants
Grey pants will complete your Slytherin House uniform. I prefer Docker style pants because they blend casual and professional perfectly.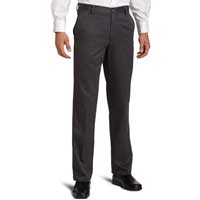 Grey Pants

School Hat
There are two types of hats that students of Hogwarts can wear as they go about their days. The first type of hat is the one you see here, a black hat that comes to a point on top.

This is the hat that conforms with each student's required uniform. However, based on what we saw in the movies, the hat is required to have but not necessarily to wear. Students seemed to have the option to choose whether or not they wanted to wear it.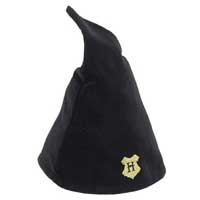 Hogwarts Student Hat

Beanie
The other style of hat that Hogwarts students can wear is the beanie hat. This hat is perfect during the winter months because it will keep your ears warm if you choose to pull the hat down to cover your ears.

The beanie is knitted from the colors of Slytherin House. Some styles even include the house's crest on it, just above the forehead. It's nice to know that Hogwarts allows students the option to choose their hats, especially given how cold it gets in the winter time there.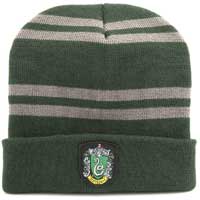 Slytherin Beanie

Tie
Some Slytherin robes come with a matching tie, but not all. Find out if the robe you want comes with a tie or not, and if it doesn't then you can buy one separately.

All Slytherin ties are a combination of green and grey, though the amount of each color varies from one tie maker to another. Some ties also have the Slytherinhouse crest on them. If you are also going to buy a hat and/or scarf then I recommend making sure that the green for all of them match.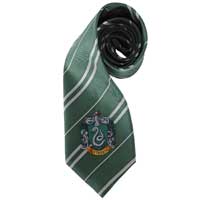 Slytherin Necktie

Tie Clip
There are several different tie clips, also called tie bars, that you can use to keep your House tie in place. Designs include the Hogwarts school crest, Platform 9 3/4, and the Deathly Hallows symbol.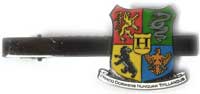 Tie Clip

Scarf
Another item that Hogwarts students are allowed to wear is a scarf. As you saw above with the beanie, scarves match the colors of a student's house and the Slytherin scarf is no exception.

There are scarves that will match the beanie hats, but you need to be careful. Some of the colors match while others clash. Take time to find a beanie and scarf that will go well together if you want to wear both with your costume.

If you live in a colder climate and want to dress up in a Slytherin costume then it would make sense if you also wore a scarf with your outfit. Including a scarf will allow you bundle up and keep your neck and head warm.
Slytherin Scarf

Socks
There are several different types of Slytherin socks, including knee high and ankle socks. Some socks are officially licensed, while many others are lovingly designed by fans.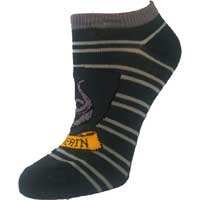 Slytherin Socks

Shoes
Complete your Slytherin House uniform with a pair of shoes. There is one pair of officially licensed shoes, seen below, and many more that are custom made. There are styles available for both men and women.

Slytherin Shoes

Quidditch Uniform
Quidditch Robe
Quidditch robes look a bit sportier than school robes, which makes sense given that they are meant to be worn while playing the official game of the wizarding world.

As of this writing there is only one place to buy a Slytherin Quidditch robe - Etsy. Honestly, I am surprised that there aren't more wizard gaming robes available but the one that is being sold is gorgeous! The picture below doesn't do it justice. The robe is custom made and highly detailed.

When you click on the link below you will see a lot of pictures of Quidditch robes but you might not see a green Slytherin robe. Don't worry, they are available - after you click on one of the Quidditch robes you will then be given the option to choose any of the four Hogwarts houses, including Slytherin.

Thank you to ClockQuirks for giving me permission to use their picture.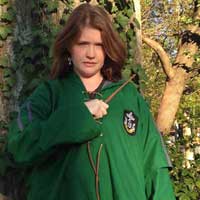 Slytherin Quidditch Robe

Quidditch Varsity Jacket
You have the option of wearing a varsity team jacket. There are several styles available, although they can be hard to find.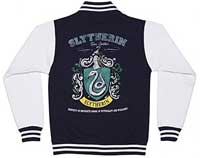 Slytherin Quidditch Jacket

Quidditch Sweater
You might recall that Quidditch players in the Harry Potter movies sometimes wore sweaters that matched their Houses. They are made from a heavy knit yarn and have accenting colors for each House. The Slytherin sweater is green with grey.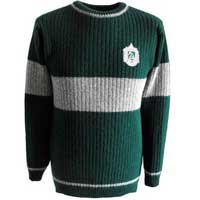 Slytherin Quidditch Sweater

Quidditch Jersey
There is also a jersey shirt that is lightweight if you don't want the warmth of the sweater. There are several official styles and many unofficial ones. Want a shirt with your name on it? You can get your jersey personalized if you buy it from the Warner Bros. Shop!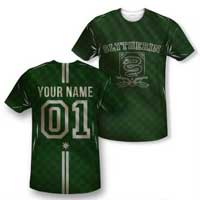 Slytherin Quidditch Jersey

Quidditch Socks
Would you believe that there are Slytherin Quidditch socks? Yes, there are! The officially licensed socks are green and grey, have a cape on the back of the legs, and the number 07, which is odd because this was Harry's number in the movies.

You might also find a pair of ankle socks that you can wear with your Quidditch outfit if you don't want a pair with a cape.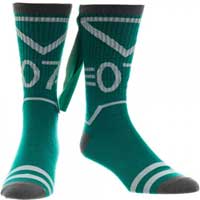 Slytherin Quidditch Socks

Quidditch Helmet
There are not too many items that a Quidditch player is required to wear but the most important item is arguably the helmet. Quidditch helmets resemble old fashioned boxing helmets, and I wouldn't be surprised if that's where the design inspiration came from.

Given the fact that Quidditch players are flying on brooms high above the ground, protecting their heads from falls is a must. At first glance Quidditch helmets don't look very protective but I am sure that they have been magically enhanced so that students who fall don't need to worry about their heads. Their arms, on the other hand, now that's a different matter altogether...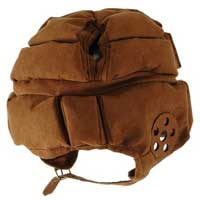 Quidditch Helmet

Quidditch Goggles
An item that seems to be optional, yet very helpful, are goggles. Imagine what it must be like flying around at high speeds. Your eyes would surely take a beating even in the best weather. Days where it is raining would be torturous for the players.

Goggles are the perfect item to help Quidditch players fly without wind, rain, or debris irritating their eyes. I love how the goggles have a bit of a steampunk feel to them, and that they have a golden snitch on the sides. Goggles are a nice touch if you wear a Quidditch costume.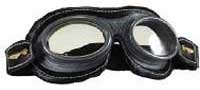 Goggles

Accessory Kit
There is an officially licensed accessory kit that includes goggles, gloves, arm guards, and knee and shin guards. The are brown and look like they are made from leather (they aren't really) and add a nice touch to any Quidditch uniform. There's just one thing - this set only comes in child size.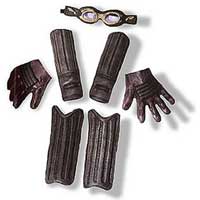 Accessory Kit

Broom
Having a decent broom is a must for every Quidditch player. The quality of a person's broom will directly impact how well the team does as a whole, since speed and accuracy play a big part in this game.

Draco's father, Lucius Malfoy, bought his son's way onto the Slytherin Quidditch team by providing every member of the team with their own Nimbus 2001 brooms. These were the fastest brooms available at the time and my guess is that Draco did this because he was jealous of Harry Potter being made the youngest Seeker in 100 years the year before.

The irony is that Draco probably could have gotten on the Slytherin team based on his own merit. Draco was a talented Seeker and gave Harry a run for the money when they competed against each other.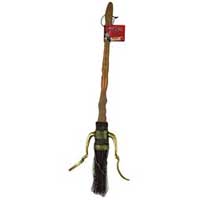 Broom

Golden Snitch
The Golden Snitch is a super fast flying objects that needs to be caught before any game can end. Not only are they fast, but they are also small and incredibly difficult to see, let alone catch. As a Seeker, it was Draco's job to find and catch the Golden Snitch before the competing team's Seeker did.

There are a couple of ways you can incorporate a Snitch with your costume, but the easiest way would be with a watch, like the one you see below. You can even wear the watch any time, not just with your costume.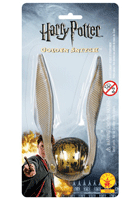 Golden Snitch

Quaffle
There is an officially licensed Quaffle, but it often goes out of stock which is why I have included links to both Amazon and eBay to help you find one.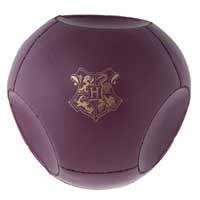 Quaffle

Bludger Bat and Ball
Beaters use Bludger bats to hit a small ball at their opponents to keep them from scoring. Getting hit by a Bludger or ball is one of the more dangerous aspects of Quidditch. I wouldn't be the least bit surprised if every member of the Slytherin Quidditch team had a Beater hidden in their robes so they could hit their opponents any chance they got...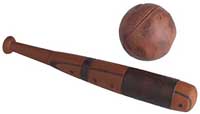 Bludger Bat and Ball

Quidditch Pin
Add a Slytherin pin to your uniform for a bit of fun. There are at least two official pins that I know of, one is a trading pin and one is from 2000 or 2001 and can be hard to find, but there are several fan made pins that are often available.

01/2017 Update: Good news! There are now a nice selection of Slytherin pins available to buy.
Slytherin Quidditch Pin

Black Suit
Black Suit
When Draco wasn't wearing his Hogwarts uniform he was often seen wearing a formal looking black suit. He wore his black suit almost exclusively in Harry Potter and the Half-Blood Prince. This is a popular outfit for people who don't want to dress in either the Hogwarts or Quidditch uniforms.

It can be difficult to find matching jackets and pants when bought separately so I recommend that you buy a suit. The link below will take you to suits that are very similar to the one Draco wore in the films.
---
Black Shirt
Draco also wore a black dress shirt when he wore his suit. The shirt he had buttoned all the way to the top. I do not remember if we see the sleeves but I strongly suspect that they are long sleeved. Draco doesn't strike me as a short sleeved kind of guy when it comes to his dress shirts.
---
Black Tie
Draco suit has left me wondering if his favorite color was black because he finished off his look with a black necktie, and you can do the same. My advice would be to choose a silk tie, which will give a very nice look to the entire outfit.
---
Black Belt
The last item needed for a black suit costume is a belt. Black, of course! It is up to you what kind of buckle you want but I recommend something subtle, like the one seen in the image below, so that it doesn't become the visual focus of your clothes.
Optional Accessories
Dark Mark Tattoo
Death Eaters who were closest to Lord Voldemort were honored with Dark Mark tattoos on their inner left arms. In the sixth story Draco was given one of these tattoos. His father was a Death Eater and it was something Draco thought he wanted until the reality of what being a Death Eater actually meant sunk in.

Add a Dark Mark to your arm for a touch of authenticity to your costume.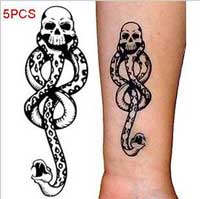 Dark Mark Temporary Tattoo

Snake Ring
I'm not sure when Draco started wearing a snake ring but he had one in Harry Potter and the Half-Blood Prince. It is possible that he was wearing one in an earlier movie but I wasn't looking for it the last time I saw the movies - I'll have to pay attention the next time I view them.

It is a safe bet that Draco did this in honor of his house because the mascot of Slytherin is a serpent. His father also wore a snake ring, so maybe his father encouraged his son to follow in Daddy's footsteps.

I could not find a ring exactly like the one Draco wore but something like the one you see below is a very close replica. Just make sure that the ring you wear has an easily identifiable snake on it. Oh, and for those of you who want to be as accurate as possible, Draco wore the ring on his right hand, on his ring finger (the one next to the pinkie finger).
POTTER STINKS Button
Draco loved to humiliate Harry Potter every chance he got. He was presented with the perfect opportunity in Harry Potter and the Goblet of Fire when Harry's name was chosen by the Goblet, which gave Hogwarts two school champions instead of one.

The entire school thought that Harry had found a way to put his name in the Goblet despite the fact that he was too young to enter. Draco wasted no time in creating a button that magically switched between "Support Cedric Diggory" (Hogwarts other champion) and "Potter Stinks".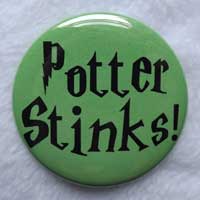 "Potter Stinks!" Button

Prefect Pin
Those of you who haven't read the books might be confused about this costume accessory but those who have will love this small little pin! Prefect is the title given to one boy and one girl from each class, starting with students in their fifth years, for each of the four houses. They are given extra responsibilities and authority over other students. These students continue as Prefects in their sixth and seventh years for a total of 24 Prefects each school year.

Draco Malfoy was chosen as a Prefect in his fifth year, along with Slytherin's Pansy Parkinson. As you might guess, Draco and Pansy abused their new authority every chance they got. When you add a Prefect pin to your costume you are sure to find out who has and hasn't read the books!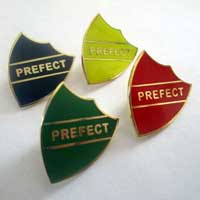 Prefect Pin

Arm Sling
Hagrid was made Professor for the Care of Magical Creatures class in Harry Potter and the Prisoner of Azkaban. He worked hard to make his first class a great one and he introduced his students to Hippogriffs - proud creatures that require people to take very specific steps to ensure the safety of those who approach them.

Draco purposely ignored Hagrid's safety warnings and arrogantly approached a Hippogriff named Buckbeak, then was subsequently attacked by the beast. Draco wasn't badly hurt but he milked his injury for all that it was worth. He was seen with his arm in a sling of as long as he deemed it beneficial to himself.
Eagle Owl
Many of the students at Hogwarts had pets, including Draco who had an eagle owl. We don't actually know if the owl belonged to Draco or was a family owl that Draco took with him to school. Draco's owl was seen bringing him sweets and other packages from home on a regular basis.
Wizard Money
Draco Malfoy comes from an incredibly wealthy family, so it would make sense if you carry at least a little bit of wizard currency with you. You just never know when you might find yourself in Diagon Alley so it is best to be prepared. Whether you choose to keep stocked up on chocolate coins or the real thing is entirely up to you!

As you click the links you will find that wizard money comes in many forms. There are authentic Gringotts Bank coins, which includes knuts ("k-nutes"), sickles, and galleons, as well as paper currency. Some of the money is even legal tender in at least one country.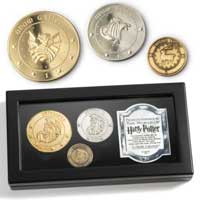 Wizard Currency

Hogwarts Student ID Badge
There is at least on eBay seller who makes Hogwarts student ID badges. You can buy it with a picture of actor Tom Felton as Draco Malfoy or you can customize it with a picture of yourself.

Image courtesy of sblackwell19

Death Eater ID Badge
I'm sure that you already know that Draco was officially made a Death Eater some time during the summer before his sixth year of school at Hogwarts. It is for this reason that you can add a Death Eater ID badge with Draco's picture and details on it to your Draco costume.

Image courtesy of sblackwell19

Snide Attitude
The final touch for your costume is to add Draco's pompous attitude. Draco believed his Pureblood status and wealth made him better than most of the students at Hogwarts. He was often seen being rude to anyone he didn't like.

I've included two video tributes to Draco to help you get into character. The first video shows Draco in his younger years at Hogwarts, while the second video focuses on Draco from Harry Potter and the Half Blood Prince.

At the very least, make sure you have a sneer or superior smile on your face. And if you should happen to come across Harry Potter, be sure to make him miserable!

Do you live outside the United States?