Sirius Black became best friends with James Potter when they first began school at Hogwarts, and later he was made Godfather to Harry Potter. He was loyal to James and Lily, and would have died for them, but instead he was framed for their murder, and the murders of a dozen Muggles, by Peter Pettigrew.

Sirius spent years in Azkaban for murders he did not commit, but he managed to escape when he found out that Peter Pettigrew was alive and possibly putting Harry Potter in danger. He was able to find Peter, who later escaped, which forced Sirius to stay in hiding until his dying day. The only saving grace for Sirius was the he befriended Harry.

You have a variety of looks to choose from if you want to dress up in a Sirius Black costume. You can wear a Gryffindor uniform, since he was sorted into Gryffindor House, an Azkaban prison outfit, or everyday clothes.

Regardless of which look you go for, it's easy to look like Sirius when you know what you need, and I have done all the hard work for you. From his hair and wand to his Azkaban uniform, every day clothes, and accessories, here are all the items you need to dress up in a Sirius Black costume!

Mandatory Accessories
Wig
Sirius had long brown curly hair. I was able to find several wigs that would work, but be aware that they are meant for women. That's okay, though, because many women would love to have Sirius's hair!
Sirius's Hair

---
Wand
The wand that Sirius used was made by Garrick Ollivander, but the wood and core are unknown. There are symbols that could be runes along the wand, as well as a design that twists down the wand's shaft.
Sirius's Wand

Azkaban Prison Clothing
The first time we saw Sirius Black in the third movie was in a "Wanted" poster. We later saw Sirius in person as he attempted to catch and kill Peter Pettigrew. Each time we saw him in Harry Potter and the Prisoner of Azkaban Sirius was wearing his Azkaban prison clothes.
---
Prison Suit
I find it interesting that Azkaban prison outfits look almost identical to the stereotypical Muggle jail suit of white and black stripes. A prison costume looks almost identical to the suit seen on Sirius. You can easily add a bit of authenticity by shredding and cutting the arm and leg cuffs.

---
Grey Dye
I'm sure that Sirius's uniform was once clean and the white part of the jumpsuit actually looked white, but it was dingy and grey by the time he escaped and found his way to Hogwarts. It is simple enough to make a prison costume look old by washing it in grey dye. Just remember that the longer you keep the clothes in the dye, the darker the grey will be.
Grey Dye

---
Grey Coat
Sirius was seen wearing a grey coat over his prison uniform. I don't know if this was an official Azkaban issued coat or something that Sirius nicked after he escaped, but look for something simple because his was very plain.
---
Shackles
Azkaban prisoners are shackled, which means Sirius was, too. There are a lot of different costume shackles but the ones that look closest to Azkaban shackles are called jumbo shackles. Pirate shackles are also similar in appearance, if you prefer those.
Azkaban Shackles

---
Azkaban Sign
Azkaban documents each new prisoner by taking a mug shot, just like Muggle jails do. And, just like with Muggles, Azkaban prisoners are required to hold up a sign that shows that person's unique Azkaban prison number. That is where the similarities end, though, as Azkaban signs do not look anything like Muggle signs. They have a combination of numbers and runes.
---
Azkaban Prisoner ID Badge
I found a seller who makes Hogwarts student ID badges. Each badge includes a student's details, such as House, name, gender, wizarding blood status, and wand type.

There are pre-made badges for many of the main characters that have pictures of the actors who portrayed each character. Or, you can customize a badge with a picture of yourself and any name you want.

Image courtesy of sblackwell19
---
Tooth Paint
There is one final touch you can add to your Sirius Azkaban costume - rotten teeth. Apparently there are no toothbrushes in Azkaban because when we finally saw him in the third movie, his teeth were black and disgusting looking. You can safely make your teeth look dirty by applying tooth paint to them.
Everyday Clothing
Sirius cleaned up in Harry Potter and the Order of the Phoenix and dressed in much nicer clothes than the last time we saw him. Sirius was a man of wealth, though not as wealthy as Lucius Malfoy, and his clothes showed this fact. What you see below is one example of the clothes you can choose to dress up in a Sirius Black outfit.
---
Cosplay Costume
The easiest thing to do if you want to dress up in a Sirius costume is buy a complete Cosplay outfit. At the time that I wrote this there was one complete Cosplay costume being sold on eBay, but you never know when it will also show up on the other sites I've listed.

Image used with permission by costyle2012.
---
Jacket
Sirius's jacket was long, olive green, and had a striped pattern to it. There isn't anything exactly like this but I found several that are close in color and style.
---
Vest
Sirius's vest was purple and I'm fairly certain that it was made of velvet. There are very few velvet purple vests so go with another color if you prefer.
---
Shirt
The shirt worn by Sirius was burgundy with stripes. It is rather difficult finding a shirt that looks exactly like Sirius's so choose one that matches your jacket and vest.
---
Pants
Pants might be the easiest part of a Sirius Black outfit. Go for comfortable jeans, possibly ones that are faded or torn, but tactfully so.
---
Shoes
I'm pretty sure that the footwear worn by Sirius in the films were shoes, but I have a strong feeling that he would have equally comfortable in boots. Go with whatever feels right to your inner Sirius.
Footwear

---
Pocket Watch
The final touch for your Sirius Black costume is a pocket watch that you wear on your vest. Take a look at the image at the top of this costume if you are unsure what I mean. There are TONS of different pocket watches but I am limiting my findings to Harry Potter related watches.
​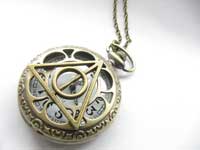 Pocket Watch

School Uniform
Robe
Some robes are very basic, while others are much more detailed. Any of them will work fine, so it's up to you to decide how you want to dress your version of Sirius. Gryffindor robes come in both child and adult sizes, so just about anyone in your family has the opportunity to dress in a Gryffindor robe.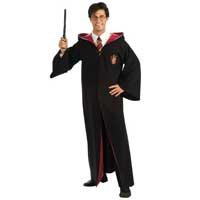 Gryffindor Robe

Cosplay Robe
You have one more option when it comes to choose a robe. There are also cosplay versions of the Gryffindor house robe available.

Cosplay outfits are usually better quality than mass produced costumes. They are made from more durable materials and often include far more detail than non-Cosplay outfits. Most Cosplay robes are made for adults but I did see at least one on Etsy for kids and several on Amazon.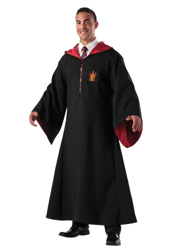 Gryffindor Cosplay Robe

Grey Sweater
Each Hogwarts school uniform includes a sweater, which I am sure the students appreciated on cold, snowy days. The Gryffindor sweater is dark grey with burgundy accents around the wrists and bottom of the sweater.

There was an officially licensed Gryffindor House student sweater, as well as an authentic Replica version, but both are very hard to find. There are also handmade sweaters sold on Etsy. I have included several sources to help you find a sweater if you want to include one with your costume.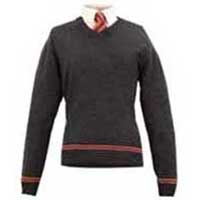 Gryffindor Sweater

White Shirt
Another part of every Hogwarts student's school uniform is a white shirt. Sure, you rarely see the shirts underneath the school robes but they are there, so you will want to include one, especially if you want to be as accurate as possible with your outfit.

One thing that I do not know is if the shirts have long or short sleeves so you can decide what type of shirt will work best for your costume. There are a lot of shirts to choose from so go with the one that you like the most.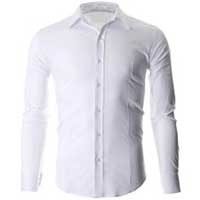 White Shirt

Cufflinks
You can add a touch of class, or humor, to your outfit with one of the many Harry Potter cufflinks that are available. Most are serious, such as the ones for each of the four Houses, but some are silly, like the ones made with Harry Potter LEGO® characters. Some even come with matching tie clips.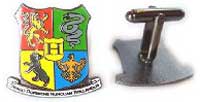 Cufflinks

Grey Pants
The last thing you need for your costume is a pair of grey pants. I have found that Dockers style pants have just the right mixture of casual and professional look to them.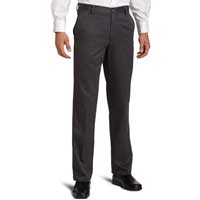 Grey Pants

School Hat
There are two types of hats that students of Hogwarts can wear as they go about their days. The first type of hat is the one you see here, a black hat that comes to a point on top.

This is the hat that conforms with each student's required uniform. However, based on what we saw in the movies, the hat is required to have but not necessarily to wear. Students seemed to have the option to choose whether or not they wanted to wear it.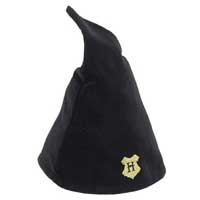 Hogwarts Student Hat

Beanie
The other style of hat that Hogwarts students can wear is the beanie hat. This hat is perfect during the winter months because it will keep your ears warm if you choose to pull the hat down to cover your ears.

The beanie is knitted from the colors of Gryffindor House. Some styles even include the house's crest on it, just above the forehead. It's nice to know that Hogwarts allows students the option to choose their hats, especially given how cold it gets in the winter time there.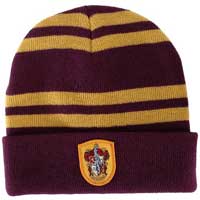 Gryffindor Beanie

Tie
Some Gryffindor robes come with a matching tie, but not all. Find out if the robe you want comes with a tie or not, and if it doesn't then you can buy one separately.

All Gryffindor ties are a combination of maroon and gold, though the amount of redness varies from one tie maker to another. Some ties also have the Gryffindor house crest on them.

If you are also going to buy a hat and/or scarf then I recommend making sure that the red for all of them match.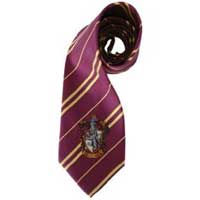 Gryffindor Necktie

Tie Clip
There are several different tie clips, also called tie bars, that you can use to keep your House tie in place. Designs include the Hogwarts school crest, Platform 9 3/4, and the Deathly Hallows symbol.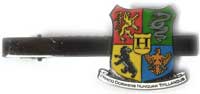 Tie Clip

Scarf
Another item that Hogwarts students are allowed to wear is a scarf. As you saw above with the beanie, scarves match the colors of a student's house and the Gryffindor scarf is no exception.

There are scarves that will match the beanie hats, but you need to be careful. Some of the colors match while others clash. Take time to find a beanie and scarf that will go well together if you want to wear both with your costume.

If you live in a colder climate and want to dress up in a Harry Potter costume then it would make sense if you also wore a scarf with your outfit. Including a scarf will allow you bundle up and keep your neck and head warm.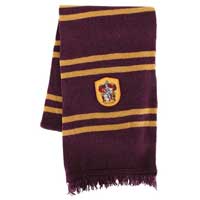 Gryffindor Scarf

Socks
There are several different types of Gryffindor socks, including knee high and ankle socks. Some socks are officially licensed, while many others are lovingly designed by fans.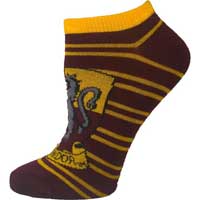 Gryffindor Socks

Shoes
Complete your Gryffindor House uniform with a pair of shoes. There is one pair of officially licensed shoes, seen below, and many more that are custom made. There are styles available for both men and women.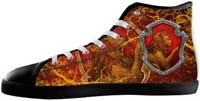 Gryffindor Shoes

Optional Accessories
Plush Black Dog
You can carry around a plush black dog in case anyone asks you to use your Animagus ability to change into your animal form.
---
Plush Hippogriff
Of course, it would be completely in character if you carry around a Hippogriff with you because both Sirius and Buckbeak were forced to go on the run together. Buckbeak, who was renamed Witherwings to protect his identity, moved into a spare room in Sirius's house and was cooped up there along with Sirius so that neither would be seen by anyone other than members of the Order of the Phoenix.
---
Artefact Box
There is a collectible called an artefact box (yes, that is spelled correctly - I'm guessing this is the British way of spelling artifact?) that includes a variety of items in it. Among the many things to be found in the box are two that relate to Sirius - Lily Potter's letter to him when Harry was a baby and his Azkaban prison photo.
Artefact Box

---
Gryffindor Pin
Add a Gryffindor House pin to your uniform for a bit of fun. There are at least a handful of official pins that I know of, but there are many fan made pins that are also available.

​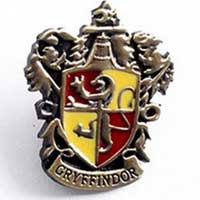 Gryffindor House Pin

Do you live outside the United States?