Lucius Malfoy was Draco's father and a very influential member of the wizarding world. He often used his influence to get what he wanted, both within the Ministry of Magic and on the Hogwarts Board of Governors.

Lucius was born into a family of great wealth and probably never wanted for anything. He raised his son in the same way, and had no problem buying Draco's way onto the Slytherin Quidditch team by donating expensive Nimbus 2001 brooms to every Slytherin team member.

He was also cruel to anyone he considered beneath him. This included Harry Potter and his house elf, Dobby. If he couldn't use someone for personal gain then he stepped on them. This behavior caught up with him, though, when he fell out of favor with Lord Voldemort towards the end of the series.

You have several options when it comes to dressing up as Lucius Malfoy. You can go with an outfit made up of his everyday clothes, or dress as a Death Eater. I've also included many accessories that will allow you to customize your look.

From his hair, wand, and clothes to his snake ring, brooch, and walking stick, here is everything you need to dress up in a Lucius Malfoy costume!
Mandatory Accessories
Wig
Jason Isaacs, the actor who played Lucius Malfoy in the films, wore a blonde wig that was long, straight, and parted in the middle. He has shared that he tipped his head back to keep his hair straight [1]. Not only did he succeed in keeping his hair straight, but it also caused him to look down on everyone, which was the perfect look for arrogant Lucius.
---
Wand
Lucius's wand is strikingly plain, given how ostentatious he is, but there is a reason for this. His wand was handed down for generations in the Malfoy family. In other words, this particular wand didn't choose Lucius. However, he found a way to dress up his wand, which you will see next.
Lucius's Wand

---
Walking Stick
Remember the walking stick that Lucius had, the one with a snake's head on it? He hid his wand inside the cane, and the snake's head was the handle of his wand. This was a very clever way for him to make his wand into something that it otherwise wasn't - befitting of a man of Lucius's status in society. When you pull the snake's head out of the cane, Lucius's wand will be revealed. When you are done casting Unforgivable Curses on Muggles and Mudbloods, you can safely hide your wand back into the cane.
Snake Cane

Replica Clothes
There were several officially licensed replica items made of Lucius's clothes that are now all incredibly hard to find. I have included links to Amazon and eBay for all three items, but don't be surprised if you are unable to find them available for sale anywhere, but you just never know when one of these pieces of clothes will show up so check back every now and then.

I have also included links to Etsy. You probably won't find the official replica items on Etsy, but you might find handmade versions. Just like Amazon and eBay, you never know when you'll find something for sale on Etsy so that's another site worth checking frequently.
Brown Coat
Lucius had a gorgeous brown coat that he wore in one of the films. It was ornate and decorative, just like Lucius.
---
Black Coat
Lucius's black coat was rather simple, but he dressed it up with expensive looking brooches and medallions.
---
Black Vest
Lucius's vest buttoned up all the way to his neck. I could be wrong, but I believe he wore the vest under the black coat.
Everyday Clothes
Lucius was a man who came from generations of wealth and he never left the house unless he was dressed in clothes that showed off his wealth and status in the magical society. Below are articles of clothing that Lucius would have been comfortable wearing. You can pick and choose what items you want to create your own Lucius costume.

Here is one example of Lucius's many regal looks.

---
Black Velvet Cape
Lucius had exquisite, and expensive taste. Everything he wore was chosen to show those who saw him how wealthy he was. Therefore, when you choose a cape, choose one made of velvet, a lush and luxurious material.
---
Black Half Cape
Sometimes Lucius wore what looked like a half cape, or capelet, over is coat. Black, of course!
---
Black Tunic
If you can't find a replica of Lucius's coat then consider a tunic. It is long, and buttons up to the neck the way Lucius's clothes do.
Tunic

---
Black Leather Vest
Leather has often been a sign of wealth so I suspect that Lucius would approve of wearing a vest made of leather.
---
High Necked White Shirt
There were times when we saw Lucius dressed in black, but with a white shirt underneath. Very little of the shirt was actually visible, only the cuffs and collar, and the collar was up, not folded down. If you wear a white shirt with your Lucius costume, flip the collar up for a more accurate look.
Shirt

---
Black Pants
This might seem obvious, but Lucius's pants were black, so make sure yours are, too.
Pants

---
Black Shoes
Finally, you will need to wear the right type of shoes. The image below is very similar to the shoes seen on Lucius in the films. Your shoes don't need to look exactly like these, but choose something black and fashionable, preferably made of leather.
Official Death Eater Costume
Outfit
As you are well aware, Lucius Malfoy was a Death Eater. He was in Lord Voldemort's inner circle and was one of the most important Death Eaters, at least, until he made so many mistakes that Voldemort unofficially demoted him.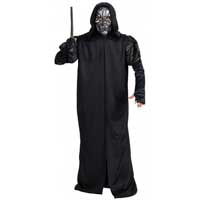 Death Eater Robe

Alternative Death Eater Costume
You don't have to buy an official Death Eater costume if that's how you want to dress as Lucius. In fact, it's rather easy putting together a custom Death Eater outfit and you can put your own personal touches on the costume based on the clothing you choose.
Black Cloak Or Robe
Start with a cloak or robe. Look for one that is black and has a hood. Some cloaks have holes for arms and others are more like robes, and there are so many variations that you should have no problem finding the right one for you. Some costumes come with accessories that you might need to discard (at least for your Death Eater costume) such as the scythe that comes with Grim Reaper costumes.
Cloak Or Robe

Steampunk Jacket
I found a costume that I think would make a great Death Eater costume! It's a steampunk jacket with many belts and other adornments that make it look slightly sinister and imposing.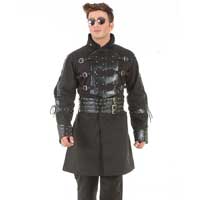 Steampunk Jacket

Black Shirt
Depending on the type of cloak or robe that you chose, you might need a shirt to wear under it. A pirate style shirt is a great option, but avoid any that have ruffles. A Death Eater wouldn't be caught dead wearing ruffles!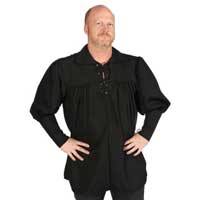 Black Shirt

Belt
A belt would be a great addition, especially one that is ornate. By ornate, I don't mean with a big belt buckle, but one with extra straps or other additions to make it more interesting than a plain belt.
Belt

Black Pants
Don't forget your pants! Black, of course.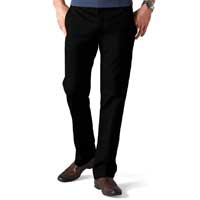 Black Pants

Black Boots
Finish off your costume with a pair of black boots. It is my opinion that boots with buckles or other adornments would be best.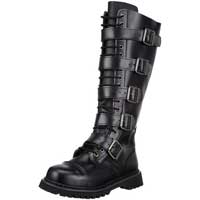 Black Boots

Optional Accessories
Lucius Malfoy's Snake Brooch
Lucius wore a brooch (sometimes spelled broach) of a snake and a very large gemstone, and it would go perfectly with your Lucius Malfoy costume.

Image used with permission by Muggle Market.
Lucius Malfoy's Snake Ring
You might not have noticed, but Lucius wore a snake ring that was very unique, with several snakes across the top of it.

Image used with permission by Muggle Market.
Medallion
Lucius also wore a large, round medallion. I was unable to find an exact replica of the medallion so instead looked for snake pendants. Lucius has a known affinity for snake jewelry so a snake medallion will fit right in with your Lucius outfit.
Wand Sheath
I'm not positive about this, but I think that many Death Eaters had sheaths, sometimes called holders or holsters, that they wore around their waists to hold their wands. There are several sellers who are selling handmade wand sheaths. Most, if not all, are made of leather and come in a variety of colors and styles.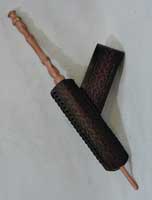 Wand Sheath

Mask
Lucius Malfoy's Death Eater mask was black and silver, with decorative swirls.
Dark Mark Tattoo
Only the witches and wizards who were in Lord Voldemort's Death Eater inner circle, of which Lucius was a member, were granted the privilege of the Dark Mark tattoo so show off your position within the ranks by adding a temporary tattoo to your left forearm.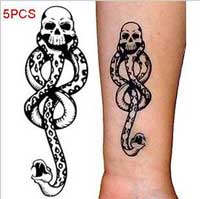 Dark Mark Temporary Tattoo

Death Eater Ring
You can wear a Death Eater ring if you don't want to wear Lucius's snake ring.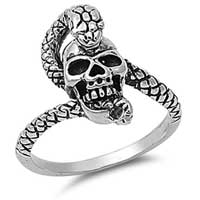 Ring

Death Eater Cufflinks
A nice touch to your costume would be a pair of Death Eater cufflinks.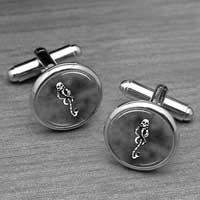 Death Eater Cufflinks

ID Badge
There are at least two ID badges that I found for Lucius. One is a badge for entry into the Ministry of Magic, and the other is a badge showing his status as a Death Eater.
Tom Riddle's Diary
The Chamber of Secrets would never have been opened if Lucius hadn't snuck Tom Riddle's diary to Ginny Weasley's.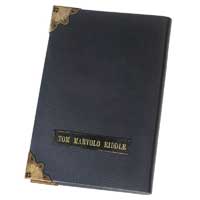 Tom Riddle's Diary

Do you live outside the United States?
[1] http://www.ew.com/article/2010/11/22/jason-isaacs-lucius-malfoy