A Death Eater was a witch or wizard who followed the Dark Lord, Lord Voldemort, and did Voldemort's bidding. These were people who enjoyed believed in magical purity, and torturing and killing innocent people, including non-magical Muggles.

There are a couple of ways to recognize a Death Eater. The easiest is to look on a person's left forearm to see if there is a Dark Mark tattoo there, but this is not a foolproof method because only Death Eaters closes to Voldemort were allowed the privilege of having a tattoo. Another way is to look at their clothes. Are they dressed in dark clothes with hoods? Do they have any jewelry of a skull and snake? If so, then they might be Death Eaters!

It is fairly easy to dress up as a Death Eater, and I've done the hard work of gathering all needed items for you. From the black outfit or dress, wand, and wand sheath to the cape, mask and jewelry, here is everything you need to put together a Death Eater costume!

Official Death Eater Costume
Outfit (For Men)
There are two officially licensed Death Eater outfits for men. They are basically the same, but one has a longer robe and the colors of the sleeves are different. They both include a mask and have hoods.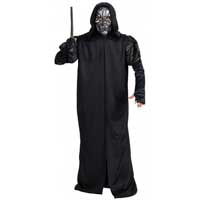 Death Eater Robe

---
Dress (For Women)
There is also an official costume for women. It is a black dress with a corset and silver mask.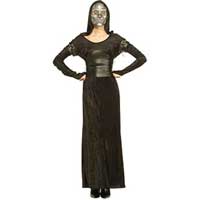 Death Eater Dress

Alternative Costume For Men
You don't have to buy an official costume. In fact, it's rather easy putting together a custom Death Eater outfit and you'll be able to put your own personal touches on the costume.
Black Cloak Or Robe
Start with a cloak or robe. Look for one that is black and has a hood. Some cloaks have holes for arms and others are more like robes, and there are so many variations that you should have no problem finding the right one for you. Some costumes come with accessories that you might need to discard (at least for your Death Eater costume) such as the scythe that comes with Grim Reaper costumes.
Cloak Or Robe

Steampunk Jacket
I found a costume that I think would make a great Death Eater costume! It's a steampunk jacket with many belts and other adornments that make it look slightly sinister and imposing.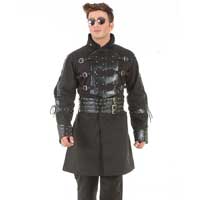 Steampunk Jacket

Black Shirt
Depending on the type of cloak or robe that you chose, you might need a shirt to wear under it. A pirate style shirt is a great option, but avoid any that have ruffles. A Death Eater wouldn't be caught dead wearing ruffles!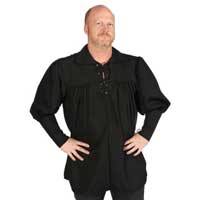 Black Shirt

Belt
A belt would be a great addition, especially one that is ornate. By ornate, I don't mean with a big belt buckle, but one with extra straps or other additions to make it more interesting than a plain belt.
Belt

Black Pants
Don't forget your pants! Black, of course.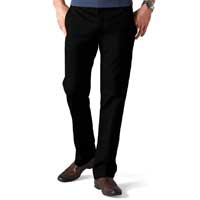 Black Pants

Black Boots
Finish off your costume with a pair of black boots. It is my opinion that boots with buckles or other adornments would be best.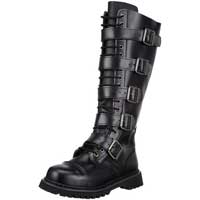 Black Boots

Alternative Costume For Women
Black Cape
Start with a cape, one that is black, long, and has a hood. A cape made of velvet would add an air of wealth, something many of the Death Eaters had.
Cape Or Cloak

---
Gothic Gown
Female Death Eaters wore dresses that were gothic in appearance, so you can choose from the many gothic gowns available.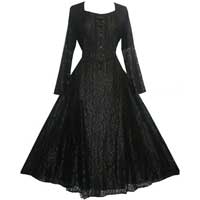 Gothic Gown

---
Corset
The official Death Eater dress has a corset so it would make sense to add one to your alternative dress. There are plenty to chose from and they range in style from plain to very detailed.
---
Fingerless Gloves
You don't have to wear gloves but if you do, go with ones that are black and fingerless. Why fingerless? Because they look awesome and stylish!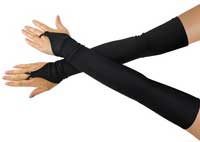 Black Gloves

---
Death Eater Tights
I was delighted to stumble across these thigh high tights that have a Dark Mark on them. One person commented that they fit her a little large so you might want to consider a harder belt if you have slim legs.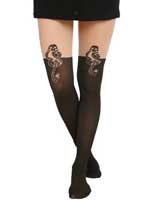 Death Eater Tights

---
Victorian Boots
Victorian style boots have the perfect look for Death Eater dresses!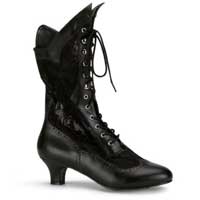 Black Boots

Optional Accessories
Wand
There are several Death Eater wands and at least two of them have skulls. Get ready to cast the four Unforgivable Curses with one of these wands!
Wand Sheath
I'm not positive about this, but I think that many Death Eaters had sheaths, also called holders or holsters, that they wore around their waists to hold their wands. There are several sellers who are selling handmade wand sheaths. Most, if not all, are made of leather and come in a variety of colors and styles.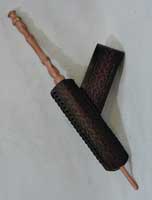 Wand Sheath

Mask
Death Eaters were a secretive bunch and they kept their identities hidden behind masks. The masks had the ability to strike fear in the hearts of the people who saw them, but the masks were also beautiful works of art. There are many different styles, both officially licensed and handmade, so you can choose the mask that best fits your personality.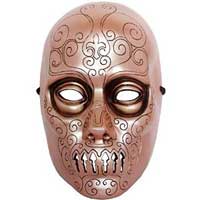 Death Eater Mask

Dark Mark Tattoo
Only the witches and wizards who were in Lord Voldemort's inner circle of Death Eaters were granted the privilege of the Dark Mark tattoo so show off your position within the ranks by adding one to your left forearm.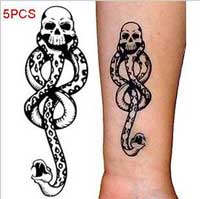 Dark Mark Temporary Tattoo

Death Eater Earrings
There are several different types of earrings that would go well with a Death Eater outfit. Style include Voldemort's Dark Mark, snakes, and there was even one pair of earrings that had Voldemort's face on them!
Death Eater Necklace
There are also many different necklaces that any female Death Eater would be proud to wear to show off her dedication to the Dark Lord.
Death Eater Bracelet
There are also several Death Eater bracelets that are based on skulls, snakes, and/or Slytherin House.
Death Eater Ring
The gloves are not mandatory and if you want to wear a ring then it best to skip the gloves. A ring with a skull and snake is perfect for Death Eaters because it combines a snake with a skull, just like the Dark Mark.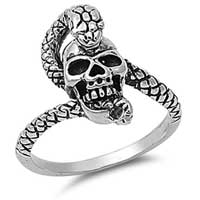 Ring

Death Eater Cufflinks
The icing on the cake for a men's Death Eater costume is a pair of Dark Mark cufflinks!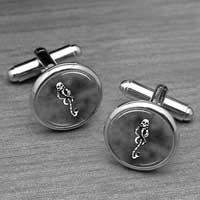 Death Eater Cufflinks

Death Eater ID Badge
When you show off your Death Eater ID badge, you are almost guaranteed to get into any place you want! Of course, the Unforgivable Curses that you say as you show the badge probably helps...

Image courtesy of sblackwell19

Do you live outside the United States?