If you want to dress up in a Dobby costume then I have good news and bad news for you. First the bad news - there was an official costume for Dobby but it is almost impossible to find these days. Now for the good news - it is really easy to replicate Dobby's clothes so you don't need the official costume.

Dobby (or Dobbie, as it is sometimes spelled) is one of the characters in the Harry Potter series that I absolutely adore! He was kind and caring, despite the years of abuse he suffered at the hands of the Malfoy family.

If you've read the books then you know that Dobby played an even bigger role in the books than he did in the movies. I'm not going to spoil anything for you if you haven't, but I am going to strongly encourage you to get the books and start reading them. If you love this unique house elf as much as I do then your love for him will increase after reading the stories.

A Dobby costume is not fancy because House Elves are not allowed to wear proper clothes so they make do with things like a pillow case. There are a few other items that you can add to your costume to make your look as true to Dobby as possible. No matter what you decide to add to your costume I hope you have as much fun wearing it as I did putting it together!

Dobby Costume
Official Costume
As I said above, there was an officially licensed costume for Dobby, but it was made several years ago and it is no longer made. It is almost impossible to find an official Dobby costume anymore, but I've included links just in case you are lucky enough to find one. My guess is that your best bet is to check on eBay, but you never know when someone might list it on Amazon, too.

The official costume was of the clothing that Dobby wore, which was a pillow case with holes for his head and arms. Dobby was a House Elf, which is a small creature when compared to humans. Therefore, a true pillow case wouldn't work for people. This costume created a replica of Dobby's pillow case clothes in a size that was meant to fit people.

It is very possible that when you click either link below that you will see Dobby masks and hands, but no costume. If that happens then look at the alternative costume below.
---
Alternative Costume - Toga
I did a lot of searching to find an alternative costume. First I looked at pillow cases but while a child might fit them, there aren't any that an adult could comfortably wear.

Then I turned my thoughts to togas, and I am happy to say that there is an alternative costume you can use for your Dobby outfit that looks like it was meant for use as Dobby's clothes. The costume I am talking about is the Animal House Bluto toga costume.

Take a moment to look at the image to of Bluto's toga. The costume comes with the toga, a crown, and a button of Bluto's face. The pin and crown can be removed, leaving you with the toga, which is almost a perfect replica of the official costume,
---
Alternative Costume - Gunny Sack
You have another option if you don't want to wear a toga. You can take a gunny sack, also called a burlap potato sack, and cut holes for your head and arms. Just make sure to wear something appropriate underneath!
Optional Accessories
Mask
There is an officially licensed mask that is incredibly life-like and highly detailed. Not only does it include Dobby's floppy ears but it also has his huge green eyes and long nose.

The mask is made from latex, which means that people with latex allergies need to avoid it.

This mask comes in two sizes - child and adult. As I read through the reviews I saw people say that the mask was really well made, but that it also runs large. Several women said that the child sized mask fit them so you might want to read through the comments before deciding on which size you should buy.

Oh, and for those who many be wondering, there are small openings just under Dobby's eyes that you look through.
Dobby Mask

---
Ears
Not everyone wants to wear a mask that covers their entire faces. If this is you then there is an alternative to the mask that you are likely to find is easier to wear.

There is at least one seller on Etsy who makes handmade Dobby ear hats. These hats are crocheted and look adorable!

The hats can be bought in toddler/child sizes and adult sizes. The hats are so cute that many of you might be tempted to wear them even if you don't have on you Dobby costume!
---
Hands
The mask isn't the only officially licensed product for a Dobby costume. There is also an official pair of hands.

You might have noticed that Dobby's fingers in the movies were long and thin. The fingers on the rubbers gloves are not exactly like the ones in the movies, but there is a good reason for that. Dobby only had four fingers and we have five. Therefore, two fingers need to fit inside one of Dobby's which explains why the middle fingers on the fake hands are thicker than the rest.

It is entirely up to you if you want to wear the gloves. However, I have a recommendation that will be a really nice touch to your costume. Tie thin strips of material to your fingers. Dobby often punished himself for disobeying the Malfoys, which resulted in bandages tied to his fingers.
Dobby's Hands

---
Wool Hats
Those of you who have read the books know that Hermione Granger tried to free all the House Elves at Hogwarts. She learned how to magically knit and made loads of hats that she left hidden around the Gryffindor common room. Hermione would leave the clothes out at night and was very pleased in the mornings when she saw that they were gone.

What Hermione didn't know was that the only elf who would clean up the Gryffindor common room was Dobby and he was already a free elf. The other elves were terrified of accidentally picking up one of Hermione's articles of clothing and being freed.

I don't know if it is possible to fit a hat over a Dobby mask but you can probably wear one sideways so that it is over one ear. Dobby loved to wear the clothes that Hermione made and Harry saw him at least once with a stack of hats on his tiny head.

---
Scarves
Hermione didn't just knit hats in her effort to free House Elves. She also knitted scarves. Her first efforts were not very good but over time she became efficient and her articles of clothing looked rather nice.

Of course, Hermione's efforts were wasted. She didn't free a single elf at Hogwarts. Although she didn't free any elves, Hermione made Dobby quite happy with all the clothes she made.

Dobby liked wearing more than one scarf at a time. If you aren't worried about overheating then consider wearing as many hats and scarves as you can. As for color coordination, there is no need to worry about that because Dobby never did. Therefore, wear whatever colors and patterns that you want.
---
Socks
Ah, socks... Dobby was mad about socks!

It's not hard to understand why Dobby was passionate about socks because it was one of Harry Potter's socks that freed him from a lifetime of slavery. Dobby cherished the sock Harry had given him and he kept it until the day he died.

Dobby received several pairs of socks from Harry and Ron Weasley. Dobby's favorite type of socks were mismatched socks that were colorful. I suspect that Dobby would have approved of the colorful socks worn by Luna Lovegood.

Dobby didn't wear shoes, but he often wore multiple pairs of socks. Feel free to wear as many socks as you can on each foot. What is nice is that you don't have to worry about matching because Dobby's clothes never matched.
---
Tom Riddle's Diary
At first glance Tom Riddle's diary might seem like an odd choice for a Dobby costume, but if you think about it a bit you'll realize that it is a perfect item to include. Why? Because it was Riddle's diary that played a key part in getting Dobby freed.

Do you remember how Harry tricked Lucius Malfoy into freeing Dobby? He removed one of his socks and stuffed the diary inside of it (in the movie Harry put the sock inside the diary). Harry then gave the sock and book to Lucius, who then removed the sock and tossed it aside. Dobby caught the sock and was forever more a free elf (or, in the movie, he opened the book and found the sock).

If you decide to add this to your outfit then you can either carry it with a sock sticking out of it or have it stuffed inside the sock.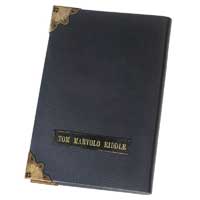 Tom Riddle's Diary

---
House Elf ID Badge
Show off Dobby's credentials as a House Elf with an ID badge. Dobby might not have wanted masters, but he was perfectly happy doing what he was born to do.

Image courtesy of sblackwell19

---
Grey Dye
The final item that I am adding to this list of accessories is grey fabric dye. You can use it to make your clothing look old, worn, and dirty. Dobby's clothing was dirty looking - I am unsure, but it seems that Dobby was not allowed to remove his clothing to clean it.

Using dye is a very easy way to give you clothing an aged look. All you need to do is follow the directions, which mainly consists of mixing the dye with water, then soaking the fabric in the water for a set period of time.

I suggest that you keep the fabric in the water for a short period of time to give it a light gray tint. You can always dye it a bit longer if it doesn't turn out dark enough for your taste.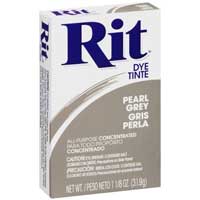 Grey Dye

Do you live outside the United States?