Hermione is the kind of student others both envy and dislike. She's naturally brilliant, which causes envy, but she's also a know-it-all, which causes dislike. It comes as no surprise that Hermione didn't have any friends until Ron Weasley and Harry Potter saved her from the troll on Halloween night in their first year at Hogwarts.

When it comes to dressing up in a Hermione costume you have a lot of choices. You can dress up in Hogwarts school robes and accessories, you can dress casually as she did in Harry Potter and the Prisoner of Azkaban, or you can dress formally as though you are going to the Yule Ball held in Harry Potter and the Goblet of Fire, or even dress she wore for the wedding from Harry Potter and the Deathly Hallows pt. 1.

It doesn't matter which look you want because I've gathered everything you need for each specific look. I enjoyed choosing clothes for a Hermione Granger outfit and I hope you have a lot of fun dressing as the smartest witch of her class.

From her school uniform and casual clothes to her formal dresses, here are all the items you need for a Hermione costume!

Mandatory Accessories
Wig
The first time we meet Hermione is on the train ride to Hogwarts in the first story. She was helping Neville Longbottom look for his missing toad and she entered the car with Ron and Harry. This is how she was described:

"Has anyone seen a toad? Neville's lost one," she said. She had a bossy sort of voice, lots of bushy brown hair, and rather large front teeth.

There is one officially licensed wig for Hermione's hair. It is child sized, and nicely depicts the natural unruly and bushy nature of Hermione's hair.
Hermione's Hair

---
Wand
The official statistics for Hermione's wand show that it measured 10-¾". The wood that it was made from was vine wood, which was intentional on J.K. Rowling's part. If you research vines on Celtic calendars you will see that the vine symbol represents the passionate emotions of both wrath and happiness. Does that sound like a certain bossy someone that we know?

Hermione's wand also a dragon heartstring in its core. I have been unable to find any information about this choice, but given that dragons are brave, aggressive, and fiery, I am not surprised by this choice.

Carrying a wand is a must when you dress as Hermione Granger. There are many variations of her wand. You can choose one with a light-up tip at the end, comes in a lovely Ollivander's box, or just a basic wand. The choice is yours.

Hermione's Wand

School Uniform
Robe
The very first student we saw in Harry Potter and the Sorcerer's Stone wearing school robes was Hermione. She was born into a Muggle family and didn't know she was a witch until her Hogwarts Acceptance Letter arrived. I imagine she was incredibly excited to start learning at Hogwarts, which explains why she immediately put on her school robe as soon as she got on the Hogwarts Express.

Some robes are very basic, while others are much more detailed. Any of them will work fine, so it's up to you to decide how you want to dress your version of Hermione. Gryffindor robes come in both child and adult sizes, so just about anyone in your family has the opportunity to dress in a Gryffindor robe.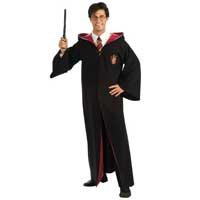 Gryffindor Robe

Cosplay Robe
You have one more option when it comes to choose a robe. There are also cosplay versions of the Gryffindor house robe available.

Cosplay outfits are usually better quality than mass produced costumes. They are made from more durable materials and often include far more detail than non-Cosplay outfits.

Most Cosplay robes are made for adults but I did see at least one on Etsy for kids and several on Amazon.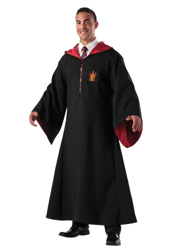 Gryffindor Cosplay Robe

Sweater
Each Hogwarts school uniform includes a sweater, which I am sure the students appreciated on cold, snowy days. The Gryffindor sweater is dark grey with burgundy accents around the wrists and bottom of the sweater.

There was an officially licensed Gryffindor House student sweater, as well as an authentic Replica version, but both are very hard to find. There are also handmade sweaters sold on Etsy. I have included several sources to help you find a sweater if you want to include one with your costume.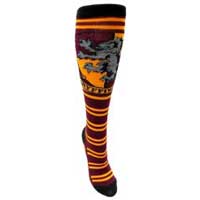 Gryffindor Sweater

Shirt
Another part of every Hogwarts student's school uniform is a white shirt. Sure, you rarely see the shirts underneath the school robes but they are there, so you will want to include one, especially if you want to be as accurate as possible with your outfit.

One thing that I do not know is if the shirts have long or short sleeves so you can decide what type of shirt will work best for your costume. There are a lot of shirts to choose from so go with the one that you like the most.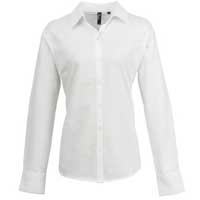 White School Shirt

Skirt
The boys at Hogwarts wear pants, but not the girls. Instead, girls at Hogwarts were required to wear skirts. The skirt seen in the movies is dark grey, so I have chosen styles that match the movie skirts as closely as possible.

Having said that, you don't have to choose a skirt that is exactly like the ones in the films. If you like your skirts a little longer, perhaps over your knees, then choose that type of skirt. Or, if you like them a bit shorter, that's okay, too. Just make sure that it is grey.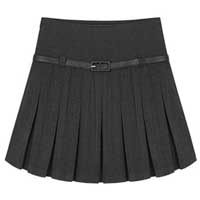 Grey School Skirt

Tights
Okay, I admit that tights were probably not a requirement for girls at Hogwarts but they look great with the white shirt and grey skirt. It is for that reason that I am including them.

Those of you who live in colder climates will probably love adding tights to your school uniform because they will help keep your legs warm!

There are a lot of different tights you can choose from in a variety of grey colors. Choose whatever shade that you like the most, or that best matches the skirt you decide to wear.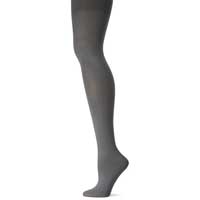 Grey Tights

School Hat
There are two types of hats that students of Hogwarts can wear as they go about their days. The first type of hat is the one you see here, a black hat that comes to a point on top.

This is the hat that conforms with each student's required uniform. However, based on what we saw in the movies, the hat is required to have but not necessarily to wear. Students seemed to have the option to choose whether or not they wanted to wear it.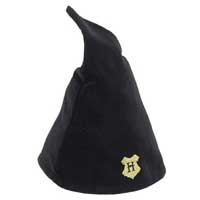 Hogwarts Student Hat

Beanie
The other style of hat that Hogwarts students can wear is the beanie hat. This hat is perfect during the winter months because it will keep your ears warm if you choose to pull the hat down to cover your ears.

I am fairly certain that we never saw Hermione wear a Gryffindor beanie, but that doesn't mean that you can't.

The beanie is knitted from the colors of Gryffindor House. Some styles even include the house's crest on it, just above the forehead. It's nice to know that Hogwarts allows students the option to choose their hats, especially given how cold it gets in the winter time there.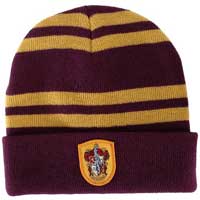 Gryffindor Beanie

Hair Accessory
Don't want to wear a hat? Then take a look at the many different Gryffindor hair accessories that are available. There is an officially licensed headband, seen below, and plenty of custom made clips, barrettes, and ponytail holders. The items you will see from the links below might vary quite a bit, but the one thing they all have in common is that they use Gryffindor's red and yellow.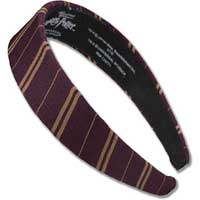 Gryffindor Hair Accessories

Tie
Some Gryffindor robes come with a matching tie, but not all. Find out if the robe you want comes with a tie or not, and if it doesn't then you can buy one separately.

All Gryffindor ties are a combination of maroon and gold, though the amount of redness varies from one tie maker to another. Some ties also have the Gryffindor house crest on them.

If you are also going to buy a hat and/or scarf then I recommend making sure that the red for all of them match.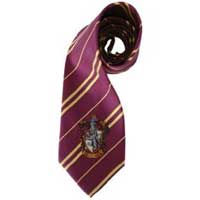 Gryffindor Necktie

Tie Clip
There are several different tie clips, also called tie bars, that you can use to keep your House tie in place. Designs include the Hogwarts school crest, Platform 9 3/4, and the Deathly Hallows symbol.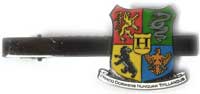 Tie Clip

Scarf
Another item that Hogwarts students are allowed to wear is a scarf. As you saw above with the beanie, scarves match the colors of a student's house and the Gryffindor scarf is no exception.

There are scarves that will match the beanie hats, but you need to be careful. Some of the colors match while others clash. Take time to find a beanie and scarf that will go well together if you want to wear both with your costume.

If you live in a colder climate and want to dress up in a Harry Potter costume then it would make sense if you also wore a scarf with your outfit. Including a scarf will allow you bundle up and keep your neck and head warm.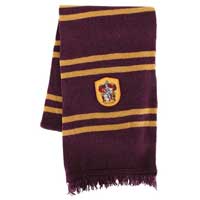 Gryffindor Scarf

Socks
There are several different types of Gryffindor socks, including knee high and ankle socks. Some socks are officially licensed, while many others are lovingly designed by fans.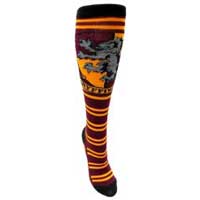 Gryffindor Socks

Shoes
Complete your Gryffindor House uniform with a pair of shoes. There is one pair of officially licensed shoes, seen below, and many more that are custom made. There are styles available for both men and women.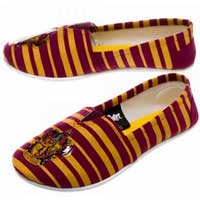 Gryffindor Shoes

Prefect Badge
Shortly before Hermione's fifth year at Hogwarts began she and Ron were informed that Dumbledore selected them to be the Prefects for their class. This was a huge honor and Hermione was well chosen. Ron, on the other hand... But that's a topic for another day.

Add a prefect badge if you want to really make your costume look authentic. This might confuse people who've only seen the movies, but fans who have read the books will love this addition to your Hermione costume.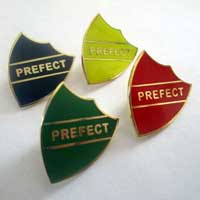 Prefect Pin

Casual Clothes
Grey Coat
Hermione was sometimes seen wearing a grey trench coat. It is a lovely coat and would be great for a Hermione costume or every day wear. There are many people selling replicas of Hermione's coat from a variety of sites.
---
Pink Sweatshirt
Hermione opted for a more casual look in Harry Potter and the Prisoner of Azkaban. She wore a sweatshirt, shirt, jeans, and a rainbow belt. The sweatshirt worn by Hermione in Harry Potter and the Prisoner of Azkaban is light pink with a hood, pockets, and zipper.

Although there is no official Hermione sweatshirt, there are plenty that are pink so finding one that you like should be easy.

Ten points to Gryffindor if you remember what Hermione did while wearing this outfit. (Hint: It involved Hermione's fist and Draco's face...)
Pink Sweatshirt

---
Pink Shirt
Underneath the sweatshirt Hermione wore a pink shirt. Although pink, it is a different shade than the pink of the sweatshirt. This is a good thing because it means you can mix and match whatever pinks you like.

I don't recall seeing Hermione wearing just the shirt, so I don't know if the shirt had long or short sleeves. Go with whatever shirt you like best. If you live in a really cold climate it might be beneficial to wear a shirt with long sleeves.
Pink Shirt

---
Pants
Hermione had a great sense of style (or, to be more accurate, the costume department for the films did a great job of dressing Emma Watson). In keeping with the casual look, Hermione wore blue jeans with this outfit that looked great.

As you know, there are loads of different styles of jeans. I chose ones that have a slightly faded look because that's pretty close to what Hermione wore in the movie. Her jeans were blue but you can choose another color if you prefer.
Jeans

---
Belt
The final touch for a casual Hermione costume is a belt. The belt worn by Hermione in the third film had a rainbow pattern on it, making it easily recognizable.

Fortunately, despite the fact that rainbow belts are a bit of a novelty item, there are several for you to choose from. The main difference between them is their buckles, so you will probably select a belt based on the buckle that you like best.
Rainbow Belt

Yule Ball Clothes
Yule Ball Gown
The movie deviated a bit from the book when it came to Hermione and the Yule Ball. Those of you who have read the book already know that this was when Hermione transformed from an ugly duckling into a beautiful swan (well, not really, Hermione was never ugly but she also didn't put any effort into her looks). She was so transformed in the book that no one recognized her immediately.

Emma Watson, the actress who played Hermione in the movies, was already so beautiful that the moment we first see Hermione in her ball gown did not have the same feeling as in the book, but she was beautiful nonetheless in her pink, ruffled dress.

The Replica dress can be very difficult to find since it often goes out of stock, meaning you probably won't be able to find it. I have also found a few dresses that you could wear as an alternative if the Replica ball gown is unavailable. They aren't exactly the same, but they will work and you can say that the dress is your own interpretation of hermione's dress based on the book, not the movie.

Yule Ball Gown

---
Hair Comb
In the book Hermione explained how she had worked for hours on her hair to tame her bushy locks. She said that she used Sleekeazy's Hair Potion but that it took too long to do on a daily basis. After she tamed her hair, Hermione twisted her hair into a stylish, yet elegant, knot. She then accented it with a pretty comb that had pink flowers that matched her dress.

There are several hair combs, though none of them are officially licensed. There are many that have flowers that are very similar to the official Yule Ball earrings. Even though none of the combs on Amazon are specifically meant to go with the dress or earrings, they are so close in style that you'd swear they were made for the Yule Ball costume.

Pink Flower Hair Comb

---
Earrings
The hair combs may not be made specifically for the Yule Ball gown but the earrings are. They are delicate pink flowers and officially licensed by Warner Bros..

Over time these earrings may become hard to find. To help you I have included links to to several site to make sure you are able to find these earrings. Just imagine how beautiful you will look and feel when you wear the gown, hair comb, and earrings!
Yule Ball Earrings

Wedding Clothes
Cosplay Red Dress
Bill Weasley and Fleur Delacour got married in Harry Potter and the Deathly Hallows pt. 1, and Hermione wore a beautiful red dress, red shoes, and red necklace to the wedding.

The dress Hermione wore was a velvety deep red (though it was not made of velvet). This dress is very popular and there are sellers who are selling replicas of this dress.

---
Red Dress
Hermione's red wedding dress is very popular and the Cosplay version often goes out of stock. I have found dresses that are similar to the official dress if you can't find (or don't want) the Cosplay dress.
---
Necklace
There is an officially licensed necklace that is meant to go with Hermione's red dress - it has a red flower, with pearls hanging down under the flower.

I expect that this necklace will become hard to find as time passes. That is why I have included a variety of links so that you are assured of finding the necklace in case it is no longer available to buy on any of the websites.

Red Flower Necklace

---
Shoes
Finish Hermione's red dress ensemble with a pair of high heeled shoes. The shoes worn by Hermione in the film are red with open toes.

The link below will take you to Zappos where you can buy shoes without worrying whether or not hey will fit. Zappos has free shipping, including free return shipping, so anything that doesn't fit can be returned at no cost to you. Any time I buy shoes over the Internet it is from Zappos and I highly recommend them!
Optional Accessories
Gryffindor Pin
Add a Gryffindor House pin to your uniform for a bit of fun. There are at least a handful of official pins that I know of, but there are many fan made pins that are also available.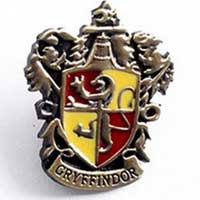 Gryffindor House Pin

Prefect Pin
Did you know that Hermione was made a Prefect in her fifth year at Hogwarts? You would only know this if you read the books since this fact was left out of the fifth movie.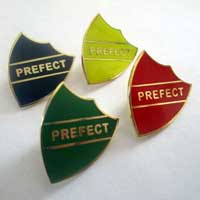 Prefect Pin

Hogwarts Student ID Badge
I found a seller who makes Hogwarts student ID badges. Each badge includes a student's details, such as House, name, gender, wizarding blood status, and wand type.

There are pre-made badges for many of the main characters that have pictures of the actors who portrayed each character. Or, you can customize a badge with a picture of yourself and any name you want.

Image courtesy of sblackwell19

Time Turner Necklace
As you may recall, Hermione had the uncanny ability to seemingly show up out of thin air all throughout Harry Potter and the Prisoner of Azkaban. Her actions perplexed Ron, though Harry seemed oblivious to her mysterious arrivals.

Towards the end of the story Harry learned the truth, that Hermione was using a Time Turner to go to more classes than any other student would ever want to attend. Upon learning the truth Harry and Hermione used the Time Turner to save both Buckbeak and Sirius Black from certain death.

There are a lot of Time Turner necklaces, and any of them will look great when you dress up in a Hermione outfit.
S.P.E.W. Button
I think this is my favorite accessory for Hermione costumes and this will only make sense to people who have read the books, but those who have will love this button! If you wear this button you are sure to find out who has read the books and who has only seen the movies.

For those of you who don't know, Hermione was obsessed with freeing house elves and started an organization to help them called Society for the Promotion of Elfish Welfare, better known as S.P.E.W.. She drove everyone nuts in her effort to recruit people to this cause.

S.P.E.W. Button

"Hogwarts: A History" Book
What do you think is Hermione's favorite book? My guess is Hogwarts: A History. Any time someone didn't understand an aspect of Hogwarts, such as why there isn't electricity in the school, Hermione would provide the answer, then ask something like, "Doesn't anyone ever read Hogwarts: A History?" Apparently, the answer to her question is, "No."

Maybe someday J.K. Rowling will write and publish the history of Hogwarts but so far, she hasn't. However, you can still carry around this iconic book. Well, sort of. I found several sellers on Etsy who are selling electronic device cases made to look like this book. If you want to protect your iPhone while also showing off your knowledge of Hogwarts, then be sure to get one!
Hogwarts School Textbooks
Why stop with just Hogwarts: A History? Everyone knows that Hermione's favorite pastime is reading, so stock up on as many school books as you can find.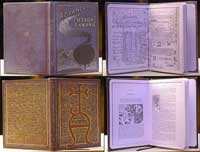 Hogwarts Class Textbooks

Crookshanks
Hermione bought a bandy-legged cat named Crookshanks who was highly intelligent. Crookshanks ended up helping Sirius Black quite a bit when he was trying to get into Hogwarts to get at Peter Pettigrew and the two became quite close.

It turns out there is a reason why Crookshanks was so clever - he was half Kneazle, a magical feline creature that is very smart and able to detect people who shouldn't be trusted. This isn't revealed in any of the Harry Potter books or movies, but it was in the book, Fantastic Beasts & Where To Find Them.
Do you live outside the United States?