Fans who have read the Harry Potter series know that Neville Longbottom could have been the baby attacked by Lord Voldemort so many years ago, not Harry Potter. But, he wasn't.

Unlike Harry, Neville's parents were not killed, but they were tortured into insanity by Death Eaters and didn't know who Neville was for most of his life, with no hope of recovery. Like Harry, Neville never knew his parents.

After his parents were tortured Neville was raised by his grandmother, who was described as a very strict woman. That might have contributed to Neville's extreme lack of confidence. In time, though, Neville found his courage and was able to stand up to the evil around him.

At first thought, a Neville outfit might seem like a very simple thing, and that's what I thought, too. It didn't take long, though, before I realized that you have more than one option if you want to dress up as Neville.

From his school uniform, wand, and hair to his casual clothes, pajamas, and toad, here is everything you need to put together a Neville Longbottom costume!

Mandatory Accessories
Wig
Neville's hair was brown and varied in length depending on the film, though it was never long. His hair was often similar to the style worn by the Beatles, and it is also similar to nerd wigs.
Neville's Hair

---
Wand
Neville was incompetent for the first couple of years he attended Hogwarts, but that was more out of fear of Snape and a severe lack of confidence than a lack of talent. All that changed when he joined Dumbledore's Army and he learned magic under the tutelage of Harry Potter. After that, Neville was quite good at casting spells with his wand.

Neville's wand originally belonged to his father, Frank Longbottom, and we don't know what wood it was made from or its core.
Neville Longbottom's Wand

School Uniform
Robe
Some robes are very basic, while others are much more detailed. Any of them will work fine, so it's up to you to decide how you want to dress your version of Neville. Gryffindor robes come in both child and adult sizes, so just about anyone in your family has the opportunity to dress in a Gryffindor robe.

If you want to replicate Neville's torn and tattered look from the final movie, consider cutting up a robe to show that you've been beaten up by Alecto or Amycus Carrow, Death Eater twins who taught at Hogwarts while Snape was Headmaster.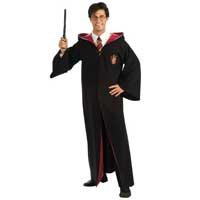 Gryffindor Robe

Cosplay Robe
You have one more option when it comes to choose a robe. There are also cosplay versions of the Gryffindor house robe available.

Cosplay outfits are usually better quality than mass produced costumes. They are made from more durable materials and often include far more detail than non-Cosplay outfits. Most Cosplay robes are made for adults but I did see at least one on Etsy for kids and several on Amazon.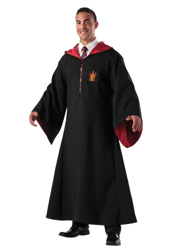 Gryffindor Cosplay Robe

Grey Sweater
Each Hogwarts school uniform includes a sweater, which I am sure the students appreciated on cold, snowy days. The Gryffindor sweater is dark grey with burgundy accents around the wrists and bottom of the sweater.

There was an officially licensed Gryffindor House student sweater, as well as an authentic Replica version, but both are very hard to find. There are also handmade sweaters sold on Etsy. I have included several sources to help you find a sweater if you want to include one with your costume.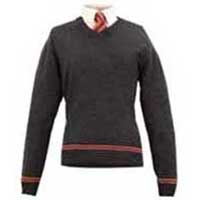 Gryffindor Sweater

White Shirt
Another part of every Hogwarts student's school uniform is a white shirt. Sure, you rarely see the shirts underneath the school robes but they are there, so you will want to include one, especially if you want to be as accurate as possible with your outfit.

One thing that I do not know is if the shirts have long or short sleeves so you can decide what type of shirt will work best for your costume. There are a lot of shirts to choose from so go with the one that you like the most.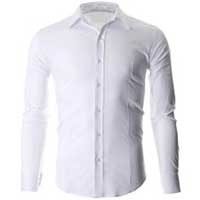 White Shirt

Cufflinks
You can add a touch of class, or humor, to your outfit with one of the many Harry Potter cufflinks that are available. Most are serious, such as the ones for each of the four Houses, but some are silly, like the ones made with Harry Potter LEGO® characters. Some even come with matching tie clips.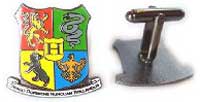 Cufflinks

Grey Pants
The last thing you need for your costume is a pair of grey pants. I have found that Dockers style pants have just the right mixture of casual and professional look to them.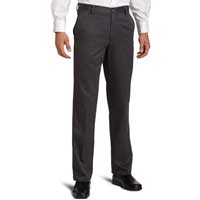 Grey Pants

School Hat
There are two types of hats that students of Hogwarts can wear as they go about their days. The first type of hat is the one you see here, a black hat that comes to a point on top.

This is the hat that conforms with each student's required uniform. However, based on what we saw in the movies, the hat is required to have but not necessarily to wear. Students seemed to have the option to choose whether or not they wanted to wear it.

Neville is one of the students who I specifically remember wore a Hogwarts hat. Wearing this with the rest of the Gryffindor outfit would be appropriate if you want to dress in a Neville costume.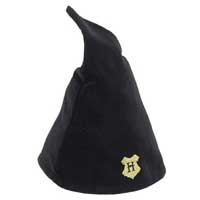 Hogwarts Student Hat

Beanie
The other style of hat that Hogwarts students can wear is the beanie hat. This hat is perfect during the winter months because it will keep your ears warm if you choose to pull the hat down to cover your ears.

The beanie is knitted from the colors of Gryffindor House. Some styles even include the house's crest on it, just above the forehead. It's nice to know that Hogwarts allows students the option to choose their hats, especially given how cold it gets in the winter time there.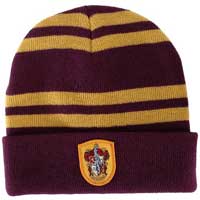 Gryffindor Beanie

Tie
Some Gryffindor robes come with a matching tie, but not all. Find out if the robe you want comes with a tie or not, and if it doesn't then you can buy one separately.

All Gryffindor ties are a combination of maroon and gold, though the amount of redness varies from one tie maker to another. Some ties also have the Gryffindor house crest on them. If you are also going to buy a hat and/or scarf then I recommend making sure that the red for all of them match.

Neville sometime wore his tie loose around his neck. Meaning, it wasn't neatly done but was pulled loose away from his neck, and his shirt's top button was undone. You will definitely want to do this if you are going for Neville's torn and tattered look.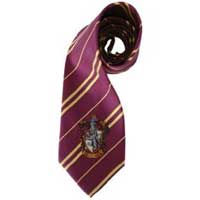 Gryffindor Necktie

Tie Clip
There are several different tie clips, also called tie bars, that you can use to keep your House tie in place. Designs include the Hogwarts school crest, Platform 9 3/4, and the Deathly Hallows symbol.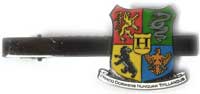 Tie Clip

Scarf
Another item that Hogwarts students are allowed to wear is a scarf. As you saw above with the beanie, scarves match the colors of a student's house and the Gryffindor scarf is no exception.

There are scarves that will match the beanie hats, but you need to be careful. Some of the colors match while others clash. Take time to find a beanie and scarf that will go well together if you want to wear both with your costume.

If you live in a colder climate and want to dress up in a Neville Longbottom costume then it would make sense if you also wore a scarf with your outfit. Including a scarf will allow you bundle up and keep your neck and head warm.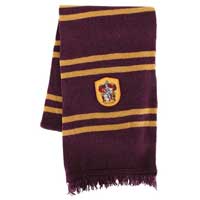 Gryffindor Scarf

Socks
There are several different types of Gryffindor socks, including knee high and ankle socks. Some socks are officially licensed, while many others are lovingly designed by fans.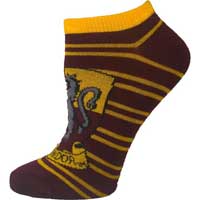 Gryffindor Socks

Shoes
Complete your Gryffindor House uniform with a pair of shoes. There is one pair of officially licensed shoes, seen below, and many more that are custom made. There are styles available for both men and women.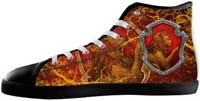 Gryffindor Shoes

Casual Clothes
---
Cardigan
In the films, Neville liked to wear cardigan sweaters that had a striped pattern to them. I have been unable to find a sweater that comes even close to the ones Neville wore but as long as it is a cardigan, it will work.

For those who are interested, the design on Neville's sweater in the image above is called "fair isle". Neville's buttons up but you might have an easier time finding a pullover in this style.
Cardigan Sweater

---
Striped Sweater
You can go with a sweater instead of a cardigan if you prefer because Neville also wore those. Look for one with stripes, or maybe some type of pattern, but my advice is to avoid plain sweaters.
Striped Sweater

---
Sweater Vest
Neville also wore a sweater vest with a striped shirt. Of course, the vest had stripes! But feel free to choose any style, not just one with stripes.
Sweater Vest

---
Casual Shirt
Sweaters weren't the only clothes Neville wore that had stripes on them. He also wore casual shirts with stripes with his sweaters and sweater vests. Look for subtle stripes, not bold or bright ones. Or, you can choose a plaid shirt, which Neville also wore.
Casual Shirt

---
Casual Pants
Finally, add a pair of casual pants to your Neville outfit.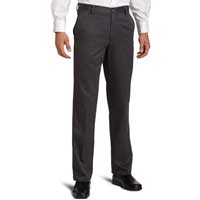 Docker Pants

Pajamas
Teddy Bear Pajamas
Neville was wearing blue pajamas with teddy bears on them in the first film, Harry Potter and the Sorcerer's Stone, when he tried to keep Harry Potter, Hermione Granger, and Ron Weasley from sneaking out at night. The trio was in the process of keeping Severus Snape from stealing the sorcerer's stone and petrified Neville, but they deeply regretted their actions, even if they did it for noble reasons.

I had a very hard time finding teddy bear pajamas so don't be too disappointed if there aren't any when you click on the links below. Hopefully there will be at least one available if you want to wear this costume.
---
Striped Pajamas
Neville practiced waltzing for the Yule Ball in his striped pajamas in Harry Potter and the Goblet of Fire. If you wear striped jammies, be sure to occasionally practice waltzing with an imaginary dancing partner, just like Neville did.
Optional Accessories
Gryffindor Pin
Add a Gryffindor House pin to your uniform for a bit of fun. There are at least a handful of official pins that I know of, but there are many fan made pins that are also available.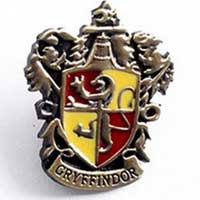 Gryffindor House Pin

Student ID Badge
I found a seller who makes Hogwarts student ID badges. Each badge includes a student's details, such as House, name, gender, wizarding blood status, and wand type.

There are pre-made badges for many of the main characters that have pictures of the actors who portrayed each character. Or, you can customize a badge with a picture of yourself and any name you want.

Image courtesy of sblackwell19
Plush Toad
Neville was given a toad to take with him to Hogwarts. Trevor the toad did his best to escape from Neville, but his escape attempts were always short lived. There is an officially licensed plush Trevor the toad.
Frog Ring
Show Neville's love for Trevor by adding a frog ring to your Neville Longbottom outfit.
Buck Teeth
In the movies Neville's had buck teeth. Actor Mathew Lewis had uneven teeth that he wasn't allowed to get fixed until after the movies were done filming. He has said that he also wore false teeth to make him look as geeky as possible.
Sword Of Gryffindor
The Sword of Gryffindor had absorbed Basilisk venom when Harry used it to kill the Basilisk in the Chamber of Secrets in the second story. This meant that the sword was one of the few items that could destroy Horcruxes. In Harry Potter and the Deathly Hallows, Neville was critical in helping Harry defeat Lord Voldemort because the Sword of Gryffindor presented itself to Neville, and he used it to kill Nagini, Voldemort's snake that was also a Horcrux.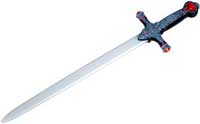 Sword of Gryffindor

Black Eye And Bruises
Neville was beaten by one of the Carrow twins when he refused to use one of the Unforgivable Curses on first year students in Harry Potter and the Deathly Hallows. If you decide to wear a torn robe then give yourself a black eye and bruises with makeup made for creating fake bruises. There are also temporary tattoos of bruises if you don't want to be bothered with makeup.
Facial Scars
Add some scars to your face along with the bruises to make your injuries look even worse.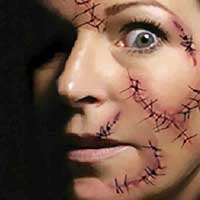 Scars

Do you live outside the United States?