One of the foulest creatures in the Harry Potter universe are Dementors. They thrive in dark, filthy places filled with decay and despair. They feed by draining people of hope, peace, and happiness. Getting close to a Dementor means feeling as though you will never be happy again.

As awful as that sounds, there is something even worse that Dementors can do, something called the Dementor's Kiss. The Dementor's Kiss is what it is called when a Dementor sucks out and devours a person's soul.

The result of a kiss from this horrid creature is that it leaves a person in a state of non-existance. The body is still alive but the person is gone forever, and there is no hope of recovery.

Harry Potter and Sirius Black both came very close to having their souls sucked out. Fortunately for them, a future version of Harry was able to save them with a very strong Patronus (thanks to Hermione Granger and her Time Turner).

Dressing as a Dementor is easy enough if you know what to wear, and I've gathered the items needed for you. From the flowing and tattered black robe to a mask and hands, here is everything you need for a Dementor costume.

Dementor Costume
Costume
There is an officially licensed Dementor costume in both child and adult sizes. It comes with a black robe that is tattered, a padded chest piece that is shaped like skeletal ribs, and a mask that has a protruding mouth reading to give anyone who ventures too close a kiss. The costume gives you pretty much everything you need to dress up as a Dementor.
Dementor Costume

---
Mask
This Dementor mask is different than the one that comes with the costume. It looks like the face we saw under the black, rotted garments in the movies and includes a mouth that is open and ready to give a Dementor's Kiss. The mask is made of rubber latex and comes in one size - adult.
Dementor Mask

---
Hands
J.K. Rowling described Dementor hands as scabbed and rotting, a description that fits these vile creatures.

There are several different Dementor hands available for sale and they differ slightly in appearance, but the one thing they have in common is that the fingers are long and boney. None of them appear scabby or rotten, but they do look sinister. The hands are made of latex and come in both child and adult sizes.
Dementor Hands

---
Black Gloves
You can wear black gloves if you don't want to wear the hands seen above. Either long or short gloves will work so look for gloves that are all black and will help your hands blend in with your costume.
Black Gloves

---
Dark Mark
I am positive that Dementors did not have Dark Marks because they were reserved for Death Eaters who were closest to Lord Voldemort. However, Dementors sided with Voldemort so you can have fun with your costume by adding a Dark Mark tattoo to your left forearm, leaving no doubt what side you are on.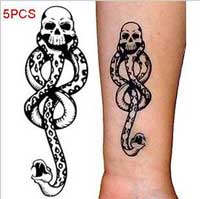 Dark Mark Temporary Tattoo

Do you live outside the United States?