Luna Lovegood is quite possibly my very favorite character from the entire Harry Potter series. She is quirky, different from the other students, but she embraces this aspect of herself and doesn't care what other people think about her. She makes a great role model for children.

Putting together a Luna Lovegood costume is a lot of fun because Luna is such an interesting character. She marches to the beat of her own drum, as the saying goes, so you can add your own personal touch without worrying that you are straying from who Luna is. As long as your choice is eccentric, you will be okay!

There is no official Luna costume, but there are plenty of items that can be added to create an excellent replica of dreamy Luna. There are plenty of options for you to choose from when dressing as Luna and I have included several different costume options for you, including her Ravenclaw robe, school uniform, and the dress she wore to the wedding of Bill Weasley and Fleur Delacour.

Fans of all ages will be glad to know that both women and girls can easily create their costumes. I hope you enjoy going through the different costume options as much as I enjoyed putting this together.

From her hair, robe, and wand to her radish earrings and Spectra Spec glasses, here is everything you need for a Luna Lovegood costume.

Mandatory Accessories
Wig
Luna's hair is long and blonde. The movies show it as slightly wavy, while the books describe it as scraggly and waist length. That means you've got a lot of leeway in how you want your hair to look.

If you are blessed with blonde hair that is long then it shouldn't take much effort for you to replicate Luna's locks. However, if you have any other type of hair then a wig is the way to go.

As you might guess, there are a lot of wigs of you to choose from when it comes to long, wavy, blonde hair.
---
Wand
J.K. Rowling has not shared any details about the wood or core that makes up Luna's wand so all we know is what it looks like based on the movies. That doesn't really matter, though, because (as of this writing) there is only one version of Luna's wand available for sale, and it is quite lovely, fitting of her personality.

Having said that, we do know a little bit more than what Luna's wand was made from. First, we know that she liked to tuck it behind her left ear to keep it safe, though most people in the wizarding world would question her idea of safety based on this action.

We also know that Luna's first wand was confiscated when she was captured by Death Eaters in the final story. She was imprisoned in the basement of Malfoy Manor, along with Garrick Ollivander. She was very kind to Mr. Ollivander during their confinement, and when they were freed Mr. Ollivander made a new wand for her.
Luna's Wand

School Uniform
Robe
Luna was sorted into Ravenclaw House so she wore a Ravenclaw robe, which is black, has a Ravenclaw crest with a raven on it (the house's mascot), and has dark blue accents.

There are only a few officially authorized Ravenclaw robes and they are fairly basic – most are simple black robes with a crest but no lining.

As for what you wear under the robe, that is entirely up to you since it won't likely be seen.
Cosplay Robe
In addition to mass produced robes there are also Cosplay Ravenclaw robes. Cosplay robes are made of higher quality materials, will stand up to repeat wearings, are more detailed, and look gorgeous.

If you want a robe that is made from a nicer material and is lined with the colors of Ravenclaw House then you will want a Cosplay robe.

Cosplay robes are not always available so it is possible that when you click on the links below that there won't be any currently for sale. With any luck, though, there will be!
White Shirt
Part of every Hogwarts student's school uniform is a white shirt. Sure, you rarely see the shirts underneath the school robes but they are there.

One thing that I do not know is if the shirts have long or short sleeves so you can decide what type of shirt will work best for your costume.

There are a lot of shirts to choose from so go with the one that you like the most.
Grey Skirt
In addition to a white shirt, girls at Hogwarts are also required to wear a skirt. The Ravenclaw skirt seen in the movies is dark grey, so I have chosen styles that match the skirts as closely as possible.

A skirt is a must for any one who wants an authentic Luna Hogwarts student costume. Of course, the skirts Luna would choose if she was allowed to are probably a bit more, um, flavorful than grey but even Luna had to follow Hogwarts requirements.
Grey Tights
Okay, I admit that tights were probably not a requirement for girls at Hogwarts but they look great with the white shirt and grey skirt. Therefore, I am including them for Luna's costume. Besides, if memory serves me correctly, Luna might have been seen wearing tights in the movies.

There are a lot of different tights you can choose from in a variety of grey colors. Choose whatever shade that you like the most, or that best matches the skirt you decide to wear.

On the flip side, if you really want to channel your inner Luna, you might consider a colorful pair of tights.
Tie
The last requirement for a Hogwarts uniform is the tie. Luna was in Ravenclaw house so her tie matched her house colors.

There are a lot of different Ravenclaw ties but they all have one thing in common - they are blue with grey accents. Some might have a Ravenclaw crest on it (a raven) but not all.

If you are going to also get a scarf and/or hat then I suggest you make sure that the blue for all items match because it would be easy to clash if you get the wrong shades of blue.
Tie Clip
There are several different tie clips, also called tie bars, that you can use to keep your House tie in place. Designs include the Hogwarts school crest, Platform 9 3/4, and the Deathly Hallows symbol.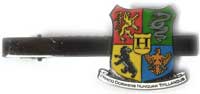 Tie Clip

School Hat
There are two types of hats that students of Hogwarts can wear as they go about their days. The first type of hat is the one you see here, a black hat that comes to a point on top.

This is the hat that conforms with each student's required uniform. However, based on what we saw in the movies, the hat is required to have but not necessarily to wear. Students seemed to have the option to choose whether or not they wanted to wear it. I don't remember seeing Luna wearing this hat but I'm including it because it is part of the Hogwarts uniform.
Beanie
The other style of hat that Hogwarts students can wear is the beanie hat. This hat is perfect during the winter months because it will keep your ears warm if you choose to pull the hat down to cover your ears.

The beanie is knitted from the colors of Gryffindor House. Some styles even include the house's crest on it, just above the forehead.

It's nice to know that Hogwarts allows students the option to choose their hats, especially given how cold it gets in the winter time there.
Hair Accessory
Don't want to wear a hat? Then take a look at the many different Ravenclaw hair accessories that are available. There is an officially licensed headband, seen below, and plenty of custom made clips, barrettes, and ponytail holders. The items you will see from the links below might vary quite a bit, but the one thing they all have in common is that they use Ravenclaw's blue and grey.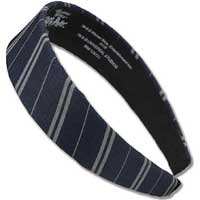 Ravenclaw Hair Accessories

Scarf
Those of you who live in cool or cold climates will benefit from adding a Ravenclaw house scarf to your costumes. As with the tie, the scarf is comprised of house colors of blue and grey.

The size of the stripes may vary from scarf to scarf but all officially licensed scarves also include a Ravenclaw house crest. There are even handmade scarves on Etsy that are wonderfully interesting and unique. Have fun choosing a scarf!
Socks
There are several different types of Ravenclaw socks, including knee high and ankle socks. Some socks are officially licensed, while many others are lovingly designed by fans.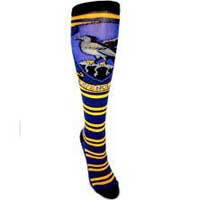 Ravenclaw Socks

Shoes
Complete your Ravenclaw House uniform with a pair of shoes. Although there aren't officially licensed shoes, there are several that any Ravenclaw would be proud to wear. There are styles available for both men and women.

Ravenclaw Shoes

Casual Clothes
Jacket
Luna's casual look has her wearing a dress, tights, and a pink jacket. I am starting with the jacket because it is worn over the dress. The jacket worn by Evanna Lynch in the movies is not available but I found some that are similar and would work.

Luna has her own unique sense of style so you are completely open to finding a jacket that makes you happy.
---
Floral Dress
Luna was seen wearing an adorable dress in one of the Harry Potter movies. The dress she wore in the movie was a short, floral dress. Although there aren't any dresses exactly like the one in the movie you still have several to choose from.

I have searched through Amazon to find dresses that are as close as possible to the one worn by Luna. There are a lot of fun and pretty flowery dresses.

Even though you won't be able to find Luna's exact dress you will find casual dresses that are all light and airy, and I am sure that they are all dresses that Luna would approve of.
---
Tights and Socks
If you have chosen to dress in a casual Luna costume and you really want to have fun with your look then you will need to add tights. But, not just any tights. They need to be blue. Then add socks over the tights.

In the movies Luna wore blue tights with blue striped socks over the tights. Here are a few options to go with the dress. Yes, she wore them with her dress and she looked adorable!
Blue Tights and Striped Socks

Yellow Wedding Outfit
Cosplay Yellow Dress
Luna and her father were guests at the wedding of Bill Weasley and Fleur Delacour in the last story, Harry Potter and the Deathly Hallows. The dress that Luna wore to the wedding was a lovely yellow dress. Well, technically it was yellow robes in the book version of the final story, but the movie changed it to a dress with yellow and orange, which I like much better.

In typical Luna fashion, she chose a yellow outfit because she thought that wearing sun colors would bring luck to the wedding. I suppose you could say that she did bring luck because no one was hurt when the party was attacked by Death Eaters.
---
Alternative Yellow Dress
You can look for an alternative to the Cosplay dress if you prefer. Just make sure the dress is yellow, or has hues of yellow in it.
---
Sunflower
In the movie Luna accented her yellow dress by putting a sunflower in her hair. The yellow of her flower perfectly matched the dress that she wore.

If you choose to wear a yellow dress then be sure to wear a sunflower in your hair, just like Luna did. There are plenty of different sunflower hair bows and clips for you to choose from. The yellow doesn't have to match exactly so you do not need to worry about that.
Optional Accessories
Ravenclaw Pin
Add a Ravenclaw House pin to your uniform for a bit of fun. There are at least a handful of official pins that I know of, but there are many fan made pins that are also available.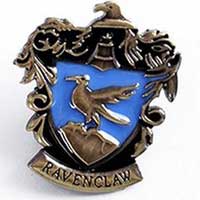 Ravenclaw House Pin

---
Hogwarts Student ID Badge
I found a seller who makes Hogwarts student ID badges. Each badge includes a student's details, such as House, name, gender, wizarding blood status, and wand type.

There are pre-made badges for many of the main characters that have pictures of the actors who portrayed each character. Or, you can customize a badge with a picture of yourself and any name you want.

Image courtesy of sblackwell19
---
Boots Or Shoes
Luna and shoes are an interesting combination. Sometimes she went without shoes because other students would hide them from her as a cruel prank.

There is a scene in the movie for Harry Potter and the Order of the Phoenix where Harry Potter sees Luna feeding thestrals in the forest. If you look closely you will see that Luna is barefoot in this scene.

At other times Luna was seen wearing either burgundy combat-style boots or sparkly Converse shoes. Whichever shoes you decide go with you Luna costume, have fun picking them out!
Boots and Shoes

---
Radish Earrings
For reasons known only to her, Luna wore earrings made from what looked like orange radishes. Actually, the earrings worn by Luna weren't radishes. They were made from the Dirigible plum, a plant that grew outside Luna's house.

Luna's father, Xenophilius Lovegood, believed that people who wear Dirigible plum earrings are granted enhanced wisdom, so my guess is that this is why she wore them. As to the enhanced wisdom aspect of the earrings, I'll let you decide if this is true or not…

Did you know that the earrings worn by Evanna Lynch in the movies were made by Evanna?
---
Glasses
The very first time Harry Potter met Luna in the movies she was wearing a strange pair of glasses and reading a magazine upside down. Everyone who saw her thought she was simply being loony, but it turned out that the glasses had a purpose and were supposed to help her see something in the article that she was reading.

Yes, it is true that Luna didn't wear the glasses in the book, but the movie version of Harry Potter and the Order of the Phoenix did a wonderful job of introducing us to who Luna was by having her wear the glasses.

There is a bit of confusion about what the glasses are actually called. Some people spell them Spectraspecs or Spectra Specs, but the official name is Spectrespecs. Regardless of how you spell them, they are 100% Luna!
Spectrespecs

---
Lion's Head Hat
Luna always supported Gryffindor's team during a Quidditch match, unless, of course, they played against Ravenclaw's team. She showed her support for Gryffindor by wearing a hat that looked like a lion's head. Luna was also able to make the hat roar, much to the surprise of the students sitting near her.

Some hats are just hats, and others also have mittens attached to them to keep your hands warm. Click on the image below to find the lion hat that you like best.

Not only did Evanna Lynch, the actress who played Luna Lovegood, make the radish earrings that she wore as Luna, but she also made the lion hat seen in the movies. Evanna really understood who Luna was!
---
Butterbeer Necklace
The students at Hogwarts knew Luna to be a bit quirky, which is why the called her Loony Lovegood behind her back. Luna, however, did not care what people called her and she did what made her happy.

One of Luna's more interesting fashion choices was to wear a necklace that she made from butterbeer corks. Although I was able to make an educated guess about why Luna wore radish earrings, I have no ideas about this one.

I regret that there is no official Muggle version of the necklace that she wore, but I was able to find several handmade versions.
---
The Quibbler
Luna's father Xenophilius was the editor of The Quibbler, a magazine that almost no one but Luna took seriously. She was often seen reading the latest issue, so it would be completely in character to have your version of Luna carry around a copy.

The Quibbler is a popular item that is sometimes out of stock on Amazon. Hopefully you will see at least one when you click on the image below, but if not, that means it is not currently available. However, it is possible that there might be a handmade version for sale on Etsy.
Do you live outside the United States?