Bellatrix Lestrange was a combination of unwavering devotion, a desire for acknowledgement, and no remorse. She was completely devoted to Lord Voldemort to the point of fanaticism, she sought his acknowledgement, and she reveled in harming and killing innocent Muggles, witches, and wizards. To sum it up, Bellatrix was the perfect Death Eater.

A Bellatrix costume is a popular choice among fans of the Harry Potter movies.There are several different looks you can go for if you want to dress up as Bellatrix, and I have gathered all the necessary items for each costume.

Bellatrix is an easy character to dress as since she has two main looks. That being said, there are a few additional items that you can add to your costume to add authenticity to it, regardless of which look you want, and I have included them so you can add to your costume however you want.

Of course, there are also mandatory items that any Bellatrix outfit needs to have, such as her hair, her wand, or the Dark Mark on her arm. These are must have items that Bellatrix always had with her.

Mandatory Accessories
Wig
In her youth Bellatrix was a beautiful woman. But the years that she spent in Azkaban slowly stripped away her beauty. Her once perfectly kept hair became disheveled and was an outward appearance of the madness within her.

I found several types of wigs that will work with your costume, and all have long, wild, curly hair. Regardless of which wig you choose, just make sure to give it a bit of a wild look and that it doesn't look perfect.
Bellatrix's Hair

---
Wand
A wand is more than just a tool for focusing magical energy from its owner. To some extent a wand takes on the personality of its owner, for better or for worse. This is something that Harry Potter learned from wand maker Mr. Ollivander in the final story, Harry Potter and the Deathly Hallows.

Bellatrix's wand was no exception to this rule and her wand was just as unpredictable and temperamental as she was. Harry learned this the hard way after he won her wand at Malfoy Manor and tried to use it after his wand broke. The wand proved to be too difficult to use and Harry opted for another wand that wasn't nasty in its disposition.

There are two officially licensed versions of Bellatrix's wand. The first one is crooked, which you can see below, the other is straight. The one seen here was Bellatrix's wand. The straight wand was the one that she used after Ron Weasley took hers during their fight at Malfoy Manor.
Bellatrix's Wand

Bellatrix Costume
Death Eater Outfit
Bellatrix was a devoted and loyal follower of Lord Voldemort (she was arguably his most loyal Death Eater). She was more than happy to wear her Death Eater outfit any time she was required to do so.

The official Death Eater costume is available for both women and children. The costume includes a long, black, hooded dress, a Death Eater mask, and a black cummerbund to wear around the waist.
​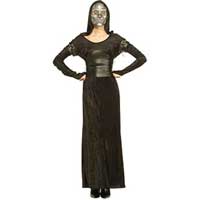 Death Eater Dress

Official Replica Dress
If you can find it, you can wear the officially licensed dress made by Museum Replicas if you want your look to be as authentic as possible. The dress has been recreated to look like one of the dresses worn by Bellatrix in the movies, and is even made of the same materials as the movie dress. There is also a matching corset, which I've listed a little further below in the Corset section.

This dress is very popular, but as time passes it is getting harder and harder to find it, which means it often goes out of stock. If you click a link but don't see the dress then click on one of the other links.
Cosplay or Custom Bellatrix Dress
There are several sites that sell Cosplay versions of the dress Bellatrix wore in the last couple of Harry Potter films. They are very detailed, right down to the stitching that is visible between the arms and body of the dress. You are more likely to find sellers who custom make Bellatrix dresses on eBay or Etsy than anywhere else.
Gothic Gown
If the Cosplay or Replica dresses are not available or cost more than you want to spend, don't worry, you still have great options. Bellatrix had a goth-gone-wild look to her so a gothic dress would work just as well as the Replica dress, possibly better.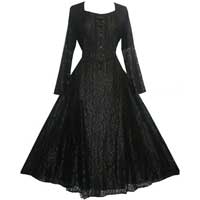 Gothic Gown

Corset
Bellatrix wore a corset with her dress which gave it a gorgeous look. You can replicate the look by wearing a black corset over whatever dress you choose. The first image is of the Replica corset that goes with the Replica dress.

The official corset often goes out of stock on Amazon so I have included a link to alternative corsets that will work just as well. Just make sure that whatever corset you choose is not girly with ribbons and frill. Bellatrix would never be seen in such clothing!
Choker Necklace And Earrings
Bellatrix often wore a bird skull necklace but a choker necklace would work well, too. I suggest that you look for one that has matching earrings.
Gloves
Bellatrix may have been a bit insane, but she had a great fashion sense about her. Not only did Bellatrix wear a dress and corset, but she also wore fingerless gloves that laced up.

There is no official version of Bellatrix's gloves, but I have found several styles of gloves for you to choose from, all of which are some variation on Bellatrix's gloves. It doesn't matter if the gloves you choose are long or short - they will all look great with a Bellatrix outfit, so go with the gloves that you like best.
Slave Bracelet And Ring
Want to add a bit of spice to your Bellatrix costume? Then add a slave bracelet and ring! This adds the right bit of femininity to Bellatrix's looks.
Boots
As I said above, Bellatrix knew how to accessorize. She didn't just stop with gloves, she also made sure that her shoes perfectly matched her dress.

The shoes that Bellatrix wore had a Victorian vibe to them. This means that you can wear Victorian style boots for your Bellatrix costume. These shoes, also called saloon girl shoes or granny boots, can have a low, mid, or high ankle.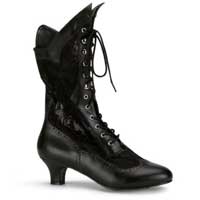 Black Boots

Optional Accessories
Necklace
Did you ever notice that Bellatrix wore a necklace in the movies? It was a choker style necklace with a pendant of a bird skull. I don't know about you, but it doesn't surprise me one bit that the necklace worn by Bellatrix had a dead animal's skull on it!

This necklace is certainly as creepy as Bellatrix. There are a couple version of the skull so have fun picking one out.

Bird Skull Necklace

---
Dark Mark Tattoo
Every one of Voldemort's Death Eaters has a Dark Mark tattoo on his or her left forearm, and Bellatrix is no exception. The Dark Mark was used by Voldemort to call his Death Eaters to him, or Death Eaters could press it to summon Voldemort.

After the fall of Voldemort the first time around many former Death Eaters may have felt regret for their tattoos, but I am absolutely positive that this was never the case with Bellatrix. She would have seen her tattoo as physical proof of her devotion to the Dark Lord.

You can add a Dark Mark to your outfit without the pain of a real tattoo by using a temporary tattoo.
​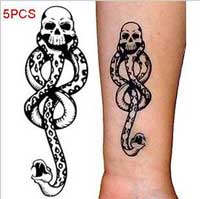 Dark Mark Temporary Tattoo

---
Mask
The Death Eaters hid their faces behind masks instead of openly showing the world who they were, and each mask was unique to the Death Eater wearing it. Although there is an official Bellatrix Death Eater mask (it's very hard to find), I don't think she wore it and I'm sure she wouldn't have cared who saw her in her Death Eater robe.

Both Amazon and Etsy have a great variety of masks so you can decide which one is right for your personality.
​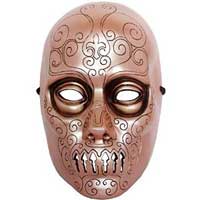 Death Eater Mask

---
Dagger
Bellatrix Lestrange did not just use her wand to torture and kill, she also used a dagger. I'm sure that many people suffered at the hands of Bellatrix and her dagger, but we only see one character die from it - Dobby the house elf. This may have also been the weapon Bellatrix used to carve the word Mudblood into the arm of Hermione Granger.

There is an official and faithful replica of the dagger seen in the 7th movie, Harry Potter and the Deathly Hallows pt. 1. It's a collector's item and not a toy, but that doesn't have to stop you from carrying it around whenever you dress up as Bellatrix.

This dagger sometimes goes out of stock on Amazon. If that happens then you can try the other links that I've included.
Bellatrix's Dagger

---
Azkaban Prison Sign
The final touch for your Bellatrix outfit is an Azkaban prison sign. Witches and wizard who were sent to Azkaban had mug shots taken of them just like in the Muggle world. Therefore, it would be fitting to wear this sign around your neck showing that you have recently escaped and are a wanted fugitive.

There is no official Azkaban sign but as of this writing there is at least on seller on Etsy who is making them. Don't let the fact that this sign is handmade fool you. It is so well made that it is worthy of being displayed when you aren't wearing it. Update: It seems the seller might not be making this sign so it's possible that you won't see it when you click on the Etsy link below.
Azkaban Prison Sign

---
Azkaban Prison ID
Wear an Azkaban prison ID badge to show the world where you broke out from!

Image courtesy of sblackwell19

Do you live outside the United States?