Alastor Moody was a retired Auror, also know as a Dark wizard catcher. He became incredibly paranoid and eccentric in his older days, though he wasn't really old when he died at age 36. His job was dangerous and aged him tremendously, as did the many injuries that he sustained from his time as an Auror.

He was almost never called Alastor. Instead, people called him Mad-Eye in reference to his magical eye. In fact, his fake eye was Mad-Eye's most notable feature, but his overall aura was that of someone not to be crossed.

Barty Crouch Jr., an escaped Death Eater, impersonated Mad-Eye during Harry Potter and the Goblet of Fire, in an attempt to bring Harry to Lord Voldemort. Harry Potter and his friends thought they were being taught by the real Moody all year, and, oddly, Barty Jr. proved to be a very good teacher.

Dressing up as Mad-Eye Moody is easy when you know what you need. You have two outfits to choose from, as well as a nice selection of accessories. From his hair, magical eye, and wand to his clothes, walking staff, and flask, here is everything you need if you want to dress in a Mad-Eye Moody costume!

Mandatory Accessories
Wig
Mad-Eye's hair was long and strawberry blonde. That's a tough color to find for a wig so I am going with blonde. I found a couple different styles that will work as a Mad-Eye Moody wig. At least one wig that I found is meant for women but you can restyle the hair to look more like Mad-Eye's.
Mad-Eye Moody's Hair

---
Magical Eye Patch
Alastor Moody was an Auror, a wizard who tracked and caught Dark wizards. It was a dangerous job and Moody was injured many times in the line of work. At some point during his job as an Auror Moody lost his left eye and had it replaced with a magical blue eye that allowed him to see in any direction, even behind him.
---
Wand
The wand we first saw Mad-Eye Moody use was when he was being impersonated by Barty Crouch Jr., and that wand differs from the officially licensed wand that you can buy. I'm going to say that the reason for this is that Barty Jr. used his own wand while he pretended to be Moody and that the wand you can buy is a replica of Moody's actual wand. Feel free to come up with your own explanation for the difference in appearance. Regardless, we know nothing about the wood or core of either of Moody's wands.
Mad-Eye Moody's Wand

Everyday Clothes
Most of the time Mad-Eye was seen wearing a trench coat and buckled jacket. This is the most recognizable Mad-Eye outfit.
---
Mad-Eye Cosplay Costume
There are sellers on Amazon, eBay, and Etsy who sell custom made costumes that include Moody's trench coat and black jacket. These are replicas of the coat and jacket worn by Moody in the films, and are intended for Cosplaying, or any other reason you want to dress up as Alastor Moody.
---
Brown Trench Coat
If you don't want to buy the set above then you can get a brown trench coat and use that instead. Look for one that a warrior would wear, not a business man. Duster style coats will also work.
Trench Coat

---
Black Jacket
The jacket that Mad-Eye wore was black and had buckles going up the front the jacket. I found several jackets that will work for a Mad-Eye Moody costume, one of which is Michael Jackson's buckle jacket.
Jacket

---
Casual Shirt
Under the trench coat and black jacket was a button up shirt that looks to be brown, or it might be dark green in color. Look for a plain shirt and wear it buttoned up all the way.
Shirt

---
Black Pants
Mad-Eye's pants look dark. I'm not positive, but I think they were black. Somehow, I don't see Moody as someone who wore fancy pants so skip any that look formal. I think black denim jeans would be perfect.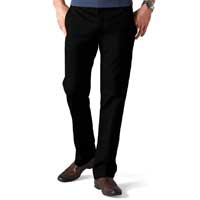 Black Pants

---
Black Casual Shoes
The shoes worn by Mad-Eye in the movies was a pair of black shoes that look like they were handmade. The closest shoes I can find that resemble the movie shoes are Dr. Martens, and there are many Dr. Marten styles for you to choose from.
Shoes

Kilt Outfit
Mad-Eye Moody was from Scotland, which is why he wore a kilt to the Yule Ball in Harry Potter and the Goblet of Fire. Yes, this was the imposter Moody, but it was such a great outfit that it is worth including. I apologize but I am not legally able to share this picture but can see what it looks like by clicking here.
---
Jacket
The jacket Mad-Eye wore to the Yule Ball was brown and had pockets. The closest I have been able to find is this pirate coat. Whatever you choose, make sure the jacket you wear is either brown or an earth tone.
Yule Ball Jacket

---
Vest
Under the jacket was a vest that was either dark brown or burgundy (I think it was burgundy). It looks like the vest was made of velvet but you can go with whatever material you prefer.
---
Shirt
Under the vest was a shirt. All that we can see of this shirt is the top, just under the neck, but that one small part was enough to know that it is a peasant or renaissance type of shirt. The shirt is either white or beige and laced all the way up to the neck.
---
Kilt
The centerpiece of any Scottish outfit is the kilt. Mad-Eye's kilt was brown, but not the same color brown as the jacket. When choosing a kilt, look for one that will match the same general color scheme of the other items worn.
---
Sporran With Ferret
Mad-Eye Moody's kilt outfit included a pouch called a sporran that is used to carry things. Interestingly, his sporran was decorated with a ferret on top of it, which I suspect he chose because he turned Draco Malfoy into a ferret earlier in the school year. You can get a plush ferret and drape it over the top of your sporran, or even have it peeking out of your sporran.
Yule Ball Sporran And Ferret

---
Hose
The socks worn with kilts are called hose, and the ones worn by Mad-Eye were khaki. If you don't like khaki, then choose hose that won't clash with the rest of the outfit.
Yule Ball Hose

---
Dress Shoes
The shoes that Mad-Eye wore to the Yule Ball were black with laces, but they weren't fancy like work or dress shoes. The look very similar to Dr. Marten shoes, and their boots would work, too, if you don't want to wear shoes with your kilt.
Yule Ball Shoes

Optional Accessories
Mask
You can wear a full face mask if you don't want to be bothered with a wig or eye patch, if you can find one. There is an officially licensed wig that looks just like Moody from the movies. The mask can be difficult to find so you might have the best luck on eBay.
Facial Scars
Mad-Eye Moody was often injured during his time as an Auror, and his face has a lot of scars as a result. You can add scars to your face with temporary tattoos or a liquid that is easy to apply and remove. If possible, try to add at least one scar to the skin around the eye that has the magical eye patch.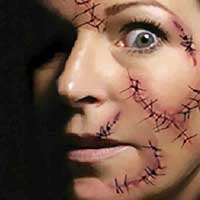 Scars

​
Walking Staff
In the books, Mad-Eye lost a leg as well as an eye. He had both feet in the films, but he did walk with a staff, indicating that he was hurt in places that we couldn't see. His staff, or stick, was very unique looking and there is no official staff. Fortunately, there are plenty of other walking staffs that you can use.
Hip Flask
Barty Crouch Jr. used Polyjuice Potion to fool everything into thinking he was Mad-Eye Moody. Polyjuice Potion magically transforms someone's appearance into that of someone else's, and it needs to be drunk every hour to maintain the look. Mad-Eye was often seen drinking from a hip flask, though no one realized that he was drinking Polyjuice Potion. His flask looked like the image below on the left, but there are also metal flasks that you can add to your Mad-Eye costume.
Pocket Watch
Moody had a pocket watch with numbers and symbols that might be runes where you usually see numbers on a watch, and an eye in the middle. I have not been able to find an exact replica of Mad-Eye's pocket watch but there are many Harry Potter watches for you to choose from. Perhaps you'd like a nice Deathly Hallows watch.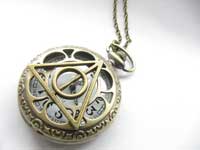 Pocket Watch

Ministry Of Magic ID Badge
I found a seller on eBay who makes Ministry of Magic ID badges, and one of them is for Mad-Eye Moody. As an employee of the Ministry he would have had a badge, so feel free to add one to your costume.

Image courtesy of sblackwell19

White Ferret
A great addition to your outfit would be to carry around a white ferret. If anyone gives you any grief you can pull out the ferret and ask if he wants to be turned into a ferret, just like you did to Draco Malfoy!
Spider
The fake Mad-Eye Moody tortured spiders with the Unforgivable Curses to demonstrate how each curse worked to the students of Hogwarts. Keep a spider in your pocket so you can pull it out every now and then, point your wand at it, and utter one of the Curses.
Trunk
You probably won't want to cart a trunk around with you when you dress up in a Mad-Eye costume, but I'm including it here because a truck was where Barty Crouch Jr. kept the real Mad-Eye while he taught at Hogwarts. Sadly, there is no replica of Mad-Eye's trunk, but there are several Harry Potter trunks that are both lovely and functional.
​
Hogwarts Steamer Trunk

​
Do you live outside the United States?