If you want a Remus Lupin costume then you will be pleased to know that you have a lot of options. Lupin was quiet, yet strong, and he wasn't hampered by fashion. Well, his financial situation might have had more to do with his lack of fashion than anything else, but Lupin took it all in stride.

Remus Lupin was one of James Potter's best friends, along with Sirius Black and Peter Pettigrew. The four of them had many adventures during their time at Hogwarts.

Years later, Lupin returned to Hogwarts as a teacher for one year. During that year he was able to mentor and befriended Harry Potter. They grew close enough that Lupin asked Harry to be the Godfather to his son, Teddy, a request that Harry took very seriously after Lupin and his wife Tonks died at the Battle of Hogwarts.

It doesn't matter if you want to dress up as Professor Lupin or young Remus Lupin, I've got you covered.

From his hair, wand, and scars to his teacher outfit, student outfit, and optional accessories, here are all the items you need to dress up in a Remus Lupin costume.

Mandatory Accessories
Wig
Remus's hair was short and brown. If this fits the description for you hair then you are good to go. If not, then a wig is the easiest way to transform your hair into Lupin's.
---
Mustache
Actor David Thewlis played Remus Lupin in the films and he wore a mustache in each of the movies that he was in. His mustache was subtle, so if you decide to wear a fake mustache, ignore the ones that look flamboyant.
---
Facial Scars
Lupin was a werewolf and often attacked himself when he was in his wolf form. One of the side effects of being a werewolf was that he had scars and bite marks on his face (and probably other body parts, such as his arms).

There are two easy ways to add scars to your Remus Lupin costume. The first is with temporary tattoos. There are many different tattoos for you to choose from and I have included links to two different styles of scars.

The second method is to temporarily create scars with liquid scarring. Liquid scarring comes in a bottle and you apply it to your skin. When it dries, it pulls in on your skin, making it look scarred. It is easy to apply and easy to remove, and don't worry, it doesn't hurt!
​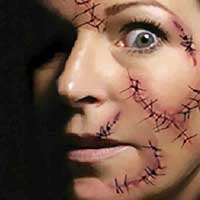 Scars

---
Wand
Lupin's wand looks a lot like a cane. I don't think Lupin used a real cane but I find this interesting because he was injured so many times from becoming a werewolf that I wouldn't be surprised if he needed one at some point in his life.
Lupin's Wand

Professor's Outfit
The adult Remus Lupin was hired to be the Defense Against the Dark Arts teacher at Hogwarts, where he was a Professor for Harry's third year. Below is a recreation of his looks as a teacher.
---
Brown Jacket
Professor Lupin was most often seen wearing a shabby brown jacket. I recommend that you get a jacket that fits a bit large, then add patches to it to make it look worn out.

I have included links to three different jacket styles. The first is a tweed jacket, which closely resembles the jacket worn by Lupin. The second is for wool blazers, which is also close in style. The third is for linen jackets and I admit that these look the least like the jacket seen in the movies, but linen has an advantage over the other two styles - it wrinkles really easily which will make it look shabbier than it really is.
Brown Jacket

---
Grey Shirt
The shirt that Lupin wore under his jacket was grey. He often left the top button undone, which added to his look of being unkempt, so you might also want to leave the top button of your shirt open.
---
Tie
Lupin's tie was made from a knitted material and was almost a forest green or greenish khaki color. I wasn't able to find an exact replica but there are plenty of ties that are so close in appearance that only the pickiest of Remus Lupin fans will find something to quibble with if you wear any of them. And if anyone complains you can just threaten to go all werewolf on them!

Regardless of which material you choose, make sure you select a necktie that is plain and not patterned. Lupin worked hard to stay under the radar and he wouldn't choose a tie that brings attention to himself.
---
Pants
Remus Lupin was an unassuming man and he didn't have the money to buy the best of anything. It would be unlikely that Lupin could afford an actual business suit so you would be okay to wear Dockers or jeans with your Lupin costume.

The color of your pants is up to you. Just make sure whatever color you choose will match your jacket, shirt, and tie.
Brown Dockers

---
Shoes
I may be wrong, but I seem to recall that the shoes worn by Lupin in the films were brown wingtips. So, that's what I'm including here to complete his look as Professor Lupin. You can add to the authenticity of Lupin's appearance by scuffing them up a little, if you can stomach doing that to your shoes.
School Uniform
We also saw Lupin as a student at Hogwarts so that is another costume option. Make sure you add scars to your face and body since young Lupin had scars, just not as many as the older Lupin.
Robe
Remus Lupin was sorted into Gryffindor House so he would have worn a Gryffindor robe. However, he was poor, so it would make sense if you want to make your robe look a bit tattered.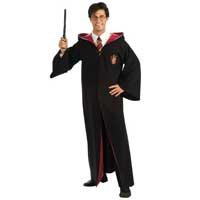 Gryffindor Robe

Cosplay Robe
You have one more option when it comes to choose a robe. There are also cosplay versions of the Gryffindor house robe available.

Cosplay outfits are usually better quality than mass produced costumes. They are made from more durable materials and often include far more detail than non-Cosplay outfits. Most Cosplay robes are made for adults but I did see at least one on Etsy for kids and several on Amazon.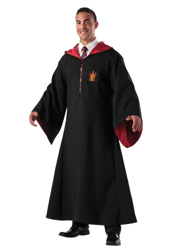 Gryffindor Cosplay Robe

Grey Sweater
Each Hogwarts school uniform includes a sweater, which I am sure the students appreciated on cold, snowy days. The Gryffindor sweater is dark grey with burgundy accents around the wrists and bottom of the sweater.

There was an officially licensed Gryffindor House student sweater, as well as an authentic Replica version, but both are very hard to find. There are also handmade sweaters sold on Etsy. I have included several sources to help you find a sweater if you want to include one with your costume.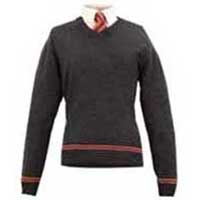 Gryffindor Sweater

White Shirt
Another part of every Hogwarts student's school uniform is a white shirt. Sure, you rarely see the shirts underneath the school robes but they are there, so you will want to include one, especially if you want to be as accurate as possible with your outfit.

One thing that I do not know is if the shirts have long or short sleeves so you can decide what type of shirt will work best for your costume. There are a lot of shirts to choose from so go with the one that you like the most.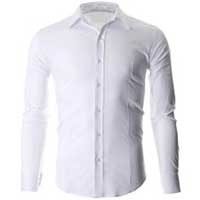 White Shirt

Cufflinks
You can add a touch of class, or humor, to your outfit with one of the many Harry Potter cufflinks that are available. Most are serious, such as the ones for each of the four Houses, but some are silly, like the ones made with Harry Potter LEGO® characters. Some even come with matching tie clips.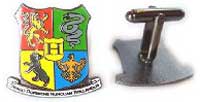 Cufflinks

Grey Pants
The last thing you need for your costume is a pair of grey pants. I have found that Dockers style pants have just the right mixture of casual and professional look to them.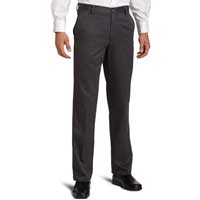 Grey Pants

School Hat
There are two types of hats that students of Hogwarts can wear as they go about their days. The first type of hat is the one you see here, a black hat that comes to a point on top.

This is the hat that conforms with each student's required uniform. However, based on what we saw in the movies, the hat is required to have but not necessarily to wear. Students seemed to have the option to choose whether or not they wanted to wear it.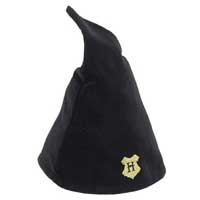 Hogwarts Student Hat

Beanie
The other style of hat that Hogwarts students can wear is the beanie hat. This hat is perfect during the winter months because it will keep your ears warm if you choose to pull the hat down to cover your ears.

The beanie is knitted from the colors of Gryffindor House. Some styles even include the house's crest on it, just above the forehead. It's nice to know that Hogwarts allows students the option to choose their hats, especially given how cold it gets in the winter time there.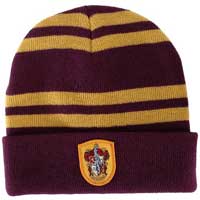 Gryffindor Beanie

Tie
Some Gryffindor robes come with a matching tie, but not all. Find out if the robe you want comes with a tie or not, and if it doesn't then you can buy one separately.

All Gryffindor ties are a combination of maroon and gold, though the amount of redness varies from one tie maker to another. Some ties also have the Gryffindor house crest on them.

If you are also going to buy a hat and/or scarf then I recommend making sure that the red for all of them match.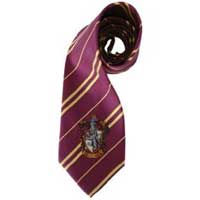 Gryffindor Necktie

Tie Clip
There are several different tie clips, also called tie bars, that you can use to keep your House tie in place. Designs include the Hogwarts school crest, Platform 9 3/4, and the Deathly Hallows symbol.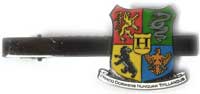 Tie Clip

Scarf
Another item that Hogwarts students are allowed to wear is a scarf. As you saw above with the beanie, scarves match the colors of a student's house and the Gryffindor scarf is no exception.

There are scarves that will match the beanie hats, but you need to be careful. Some of the colors match while others clash. Take time to find a beanie and scarf that will go well together if you want to wear both with your costume.

If you live in a colder climate and want to dress up in a Harry Potter costume then it would make sense if you also wore a scarf with your outfit. Including a scarf will allow you bundle up and keep your neck and head warm.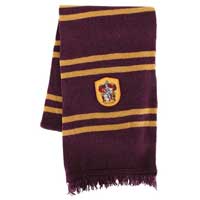 Gryffindor Scarf

Socks
There are several different types of Gryffindor socks, including knee high and ankle socks. Some socks are officially licensed, while many others are lovingly designed by fans.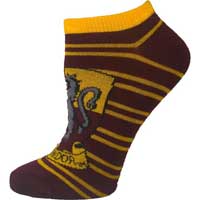 Gryffindor Socks

Shoes
Complete your Gryffindor House uniform with a pair of shoes. There is one pair of officially licensed shoes, seen below, and many more that are custom made. There are styles available for both men and women.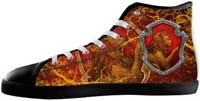 Gryffindor Shoes

Gryffindor Pin
Add a Gryffindor House pin to your uniform for a bit of fun. There are at least a handful of official pins that I know of, but there are many fan made pins that are also available.

​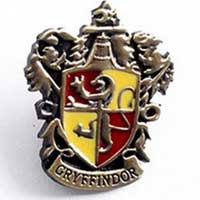 ​
Gryffindor House Pin

Prefect Badge
If you've read the books then you know that Lupin was made a Prefect with the hope that his new status would help keep Sirius Black and James Potter in check. Needless to say, it didn't work!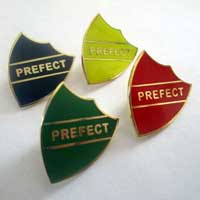 ​
Prefect Pin

Optional Accessories
Silver Hairspray
Lupin was only 38 years old when he died but being a werewolf prematurely aged him. He looked older than he was partly due to grey in his hair. You can add a touch of grey to your hair with silver hairspray.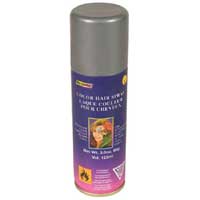 Silver Hairspray

Briefcase
Professor Lupin often carried around a brown leather briefcase. This is an item that will look great with your Lupin costume, both as an adult and a teenager.
Werewolf Costume
A young Remus was bitten by the vile werewolf, Fenrir Greyback. He started transforming into a werewolf from a young age and for the rest of his life. You can dress as werewolf Lupin, as a full body costume, just the head, hands, and/feet - the choice is yours.
Marauders Map
A teenage Remus was one of the four creators of the Marauders Map, a map that shows every person on the grounds of Hogwarts. Marauders Map was made by Remus, Sirius Black, James Potter, and Peter Pettigrew under the nicknames of Moony (Lupin), Wormtail (Pettigrew), Padfoot (Black), and Prongs (Potter). It would, therefore, make sense for you to carry the Marauders Map with you.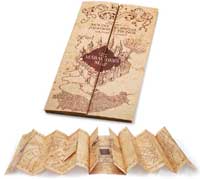 Maurader's Map

Moony Button
As I stated above, Lupin's nickname was Moony, which was a reference to the moon bringing out the werewolf in him. You can add a "Moony" button to your costume as a nod to the four Marauders.
Hogwarts ID Badge
I found a seller who makes Hogwarts staff ID badges. Each badge includes a teachers details, name and position.

There are pre-made badges for many of the main characters that have pictures of the actors who portrayed each character. Or, you can customize a badge with a picture of yourself and any name you want.

Image courtesy of sblackwell19
Black Dog (aka Sirius)
Some people like to include a stuffed black dog with their Lupin costumes to indicate that Sirius Black is with them in his Animagus form.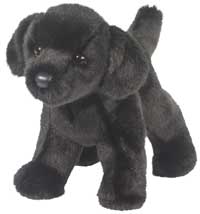 Black Plush Dog

Chocolate
The last optional accessory for your costume is a bar of chocolate. Why? Because Lupin knew the healing properties of chocolate! If you see someone who looks to be in any kind of distress, simply offer that person a piece of chocolate.

I have included links to both Hershey's chocolate if you prefer Muggle candy and Chocolate Frogs if you want wizarding sweets.
Do you live outside the United States?