Newton Fido Scamander was just a name to Harry Potter and his fellow Hogwarts students, a name found on a book they had to read for school. But attached to that name was a man and his life.

We get to learn about Newt's life in the movie trilogy, Fantastic Beasts And Where To Find Them, taken from his book of the same name.

In the movie we watched as Newt met, then later befriended, Jacob Kowalski, Tina Goldstein, and her sister Queenie. We also got to see the wonderful collection of creatures that Newt kept inside his briefcase, including a niffler, demiguise, and bowtruckle.

Perhaps one of the most interesting things to witness in the first movie was watching Newt navigate his ways around the world of people, magical or muggle. He would much rather be in the company of his beasts than humans, but he started to understand that there are times when having friends is a good thing.

I had a lot of fun researching what you might want to dress up as Newt. From his signature blue coat and clothes to his wand and suitcase, here is everything you need for a Newt Scamander costume.
Mandatory Accessories
Wand
There isn't an official Newt wand, at least, not as of this writing. What we know is that his wand is made from lime wood and contains shells, bones, and other natural elements. [1] The wand is intentionally simple. I've looked through all of the current official wands and, to me, it most closely resembles the wands James Potter. Go with the wand you like most, but I recommend that you avoid anything ostentatious.

Newt Scamander's Wand

---
Wig
Newt's hair is dark brown, short, and slightly unkempt.
---
Replica Suitcase
Newt is often seen carrying a brown suitcase for reasons that I won't explain to prevent revealing any spoilers. A suitcase is a rather large prop but if you are up to the challenge, be sure to add one to your outfit.
Replica Suitcase

---
Alternative Suitcase
There are other brown suitcases that have an antique look to them if you want something a little different.
Brown Suitcase

Newt Scamander Costume
Cosplay Costume
There is at least one Newt Scamander Cosplay costume, and it is gorgeous! It comes complete with Newt's unique coat, jacket and pants, shirt, vest, and bowtie. In other words, it is everything you could possibly want to dress as Newt, and the outfit looks just like the one worn by Newt in the first movie.
Cosplay Costume

---
Blue Coat
One of the most striking aspects of Newt's look is his teal blue coat. The coat worn by Eddie Redmayne is long with pockets and lining that is golden in color. He wears his collar up, so be sure to turn yours up, too.

---
Brown Suit
When Newt takes off his overcoat he reveals that he is wearing a brown suit. At the time of this writing I found a replica of his suit, which is brown with a lighter brown vest underneath. It also includes a tie but it isn't the type of tie Newt wore so you might want to replace it with a replica tie (seen a little further down on this page).
---
Gold Vest
Newt also wears a vest that is golden in color. There is an officially licensed replica of Newt's vest that looks like the one seen in the movie (left image). I've also included a link for non-replica vests, most of which come with matching ties, and some even have cummerbunds (right image). You won't need either of those, but you can set them aside and just wear the vest for your Newt costume. If possible, choose a vest that has a pocket so you can add a pocket watch to your look.
---
White Shirt
You will want to wear a white shirt under the vest, jacket, and coat. You'll want it to have long sleeves and can button all the way up, which is how you should wear it.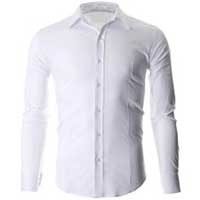 White Shirt

---
Bow Tie
Newt wears a bow tie that fits the time that he lives in. His tie is dark purple with thin orange lines, which matches with the overall color scheme of his clothing. What you see here is an official replica of Newt's tie, which I recommend if you want your Newt costume to be as authentic as possible.
Bow Tie

---
Boots
Newt's boots (hey, that rhymes!) have a vintage look to them, so steampunk or Victorian style boots will work well. I found a replica of his boots (left image) but also included links for steampunk boots (right image).
Brown Boots

Optional Accessories
Scarf
I don't think it was ever said in the movie but we found out that Newt was sorted into Hufflepuff because of the scarf he wore. It has the same colors as the scarves we saw in the Harry Potter movies but it has a decidedly different look. The colors are more muted.
Hufflepuff Scarf

---
Bowtruckle
One of Newt's fantastic beasts was a bowtruckle named Picket who often rode inside Newt's coat pocket. It would be completely in character to have a bowtruckle attached to your coat.
---
Niffler
A niffler is a magical creature that is obsessed with jewels and and gold. It was a niffler that got Newt into trouble as soon as he arrived in New York. Nifflers might be mischievous but they are also adorable.
Niffler

---
Map
Newt traveled to over 100 countries as he researched of magical creatures around the world. Therefore, it would be appropriate to carry a map with you. There are lovely antique style Harry Potter world maps that you can choose from.
---
Binoculars
I bet that Newt had a pair of binoculars that he used when he looked for creatures that were far away, so I'm including this item for his costume. Look for one that has an antique or steampunk look to it to match with the time in which he lived. It would probably be easiest to use one that has a strap so you can wear it around your neck instead of hold it.
---
Pocket Watch
The presence of a pocket watch will add a lovely touch to your outfit. You can choose any kind you want, but I suggest a Harry Potter watch.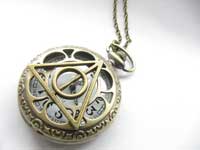 Pocket Watch

---
Fantastic Beasts And Where To Find Them
Newt Scamander was the author of Fantastic Beasts And Where To Find Them, a textbook used by students at Hogwarts. You can keep a copy of the book with you for reference in case anyone asks you a question about a magical creature.
Do you live outside the United States?