Queenie Goldstein is the sister of Porpentina (aka Tina) in the film, Fantastic Beasts And Where To Find Them, and friends with Newt Scamander and Jacob Kowalski.

She is sweet, kind, and extremely gifted at the magical act of Legilimency, which means she is skilled at reading peoples minds and thoughts. I think it is safe to assume that she was born with this gift.

She is soft spoken and it's clear that most people see her as a beautiful airhead, but Queenie proved that she's much more than just a sex symbol. Sadly, most people don't take the time to get to know who she really is.

Not only is she thoughtful of others, as we saw when she first met Jacob Kowalski, but she is also incredibly caring and loyal to those she loves. Let's hope that she is able to continue loving Jacob in future films.

I had fun researching this costume. Whether you want nothing more than her wand or you want her coat, scarf, dress and more, I've found everything you need to dress up in a Queenie Goldstein costume!
Mandatory Accessories
Wig
Queenie has strawberry blonde hair that is curly and in a sort of bob cut. I couldn't find an exact replica of her hair but I've found some that are very close, such as the wig seen here.
Queenie's Hair

---
Wand
Queenie's wand is elegant, just like she is. It is black with a handle that has round sea shell on the end. The sea shell handle has shimmering gold and silver colors, and is attached to the shaft with what looks like gold metal that has simple art deco-esque designs. The official wand, made by the Noble Collection, comes in a pretty collector's box, seen here.
Queenie's Wand

Costume
Pink Coat
The coat Queenie wore was pale pink with a darker pink velvet trim around the collar and cuffs. There is a single button just below the breast area. The coat has a 1920s vibe to it, and it's gorgeous!

There is a seller on Etsy who can custom make the coat to your specific measurements. I've also seen the coat on Hot Topic. I'm sure that as time goes on it will also be available on Amazon and eBay so I'm including links to all these sites, too.
Pink Coat

---
Pink Scarf
Queenie wore a pink scarf when she wore her coat. The scarf is long, silky looking, and matches the coat. She tied it in a large bow at her throat so make sure that's how you wear it if you want to look authentic, especially if you are wearing a Queenie costume for Cosplay.
Pink Scarf

---
Blue Dress
Queenie's dress was dark blue with long sleeves and decorative spaghetti straps over the chest. The hem of her dress was flowing and tapered down to one side. The dress seen here, sold on Etsy, is handmade to your measurements. As of the day I wrote this there is also a pale pink version of this dress sold on Hot Topic.
Blue Dress

---
Replica Shoes
Queenie's shoes were black heels that have straps that look like Xs crossing over the top of each foot. In addition to black, there is also beige on the shoes. The shoes you see here are replicas of the ones worn by Queenie in the first film,
---
Black Shoes
If you prefer, you can choose shoes that are all black. Just make sure your shoes have an X across the top of your foot.
Black Heels

Optional Accessories
Cassandra and Her Cat Gustavus
Queenie owned a book called Cassandra and Her Cat Gustavus, a magical novel written by Lisbeth Scintilla, which we saw Jacob Kowalski read when he was in bed drinking cocoa. It is wishful thinking on my part to include this because at the time that I wrote this there weren't any replicas of the book. I'm hopeful that someone will eventually recreate the book, even if it's just the cover.
---
MACUSA Hair Bow
You can add a touch of fun to your outfit by including a MACUSA hair bow. This would look adorable with Queenie's short curly hair!
MACUSA Hair Bow

---
MACUSA ID Badge
Queenie Goldstein was an employee at the Magical Congress of the United States of America (aka MACUSA). Therefore it would be appropriate to add a MACUSA badge to your Queenie costume.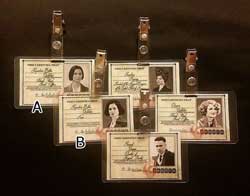 ---
MACUSA Wand Permit
In the Fantastic Beasts And Where To Find Them movie we found out that witches and wizards in American are required to have wand permits. This wand permit will keep you out of hot water with the U.S. magical government.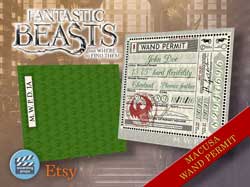 MACUSA Wand Permit

---
Queenie's Makeup (Video Tutorial)
Queenie's makeup is subtle and soft, much like her personality. Here is a video tutorial showing how you can recreate Queenie's makeup yourself.
Do you live outside the United States?