Tina Goldstein is the older sister of Queenie and friend of Newt Scamander and Jacob Kowalski. She was an Auror who was demoted to the wand permit department. Despite the demotion Tina was someone who followed the rules, which got her into further trouble with her boss, Seraphina Picquery, at the Magical Congress of the United States of America (aka MACUSA).

When Tina met Newt she knew that he was breaking magical laws, but she misunderstood what was going on with Newt. She tried to bring him to Picquery, but when her efforts failed she was unknowingly drawn into Newt's quest, then later ended up befriending and helping him.

I have to admit that I'm disappointed by how little there is for Tina Goldstein, but I wrote this in December of 2016 (just one month after Fantastic Beasts And Where To Find Them was released) so it is likely that there will eventually be more items to add to her outfit. I'll update this page when I see new items.

From her hair and wand to her clothes, locket, and MACUSA ID, here is everything you need to dress up in a Tina Goldstein costume!
Mandatory Accessories
Wig
Tina has short black hair that is cut in a bob without any bangs. I had a very hard time finding a replica of her hair but the one seen here is close. Yes, this particular wig has waves, but so did Tina in at least one scene. When you click the link to see more wigs on Amazon you'll see a lot with bangs. I think it would okay to go with bangs, partly because you might not have a choice and partly because, despite the bangs, the wigs are very similar to Tina's hair.
Tina's Hair

---
Wand
No information has been released about what Porpentina's wand wood or core is, at least, not as of this writing, but it's a lovely wand. Her sister Queenie's wand is feminine looking but not Tina's. Her's is plain, dark, and has what looks like a small dent on the handle. Given that Tina used to be an Auror I wouldn't be surprised if her wand was damaged while battling a witch or wizard.
Tina Goldstein's Wand

Clothing
Replica Hat
Tina had an adorable hat that is called a cloche hat that was dark blue with the brim turned up in the front and down on the sides and back. The hat looks like it came from the 1920s, which makes sense because that's when the movie takes place. The hat in the movie was blue but for some reason the official replica of her hat is black.
Replica Cloche Hat

---
Alternative Hat
There are other options, especially if you want your hat to be blue.
Cloche Hat

---
Replica Grey Coat
Tina's coat was long and grey with six buttons and two pockets.
Grey Overcoat

---
Blouse
The outfit that Tina wore throughout most of the movie was a blouse and pants set. Her blouse was white, had a V neck, a wide collar, and a bow tie at the bottom of the V. I'm guessing that it also had long sleeves because I don't remember if we saw the blouse without the coat over it. I had a really hard time finding a blouse that matched Tina's but the one seen here comes close.
White Blouse

---
Pants
Tina's pants were dark in color, very wide at the legs, and she wore them with the cuffs rolled up. I'm not sure what color they were, though I strongly suspect they were navy blue, so as long as yours are dark then you will be fine. You can also wear capri pants, which are shorter than normal pants.

I have links to two type of pants. The style seen here is wide leg pants, and the other style is curvy pants, which are similar but the legs aren't as wide.
Shoes
Tina wore several kinds of shoes but the ones that work best with her pant outfit are wingtip shoes. I think Tina's were dark brown but I prefer black because I can't find browns that are dark enough, with a slight heel.
Wingtip Shoes

---
Dress
Would you rather wear a dress? Hot Topic is selling a dress that was made with Tina's fashion sense, so you can go with that for your Tina costume. It is white on top with a black collar and bow, and a black skirt with light gray designs from the Fantastic Beasts movie.
Black And White Dress

Optional Accessories
Locket
Tina wore a locket that looked rather battered, which makes me think it was either a family heirloom or that it was damaged on the job when she was worked as an Auror. The replica locket looks just like the one worn by Tina in the film.
Locket

---
MACUSA Hair Bow
You can add a touch of fun to your costume by including a MACUSA hair bow, and Tina desperately needs fun in her life.
MACUSA Hair Bow

---
MACUSA ID Badge
Tina Goldstein was an employee at the Magical Congress of the United States of America, therefore it would be appropriate to add a MACUSA badge to your Tina outfit.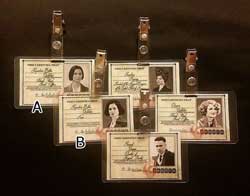 ---
MACUSA Wand Permit
In the Fantastic Beasts And Where To Find Them movie we found out that witches and wizards in American are required to have wand permits because that's where Tina was working when she met Newt. Having a wand permit will keep you out of hot water with the U.S. magical government.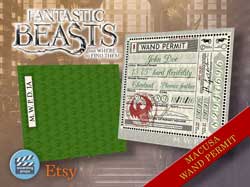 MACUSA Wand Permit

Do you live outside the United States?