The very first tattoo that I am sharing is one of a magical tent. I have to admit that I am not 100% positive which scene this tent is depicting, though I think I know. There were two tents in the Harry Potter books and movies, one from a very happy event, and the other from a very dark and lonely series of events.
My guess is that this scene is from the Quidditch World Cup that Harry, Hermione, and the Weasley family attended during the fourth story, Harry Potter and the Goblet of Fire. The other possibility is that this is a scene from one of the many places that Harry, Ron, and Hermione camped at while they were on their own in the seventh story, Harry Potter and the Deathly Hallows, trying to figure out how to defeat Lord Voldemort.
Regardless of which scene this is from, this magical tent tattoo depicts the same tent. The reason I think it is from the Quidditch World Cup is because the scene looks to be a happy one to me. There are stars in the air, which many excited wizards were doing, the flag is flying, and the smoke coming from the chimney gives this look a warm and cozy one, not a cold and bleak one.
Now that I have shared which scene I think this is from and why, I'd like to hear your take on it. Please share your thoughts in the comments below.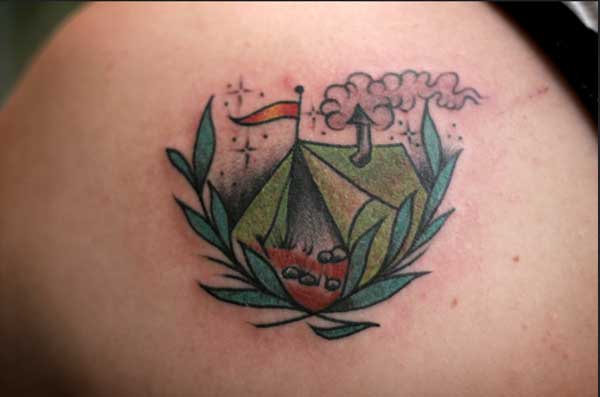 lanussehp7 by Alice Carrier – Flickr Creative Commons License