Nymphadora Tonks, commonly known as Tonks or sometimes Dora, was an Auror (bad wizard catcher) who was a member of the Order of the Phoenix. While working with the Order she met and fell in love with Remus Lupin. They married and had a son before their untimely deaths in the final battle against Lord Voldemort.

I had quite a bit of fun putting this costume together. Tonks had many different looks, which means you have a lot of leeway when it comes to creating your version of Tonks. From her hair, wand, and clothes to her pig snout and Hufflepuff uniform, here are all the items you need to dress up in a Nymphadora Tonks costume!

There are two types of product links on this page:
Picture Link - If you can click on a picture it will take you directly to that item on a site like Amazon or Etsy. It is possible that the item is no longer available for sale from the seller I have linked the picture to, which is why I created the second type of link.
Site Link - When you click on a link to an online store, such as Amazon, eBay, or Etsy, it will take you to that site so you can compare prices for the item seen in the picture. Or, if you are looking at a costume then you might see items similar to the one seen in the picture so you choose the one you like best.
Do you live outside the United States?
Mandatory Accessories
Wig
Tonks was a Metamorphmagus, which means she could change her looks at will. She was often seen with different colored hair, though her favorite was bubblegum pink. I've included links to pink, purple, and brown wigs, but any color will work. This means you can choose the wig that you like best because it is entirely possible that Tonks had that hair at some point in her life.
Tonks's Hair
---
Wand
Nymphadora's wand is unique in that the handle is flares out, almost like a flower waiting to open. Her wand was made of an unknown wood and core, so you get to decide what they are.
Tonks's Wand
Casual Clothes
Here are three examples of the many looks of Nymphadora Tonks. Have fun creating your own Tonks costume and feel free to reference these pictures if you need inspiration.
Coat
Tonks sometimes wore a long burgundy coat. This particular article of clothing proved incredibly difficult for me to find when I was looking for similar coats. The coat has a gothic or steampunk feel to it, so I've included links to those kind of coats, and you will see that there are coats in both black and burgundy, in short and long lengths, that you could wear.
Black Jacket
We often saw Tonks wearing a black jacket that was adorned with silver buttons or studs. Her clothes gave off a steampunk or Victorian vibe, so there are a lot of options for you if you want to wear a black jacket with your outfit.
Shirt
There are so many options when it comes to dressing up as Tonks that I couldn't stop at just one or two styles of shirts. I've included links to four different types of tops to make it as easy as possible for you to find the right shirt.
Skirt
I have chosen skirts that are black or grey, since you can easily coordinate with those colors, and because they fit Tonks's wardrobe nicely.
Choker
Tonks wore chocker necklaces, so this is a must-have accessory. You have tons of options when it comes to a choker, so channel your inner Tonks to find the right one for your outfit.
Black Fingerless Gloves
Tonks was partial to black, fingerless gloves so be sure to add this to your Tonks outfit. You can go with gloves that look similar to the pair seen below or you can choose some that have studs - the choice is yours.
Black Nail Polish
Don't forget your fingernails! Of course you don't have to choose black, but I think it fits Tonks's personality much better than, say, pink.
Belt
It's up to you if you want to add belts to your Tonks outfit but doing so would work with her clothes.
​
Belt
​
Fishnet Stockings
Although I cannot say for sure, Nymphadora Tonks strikes me as the kind of woman who enjoyed wearing fishnet stockings. Whether that's true or not doesn't really matter because fishnet stockings will go really well with the other clothes found here.
Boots
When it comes to footwear, boots are a must! But not just any pair of boots... I love the look of steampunk boots and they are the perfect way to complete a Tonks costume.
School Uniform
You can choose to dress in a Hufflepuff uniform since Tonks was sorted into that House.
Robe
Some Hufflepuff robes are simple, while others are much more detailed. Any of them will work fine, so it's up to you to decide which House robe you want. Hufflepuff robes come in both child and adult sizes, so just about anyone in your family has the opportunity to dress in a House robe.
​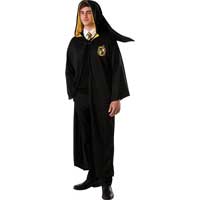 Hufflepuff Robe
Cosplay Robe
You have one more option when it comes to choose a robe. There are also cosplay versions of the Hufflepuff house robe available.

Cosplay clothing is known for being better quality than mass produced clothing. The reason why is because they are made from more durable materials and often include details not found on non-Cosplay outfits.
​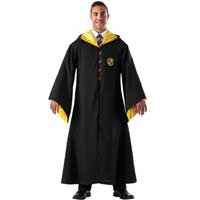 Hufflepuff Cosplay Robe
Grey Sweater
Each Hogwarts school uniform includes a sweater, which I am sure the students appreciated on cold, snowy days. The Hufflepuff sweater is dark grey with burgundy accents around the wrists and bottom of the sweater.

There was an officially licensed Hufflepuff House student sweater, as well as an authentic Replica version, but both are very hard to find. You are more likely to find the vest and cardigan versions of the Hufflepuff sweater.

There are also handmade sweaters sold on Etsy. I have included several sources to help you find a sweater if you want to include one with your costume.
​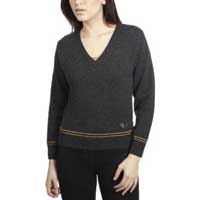 Hufflepuff Sweater
White Shirt
Another part of every Hogwarts student's school uniform is a white shirt. Sure, you rarely see the shirts underneath the school robes but they are there, so you will want to include one, especially if you want to be as accurate as possible with your outfit.

One thing that I do not know is if the shirts have long or short sleeves so you can decide what type of shirt will work best for your costume. There are a lot of shirts to choose from so go with the one that you like the most.
​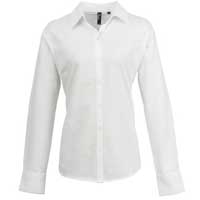 White School Shirt
Grey Skirt
The boys at Hogwarts wear pants, but not the girls. Instead, girls at Hogwarts were required to wear skirts. The skirt seen in the movies is dark grey, so I have chosen styles that match the movie skirts as closely as possible.

Having said that, you don't have to choose a skirt that is exactly like the ones in the films. If you like your skirts a little longer, perhaps over your knees, then choose that type of skirt. Or, if you like them a bit shorter, that's okay, too. Just make sure that it is grey.
​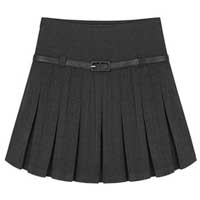 Grey School Skirt
Grey Tights
Okay, I admit that tights were probably not a requirement for girls at Hogwarts but they look great with the white shirt and grey skirt. It is for that reason that I am including them.

Those of you who live in colder climates will probably love adding tights to your school uniform because they will help keep your legs warm!

There are a lot of different tights you can choose from in a variety of grey colors. Choose whatever shade that you like the most, or that best matches the skirt you decide to wear.
​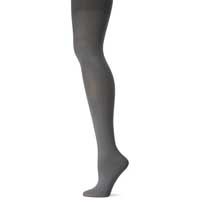 Grey Tights
School Hat
There are two types of hats that students of Hogwarts can wear as they go about their days. The first type of hat is the one you see here, a black hat that comes to a point on top.

This is the hat that conforms with each student's required uniform. However, based on what we saw in the movies, the hat is required to have but not necessarily to wear. Students seemed to have the option to choose whether or not they wanted to wear it.
​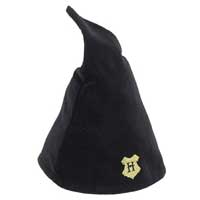 Hogwarts Student Hat
Beanie
The other style of hat that Hogwarts students can wear is the beanie hat. This hat is perfect during the winter months because it will keep your ears warm if you choose to pull the hat down to cover your ears.

The beanie is knitted from the colors of Hufflepuff House. Some styles even include the house's crest on it, just above the forehead. It's nice to know that Hogwarts allows students the option to choose their hats, especially given how cold it gets in the winter time there.
​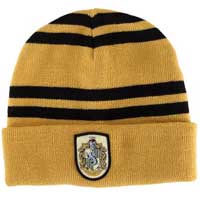 Hufflepuff Beanie
Hair Accessory
Don't want to wear a hat? Then take a look at the many different Hufflepuff hair accessories that are available. There is an officially licensed headband, seen below, and plenty of custom made clips, barrettes, and ponytail holders. The items you will see from the links below might vary quite a bit, but the one thing they all have in common is that they use Hufflepuff's yellow and black.
​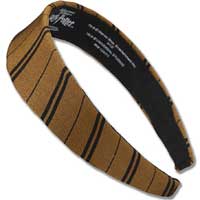 Hufflepuff Hair Accessories
Tie
Some Hufflepuff robes come with a matching tie, but not all. Find out if the robe you want comes with a tie or not, and if it doesn't then you can buy one separately.

All Hufflepuff ties are a combination of maroon and gold, though the amount of redness varies from one tie maker to another. Some ties also have the Hufflepuff house crest on them.

If you are also going to buy a hat and/or scarf then I recommend making sure that the red for all of them match.
​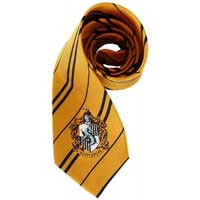 Hufflepuff Necktie
Tie Clip
There are several different tie clips, also called tie bars, that you can use to keep your House tie in place. Designs include the Hogwarts school crest, Platform 9 3/4, and the Deathly Hallows symbol.
​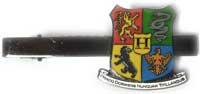 Tie Clip
Scarf
Another item that Hogwarts students are allowed to wear is a scarf. As you saw above with the beanie, scarves match the colors of a student's house and the Hufflepuff scarf is no exception.

There are scarves that will match the beanie hats, but you need to be careful. Some of the colors match while others clash. Take time to find a beanie and scarf that will go well together if you want to wear both with your costume.

If you live in a colder climate and want to dress up in a Harry Potter costume then it would make sense if you also wore a scarf with your outfit. Including a scarf will allow you bundle up and keep your neck and head warm.
​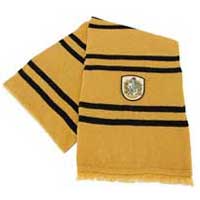 Hufflepuff Scarf
Socks
There are several different types of Hufflepuff socks, including knee high and ankle socks. Some socks are officially licensed, while many others are lovingly designed by fans.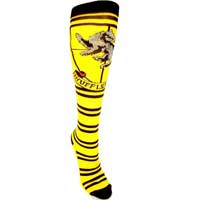 Hufflepuff Socks
Optional Accessories
Hufflepuff Pin
Add a Hufflepuff House pin to your uniform for a bit of fun. There are at least a handful of official pins that I know of, but there are many fan made pins that are also available.

​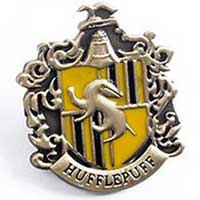 Hufflepuff House Pin
---
Ministry of Magic ID Badge
I found a seller who makes Ministry of Magic student ID badges. Each badge includes an employee's details, such as name, position, date of birth, eye color, and so on.

There are pre-made badges for many of the main characters that have pictures of the actors who portrayed each character, including Natalia Tena, the actress who played Tonks. Or, you can customize a badge with a picture of yourself and any name you want.

Image courtesy of sblackwell19
---
Pig Snout
One of Tonks's favorite things to do at dinners during meetings of the Order of the Phoenix was to transform her face into animal parts. Apparently, Ginny Weasley often requested that she change her nose into a pig's snout, and Tonks was more than happy to oblige.