Newton Fido Scamander was just a name to Harry Potter and his fellow Hogwarts students, a name found on a book they had to read for school. But attached to that name was a man and his life. We get to learn about Newt's life in the movie trilogy, Fantastic Beasts And Where To Find Them, taken from his book of the same name.

I had a lot of fun researching what you might want to dress up as Newt. From his signature blue coat and clothes to his wand and suitcase, here is everything you need for a Newt Scamander costume.
There are two types of product links on this page:
Picture Link - If you can click on a picture it will take you directly to that item on a site like Amazon or Etsy. It is possible that the item is no longer available for sale from the seller I have linked the picture to, which is why I created the second type of link.
Site Link - When you click on a link to an online store, such as Amazon, eBay, or Etsy, it will take you to that site so you can compare prices for the item seen in the picture. Or, if you are looking at a costume then you might see items similar to the one seen in the picture so you choose the one you like best.
Do you live outside the United States?
Mandatory Accessories
Wand
There isn't an official Newt wand, at least, not as of this writing. What we know is that his wand is made from lime wood and contains shells, bones, and other natural elements. [1] The wand is intentionally simple. I've looked through all of the current official wands and, to me, it most closely resembles the wands James Potter. Go with the wand you like most, but I recommend that you avoid anything ostentatious.

Wand
Newt Scamander Costume
Cosplay Costume
There is at least one Cosplay Newt Scamander costume, and it is gorgeous! It comes complete with Newt's unique coat, jacket and pants, shirt, vest, and bowtie. In other words, it is everything you could possibly want to dress as Newt, and they look like he does in the first movie.
---
Blue Coat
One of the most striking aspects of Newt's look is his teal blue coat. As of the time that I wrote this there aren't any replicas of his coat being sold anywhere, but I did a lot of looking and found a couple of alternatives you can use. I'm sure in time there will be replicas and I'll update this when I find them.

The coat worn by Eddie Redmayne is long with pockets and lining that is golden in color. He wears this collar up, so be sure to turn yours up, too. There aren't any teal coats and coat that I found is dark grey but has a lot of blue in it on Amazon.

Update: There is now at least one replica of Newt's trench coat! I've included links to both the replica coat and other coats that are similar.
---
Brown Suit
When Newt takes off his overcoat he reveals that he is wearing a brown suit. I don't know what his suit is made of but it looks like tweed to me. Skip the business suits and go for a jacket and pants set that are a bit more casual. Some suits include a vest but you'll be adding a different vest in the next step.
Brown Suit
---
Gold Vest
Newt also wears a vest that is golden in color. Most vests come with matching ties, and some even have cummerbunds. You won't need either of those, but you can set them aside and just wear the vest for your Newt costume. If possible, choose a vest that has a pocket so you can add a pocket watch to your look.
Gold Vest
---
White Shirt
You will want to wear a white shirt under the vest, jacket, and coat. You'll want it to have long sleeves and can button all the way up, which is how you should wear it.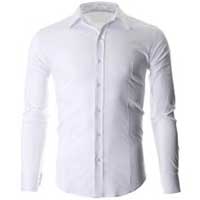 White Shirt
---
Bow Tie
Newt wears a bow tie that fits the time that he lives in. The tie looks dark brown to me, which matches with the overall color scheme of his clothing. His tie is straighter than today's styles but it's okay if you wear a modern tie.
Bow Tie
---
Boots
Newt's boots (that rhymes!) have a vintage look to them, so steampunk or Victorian style boots will work well.
Brown Boots
---
School Uniform
You have another option for a Newt costume. We have learned that Newt was sorted into Hufflepuff House so you can dress up in a school uniform.
Robe
Some Hufflepuff robes are simple, while others are much more detailed. Any of them will work fine, so it's up to you to decide which House robe you want. Hufflepuff robes come in both child and adult sizes, so just about anyone in your family has the opportunity to dress in a House robe.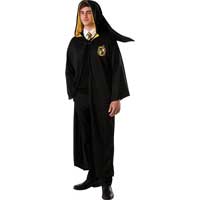 Hufflepuff Robe
Cosplay Robe
You have one more option when it comes to choose a robe. There are also cosplay versions of the Hufflepuff house robe available.

Cosplay clothing is known for being better quality than mass produced clothing. The reason why is because they are made from more durable materials and often include details not found on non-Cosplay outfits.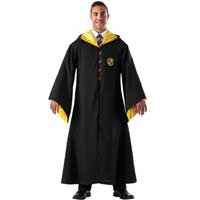 Hufflepuff Cosplay Robe
Grey Sweater
Each Hogwarts school uniform includes a sweater, which I am sure the students appreciated on cold, snowy days. The Hufflepuff sweater is dark grey with burgundy accents around the wrists and bottom of the sweater.

There was an officially licensed Hufflepuff House student sweater, as well as an authentic Replica version, but both are very hard to find. You are more likely to find the vest and cardigan versions of the Hufflepuff sweater.

There are also handmade sweaters sold on Etsy. I have included several sources to help you find a sweater if you want to include one with your costume.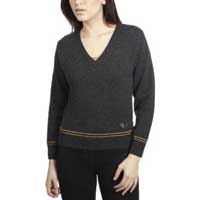 Hufflepuff Sweater
White Shirt
Another part of every Hogwarts student's school uniform is a white shirt. Sure, you rarely see the shirts underneath the school robes but they are there, so you will want to include one, especially if you want to be as accurate as possible with your outfit.

One thing that I do not know is if the shirts have long or short sleeves so you can decide what type of shirt will work best for your costume. There are a lot of shirts to choose from so go with the one that you like the most.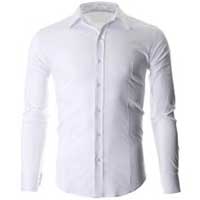 White Shirt
Cufflinks
You can add a touch of class, or humor, to your outfit with one of the many picture"] cufflinks that are available. Most are serious, such as the ones for each of the four Houses, but some are silly, like the ones made with picture"] LEGO® characters. Some even come with matching tie clips.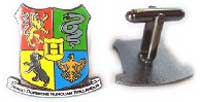 Cufflinks
Grey Pants
The last thing you need for your costume is a pair of grey pants. I have found that Dockers style pants have just the right mixture of casual and professional look to them.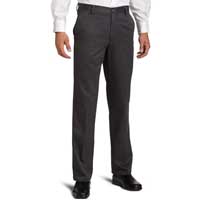 Grey Pants
School Hat
There are two types of hats that students of Hogwarts can wear as they go about their days. The first type of hat is the one you see here, a black hat that comes to a point on top.

This is the hat that conforms with each student's required uniform. However, based on what we saw in the movies, the hat is required to have but not necessarily to wear. Students seemed to have the option to choose whether or not they wanted to wear it.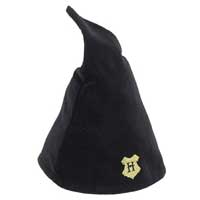 Hogwarts Student Hat
Beanie
The other style of hat that Hogwarts students can wear is the beanie hat. This hat is perfect during the winter months because it will keep your ears warm if you choose to pull the hat down to cover your ears.

The beanie is knitted from the colors of Hufflepuff House. Some styles even include the house's crest on it, just above the forehead. It's nice to know that Hogwarts allows students the option to choose their hats, especially given how cold it gets in the winter time there.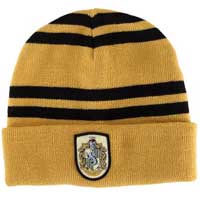 Hufflepuff Beanie
Tie
Some Hufflepuff robes come with a matching tie, but not all. Find out if the robe you want comes with a tie or not, and if it doesn't then you can buy one separately.

All Hufflepuff ties are a combination of maroon and gold, though the amount of redness varies from one tie maker to another. Some ties also have the Hufflepuff house crest on them.

If you are also going to buy a hat and/or scarf then I recommend making sure that the red for all of them match.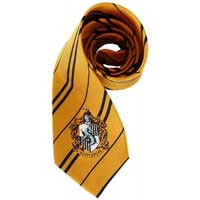 Hufflepuff Necktie
Tie Clip
There are several different tie clips, also called tie bars, that you can use to keep your House tie in place. Designs include the Hogwarts school crest, Platform 9 3/4, and the Deathly Hallows symbol.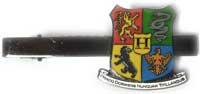 Tie Clip
Scarf
Another item that Hogwarts students are allowed to wear is a scarf. As you saw above with the beanie, scarves match the colors of a student's house and the Hufflepuff scarf is no exception.

There are scarves that will match the beanie hats, but you need to be careful. Some of the colors match while others clash. Take time to find a beanie and scarf that will go well together if you want to wear both with your costume.

If you live in a colder climate and want to dress up in a Hufflepuff character costume then it would make sense if you also wore a scarf with your outfit. Including a scarf will allow you bundle up and keep your neck and head warm.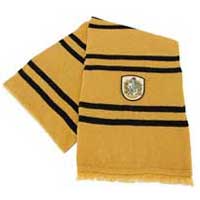 Hufflepuff Scarf
Socks
There are several different types of Hufflepuff socks, including knee high and ankle socks. Some socks are officially licensed, while many others are lovingly designed by fans.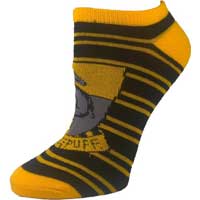 Hufflepuff Socks
Shoes
Complete your Hufflepuff House uniform with a pair of shoes. Although there aren't officially licensed shoes, there are several that any Hufflepuff would be proud to wear. There are styles available for both men and women.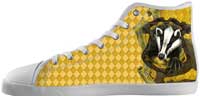 Hufflepuff Shoes
Optional Accessories
Suitcase
Newt is often seen carrying a brown suitcase for reasons that I won't explain to prevent revealing any spoilers. A suitcase is a rather large prop but if you are up to the challenge, be sure to add one to your outfit.
Brown Suitcase
---
Map
Newt traveled to over 100 countries as he researched of magical creatures around the world. Therefore, it would be appropriate to carry a map with you. There are lovely antique style Harry Potter world maps that you can choose from.
---
Binoculars
I bet that Newt had a pair of binoculars that he used when he looked for creatures that were far away, so I'm including this item for his costume. Look for one that has an antique or steampunk look to it to match with the time in which he lived. It would probably be easiest to use one that has a strap so you can wear it around your neck instead of hold it.
---
Pocket Watch
The presence of a pocket watch will add a lovely touch to your outfit. You can choose any kind you want, but I suggest a Harry Potter watch.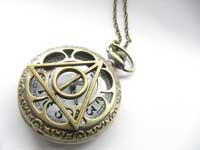 Pocket Watch
---
Fantastic Beasts And Where To Find Them
Newt Scamander was the author of Fantastic Beasts And Where To Find Them, a textbook used by students at Hogwarts. You can keep a copy of the book with you for reference in case anyone asks you a question about a magical creature.
Source:
[1] The Leaky Cauldron